Philadelphia Daily News - June 13, 1980
Phillies Sued
A suburban couple has filed a class-action suit against the Phillies, charging that Monday night's 7½-hour rain-delayed game with the San Francisco Giants should have been called off.
The suit was filed in Philadelphia Common Pleas Court by Matthew Averback and his wife, Margaret, on behalf of fans who paid to see the game. It asks that fans be given a refund or a ticket to a future game.
The suit names the Phillies, the National League and Robert Engel, identified as chief umpire for the game. The marathon contest began at 7:35 p.m. Monday and ended 3:11 a.m. Tuesday. The Giants won. 3-1.
Averback, of Glenside, Montgomery County, who said he left the ballpark at 10:30 p.m., said the decision to play the game out showed "wanton disrespect" for fans.
Lawyer Michael Payne said the suit alleges there was a "breach of contract... in that there is an agreement when you purchase a ticket for a game that you do so with the belief that you will have an opportunity to view the game under reasonable weather conditions."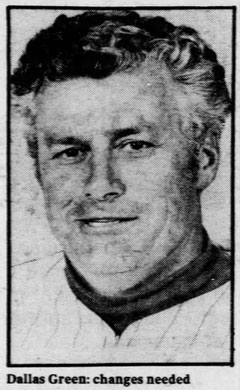 Phils Face Some Key Decisions
By Bill Conlin
When Dallas Green was formally appointed as the Phillies full-time manager last October he accepted the job with some misgivings.
Managing at the field level meant walking away from a labor of love, the operation of a thriving, well-financed minor-league system. In the free-agent era, when anybody who has served six years in the big leagues can walk away from a club at his pleasure, nothing is more crucial to a team's future than maintaining a top-level minor-league system. Further, Green knew that one day Paul Owens would step down as general manager and that he was The Pope's logical successor.
Balanced against the security Dallas enjoyed within the organization structure was the challenge of managing a contender. He took a deep breath and accepted the challenge.
Green is enough of a realist to know 51 games into the long season that a lot of things will have to change if this team is going to win the Eastern Division title. There have been many pluses so far – Steve Carlton's tremendous pitching, the power hitting of Mike Schmidt and Greg Luzinski, the club's usually fine overall defense, splendid seasons so far by Bake McBrice and Manny Trillo.
BUT DESPITE ALL those entries on the black ink side of the ledger, the Phillies are only three games over .500. They are closer to the fourth-place Mets than they are to the first-place Expos. In his heart, Dallas Green has to suspect that, although this team is still capable of winning, it might not be strong enough to beat the Pirates or the Expos. One of his starting pitchers, Larry Christenson, is lost for the season. Another, Nino Espinosa, has been disabled since spring training and apparently is resisting an effort by the Phillies to send him to the minors for 20 days of game-situation rehabilitation. A third starter, Randy Lerch, is 2-8 and so confused it is difficult to see how the manager can keep giving him the ball.
That leaves Green with a starting rotation of Carlton. Dick Ruthven and rookie righthander Bob Walk. Ruthven struggles occasionally, but he knows how to pitch when he doesn't have his best stuff, and Walk has at least scuffled well enough to keep games close.
The complicating factor is that the two most ready minor-league pitching prospects, Marty Bystrom and Jim Wright, are coming off injuries.
The radio talk shows are a constant babble of trade suggestions, as if this were 1975 when general managers could still sit down and make deals without getting a Supreme Court ruling, the permission of the players involved and six tax experts to sit down and scrutinize the 40-page contracts.
WHEN DISCUSSING trades which could help the Phillies there are several factors to consider. Let us proceed on the party-line premise that the starting eight is good enough to win if backed by any kind of pitching consistency. To get even a marginal starting pitcher – off his performance of the past two seasons, John Montefusco is in that category along with many others – they would have to give up somebody from the starting eight. So who would you trade?
The easy answer is Larry Bowa because he's getting up in years and doesn't have a no-trade clause. Really? Who replaces Bowa's Gold Clove at short? Why, Luis Aguayo, of course, you say. Never mind that Aguayo is a second baseman by trade, an infielder without Bowa's great range or arm at short and, more crucial, without his vast experience.
Well, then trade Bake McBride. OK. but remember that teams with a modest surplus of pitching who would do business with the Phillies are looking for somebody who can hit the long ball consistently. Put Bake in the Astrodome and he's just another line-drive hitter who can run. Bill Virdon's low-scoring lineup is filled with guys like that.
Everybody else in the starting eight but Greg Luzinski has a no-trade clause this season. Do you really want to trade The Bull for a guy who may or may not win you 12 games?
LET'S GO ANOTHER way. yon say. Put a package of kids together. What can we get for Keith Moreland and Lonnie Smith? This might come as a shock, but while we've been waiting for this team to win a pennant it's been getting old on us. The only members of the starting eight under 30 are Luzinski and Trillo and they'll both be 30 by next season. Moreland is 25, Smith 24. If this team can't win it now, ask yourself what its chances will be three seasons from now, when Moreland and Smith are in their primes. Then ask yourself if a club would give up a starting pitcher for just one of them. The answer is no, not the kind of pitcher the Phillies need now.
"I've seen what happens when a team trades away its prime prospects," Green says. "You bury yourself for five years. I've said in the past we owe this team one year to get it done. I think, they think they're good enough to get it done with what we have. If we don't do it this year, then we're going to have to take a hard look. I happen to think this team is good enough to win eight or 10 straight games. Do that in this league and you can make a helluva move."
This team has given ground early in the season in the past, but it was always to a team like the Cubs. When they trailed the Cubs by eight games before the All-Star break in 1977, the Phillies spent more time looking nervously down at the Pirates than they did looking up at the Cubs. Conversely, the Pirates and Expos were both superb teams last September and the Phillies will play them 10 times after Sept 7. It will be a tough month for a team that goes into it trailing.
A final intangible to examine is the character of this team as a whole. Green spent spring training preaching dedication and intensity. Yet he is seeing a lot of things he doesn't like.
"SOME OF MY key guys are giving up on infield practice already." Green says. "I'm seeing some laziness from guys who need to work hard to be at their best. Do you think Steve Carlton would be a sharp pitcher if he didn't pitch for 15 days? I've got guys who are throwing everything to Pete Rose on a bounce sitting out infield practice, guys who don't have great arms in the first place missing the cutoff man. It's got me a little upset."
Danny Ozark's style was to simmer a few weeks, then call an angry clubhouse meeting. Three days later, everybody would be doing his thing again. An angry Dallas Green might not be quite so flexible or forgiving.
Maybe the Phillies feel comfortable drifting along a few games over .500 – good enough to be within striking distance, yet not bad enough for everybody to get on their case.
Attendance is down, way down, and the fans are starting to show some vocal disaffection for their heroes. Dallas Green and Paul Owens have some tough decisions to make. They won't be easy ones because current needs appear to outweigh current options.