Camden Courier-Post - June 15, 1980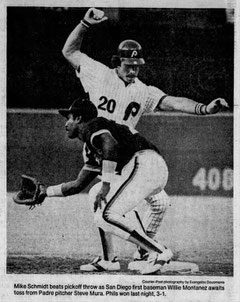 Carlton whiffs 13, Phils down Padres
By Rusty Pray of the Courier-Post
PHILADELPHIA – Parachute Man floated softly toward the Veterans Stadium Astroturf, his destination a huge X marking a spot just behind pitcher's mound.
But the latest in a summer-long series of promotions by Phillies Vice President Bill Giles never got an opportunity to deliver last night's game-ball to pitcher Steve Carlton. A sudden gust of wind lifted poor Parachute Man out of the stadium and into the parking lot behind the center field wall. So much for his control.
Fortunately for the Phils, Carlton's control was somewhat better. In fact, the lefthander was impeccable with his pitches, blowing the San Diego Padres away, 3-1, with a 13-strikeout performance that tied a National League season high.
The Phillies have all but run out of good things to say about Carlton. And no wonder. Last night's performance was merely typical of the season he has produced, lifting his record to an admirable 11-2 and lowering his earned run average to 1.77, second in the league to the 1.50 of Houston's fireballing J.R. Richard.
"He's one of the sharpest lefthanders going," said San Diego's Dave Cash, who was the Phils' second baseman from 1974-76. "He's not only pitching well now, but he has been for years. He's the kind of guy, you go out there and you know it's going to be a two-hour game, you know he's going to be around the strike zone, and you're ready."
Cash was one of the few Padres to solve Carlton during his; eight innings of work. Cash owned two of the Padres' six singles, and drove in their only run in the eighth.
Carlton brushed aside the rest of the San Diego order, striking out seven of the first nine batters he faced and not permitting a runner past first until the eighth, when he made pinchhitter Gene Tenace his final strikeout. It was the 35th time since Carlton has been with a Phils that he has struck out at least 10. And it gave him 118 strikeouts in 116 innings pitched this season. Not bad for a guy who never runs and, presumably, never , jumps out of airplanes.
"He has had so many good ones, I've lost count of them," said Phillies Manager Dallas Green. "I didn't think his fastball was what we've seen in the past, but he's got that gosh-awful slider."
That gosh-awful slider has been Carlton's most reliable pitch. And, when he is throwing it the way he was last night, it has a devastating effect on hitters.
"It is," said catcher Bob Boone, who continued to lift his average with two singles, "an unhittable pitch. Steve's got such good control, he's always ahead in the count, so you have to try to hit it. You're checkmated."
San Diego Manager Jerry Coleman watched Carlton checkmate the Padres time and again, then observed, "We swung at 20 bad pitches, minimum, tonight. And the good pitchers make you swing at bad balls."
Despite the obvious command Carlton had over the Padres, Green found himself forced to pinchhit for his pitcher in the eighth. Boone and Garry Maddox had opened the inning with singles off Bob Shirley, who started the eighth in relief of Steve Mura.


Mura pitched well and, had he not served Greg Luzinski and Mike Schmidt home run pitches, the score might have been 1-0 Padres. Instead, it was the Phillies who were trying to pad a narrow lead.  But what seemed to be a developing rally evaporated when Boone was picked off second, Larry Bowa popped up and Keith Moreland, who hit for Carlton, grounded out.
"I was trying to get another run or two," said Green. "He (Carlton) was high with his breaking ball the last inning. But I'll tell you one thing, he makes managing this team a lot easier."
Green also wants to rest Carlton, ' who literally embodies the Phillies' starting rotation right now, whenever he can. With righthander Dick Ruthven likely to miss a start with a bruised shoulder, Green will use Carlton twice on the upcoming West Coast road trip.
The manager probably will fill Ruthven's spot in the rotation with Noles, an idea that does not particularly appeal to Green. He has, of course, little choice. Presently, the only other healthy Phillies starters are rookie Bob Walk and confused Randy Lerch.
Luzinski gave Carlton all the runs he would need in the third, sending a 2-0 Mura pitch over the wall in left-center for his 15th homer. Schmidt scored ahead of Luzinski, having proceeded him with a walk. And Schmidt, who also singled in the seventh, added some insurance with his 20th homer, a shot that opened the fifth.
PHIL UPS – X-rays taken of Ruthven's right shoulder yesterday were negative... Carlton will probably continue to pitch with three days rest until the All-Star break... Lonnie Smith started in right, went 0-for-4... Padres are a dismal 1-7 on this road trip... Win was Carlton's sixth straight... Walk is scheduled to pitch against former Phillie Rick Wise this afternoon in series and homestand finale.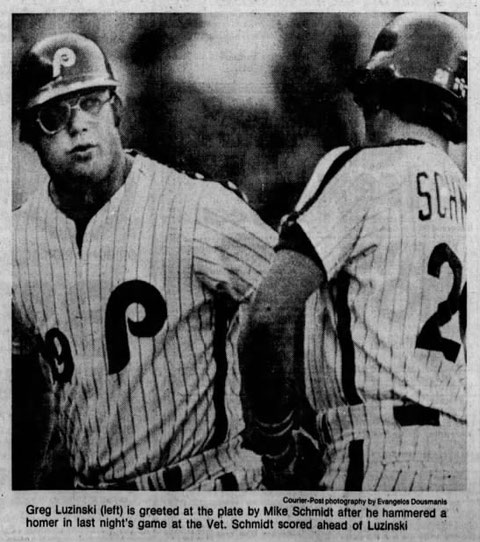 It's about time for sports fans to display some clout
By Ray W. Kelly of the Courier-Post
PHILADELPHIA – It's finally here. The sports world has entered the Golden Age of Clout. Everybody has power and influence that he's just itching to throw around. Everyone, that is, except the average fan.
For some strange reason, he thinks it's a pleasure and an honor to spend his money and time to get at the very end of the VIP line. He might be the only one in sports who doesn't stick up for himself.
Think about it. While the fans are up north freezing and fretting, for example, baseball players are spending as much time preparing for a strike as they are getting ready to perform. At the same time, the owners, who can't even force themselves to stop spending like drunks at an auction, keep sending wave after wave of lawyers and accountants against the indestructible Marvin Miller.
Umpires cry foul when someone else's strike is settled more easily than their own. Their picket line, if you recall, was aimed squarely at a general public who thinks it has no other choice than to accept another round of lumps. "
Oh, there's a little satisfaction in watching the dust fly when the umpires, suddenly confronted with a taste of today's violent world, demand retribution and vow they will resort to vigilante tactics if they aren't satisfied with the final outcome.
But the umpires don't have their favorite teams uprooted and moved to another city. They don't watch helplessly as their childhood heroes take a hike to another league. And they don't have to take out a loan to buy the kids a hot dog and soda.
Television pulls the purse strings tighter around the necks of teams that have become dependent upon their annual financial fix. And, as if by magic, traditional starting times and dates of even the most sacred events are altered. For the "good of the game," of course.
Agents who would make 007 look like Maxwell Smart are everywhere, terrifying executives with machine-gun bursts of small print and cementing their clients so solidly in place that it takes an armored division to send them from one team to another.
Down on the farm, the only ones who cry themselves to sleep at night are the coaches, who try to teach a kid how to bunt and are informed in no uncertain terms that they are violating the U.S. Constitution, Bill of Rights and Magna Charta.
Fans around the country are getting scoreboard advertising rammed down their throats without a whimper while 25 guys who would probably play ball for nothing inform the front office that the entire team wants a 20-year, no-cut, no-trade big league contract whether the team finishes in last place or not. Otherwise, everyone is going to Canada.
One minute a peanut farmer is telling the country to forget the Olympics. And the next, some banker is deciding that he is the best judge about how much a football coach should earn for turning chicken pellets into Chicken Delight.
As for the chicken himself (the one in San Diego), even he has the gizzard to fight a heavyweight legal brawl over the disposition of his feathery butt while the feelings of the chicken's following were ignored.
All the while, pacifists in every stadium are told how great they are. And like dogs getting their bellies scratched, they roll over and play dead.
The Phillies game that started at 7:35 p.m. Monday and ended at 3:1 1 a.m. Tuesday is a classic example of how the true interest of the fans is so easily misplaced.
When a crowd of 28,000 trudges into the dismal night to watch a team as bad as the Giants play the Phillies, it deserves a little bit more than five hours of waiting for an umpire to decide if it's raining.
The players, of course, were outraged. The Phillies' brass, which did not have the final say in the debacle, lost more in image than it gained at the gate. If baseball is a business, then the umpires shouldn't have been so obsessed with getting the game into the record books. The people are what should have mattered.
Out of all those fans, only two decided they'd had enough and filed suit in court on behalf of the other 27,998 losers. But they've got little chance of success. Already the offices of the commissioner and representatives of the National League, the Players Association and umpires are burying the entire matter in an often-used grave called, "We haven't heard anything."
Of course no one has heard anything. No one is going to hear anything until the sporting fans of America learn to speak with one voice.
Wouldn't it be interesting if every fan kicked in a dollar and hired Marvin Miller and F. Lee Bailey to represent their interests?
Within a year, it would be sunshine, easy chairs, free refreshments and a lifetime, 50-yard line, center-court, behind-the-dugout seat for everyone!