Escondido Times-Advocate - June 15, 1980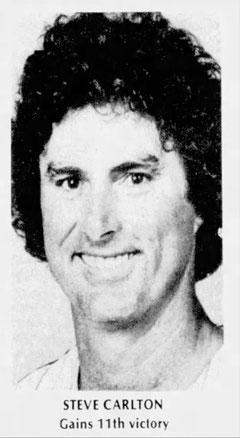 Slumping Padres stifled by Carlton, Philadelphia
PHILADELPHIA (AP) – A two-run homer by Greg Luzinski and a solo shot by Mike Schmidt helped Steve Carlton become the major leagues first 11-game winner as the Philadelphia Phillies beat the slump-ridden San Diego Padres 3-1 last night.
Carlton boosted his record to 11-2, allowing six hits and striking out 13 in eight innings. It was the 35th time in his Phillies career that Carlton has been in double figures in strikeouts.
The 13 strikeouts tied the National League high for this year, set by Houston pitcher J.R. Richard, who has accomplished the feat twice. Carlton leads the league with 118 strikeouts.
"Sometimes I wish Steve wouldn't strike out so many guys because he throws more pitches that way," said Phillie shortstop Larry Bowa. I'll tell you though, when he's cranked up, two or three runs is good enough to win."
Carlton earned his sixth straight triumph with last-inning relief help from Tug McGraw, who gained his fifth save. In his previous seven starts, Carlton compiled a 1.56 earned run average.
"Our starting pitchers have been having their problems lately, but Carlton has bailed us out every fourth day," continued Bowa. "He really showed why hes a stopper. When he's pitching, the infield is always on their toes at all times because he doesn't fool around on the mound. Steve knows his game plan and he sticks to it.
"He's pitching similar to Randy Jones when he had his good years."
While Carlton was muffling the Padres bats, Luzinski provided him with a 2-fl lead in the third when he slammed his 15th homer after a Mike Schmidt walk.
In the fifth, Schmidt, the major league leader in home runs, lined his 20th of the season. Except for the home run pitches, San Diego starter Steve Mura, 0-2, pitched well.