Camden Courier-Post - June 16, 1980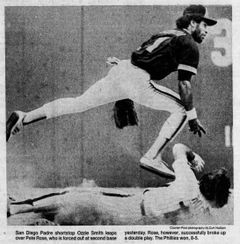 Phils pound Wise for sweep
By Rusty Pray of the Courier-Post
PHILADELPHIA – It was a different era of baseball when Rick Wise first stepped on a major league mound. He was a kid then, an 18-year-old making his debut with the Phillies in the second game of a doubleheader against the Mets in Shea Stadium.
It was Father's Day in 1964 when Wise beat the Mets, 8-2, to complete a sweep. Few remember that game now because the fellow who pitched the opener retired 27 Mets in order. That was the day of Jim Bunning's perfect game.
Wise, now 34, has been much traveled since then. He stayed with the Phillies long enough to pitch their last no-hitter in 1971, but was dealt in 1972 to St. Louis for somebody named Steve Carlton. Wise went from St. Louis to Boston to Cleveland before signing this season with the San Diego Padres as a free agent.
SO IT WAS that on the 16th anniversary of his first major league win, Rick Wise started for the Padres against the Phillies, who hadn't faced him since 1973.
And, judging by the results, it might be another seven years before Wise wants to see the Phillies again. They punched the righthander around for four runs in 1⅔ innings en route to an 8-5 victory and a three-game sweep of the Padres before 36,379 fans in Veterans Stadium.
Wise's counterpart yesterday was Bob Walk, a rookie and a figurative finger in the bursting dike that is the Phillies' pitching staff. Walk had not lasted past the fifth inning in any of his four previous big league starts and had permitted an unhealthy 17 runs in 19 innings.
But Walk was game enough to give the Phillies five fairly strong innings and, with a little help from relievers Kevin Saucier, Lerrin LaGrow and some shabby San Diego defense, jogged off with his second victory.
"BOB WALK is getting better with each outing," said Phillies Manager Dallas Green. "He's getting a little calmer, a little more sure of himself. I'm sure today will help him even more.
"We felt in spring training he was not quite ready and we probably rushed him by bringing him up now. But if we can nurse him along, he has the stuff. It's poise and demeanor and becoming a pitcher that he needs to work on.
"He'll get his lessons up here – unfortunately or fortunately. I hope he learns them well and quickly."
If there was a lesson to be learned from yesterday's game, it was in how not to play defense. San Diego catcher Bill Fahey committed two errors that helped the Phillies score three of their runs. Third baseman Tim Flannery made another that cost the Padres a run and leftfielder Gene Richards misplayed a ball hit by Pete Rose into a double, Rose eventually scoring.
"THEY HAD some defensive lapses that helped us, certainly," said Green.
Fahey interfered with a Rose swing during the second inning after Walk had already singled home Larry Bowa. The catcher's interference put Rose on first and Walk on second with one out. Bake McBride, who started for the first time after missing five games with a cold, followed by hitting a potential double play grounder to second baseman Dave Cash.
Rose, however, kept the inning alive with a takeout slide that left shortstop Ozzie Smith without a throw. Wise then walked Mike Schmidt to load the bases and Greg Luzinski to force in a run, an act that gave the Phils a 4-0 lead and signaled Wise's departure.
Fahey blundered again in the fifth when he attempted to pick Garry Maddox off third and threw the ball into left field. Both Maddox and Manny Trillo, who had been walked intentionally, scored.
MOMENTS BEFORE, Keith Moreland scored when Flannery threw Maddox' chopper at one of the fans in the deluxe box seats behind first base. Moreland, catching in Bob Boone's stead, put together the Phils' best offensive performance, going 2-for-4 with a double and a run-scoring sacrifice fly.
With the Padres polished off, the Phils face a critical juncture in their season. Tonight they begin a seven-game West Coast trip in Los Angeles, where Randy Lerch again will attempt to prove he is not a 2-8 pitcher. And tomorrow Green plans to use reliever Dickie Noles because Dick Ruthven will miss the start with a bruised right shoulder.
"I'm not doing what I want to do in bringing Dickie out of there (the bullpen)," said Green. "I've said all along I think his niche is there."
PHIL UPS – Sweep gave Phils a 6-3 record on home stand... They are six games. Above .500 for the second time this season... Phils were 10-8 on West Coast last year... Phillies yesterday went over the one million mark in attendance on their 33rd home date, third earliest in club history... Luzinski extended his hitting streak to nine games with a first-inning RBl single... McBride has an eight-game streak going.
Phillies won't bargain future away
By Rusty Pray of the Courier-Post
PHILADELPHIA – The midnight bell tolled about the time Paul Owens, the general manager of the pitching-starved Phillies, was arriving with his club in Los Angeles. And the deadline for trading within the National League passed without Owens making a deal that everyone thought he had to make.
The Pope, as Owens is known within the organization, in the past has taken trade negotiations to the 11th hour and come away with valuable acquisitions. There was, for instance, his 1977 deal that pried Bake McBride from the St. Louis Cardinals. McBride hit .339 in a Phillie uniform and was the key figure in the club winning its second East Division championship.
A year later, Owens swapped Gene Garber for Dick Ruthven with Atlanta, and Ruthven promptly won 13 games for the Phillies in their third divisional title season.
This time, however, there was no dramatic, last-second trade to be made.
Primarily, there are three reasons why the June 1 5 trade deadline came and went without Owens making a deal: There were painfully few quality pitchers available; the asking price was too steep for those who were available, and Manager Dallas Green strongly resisted the temptation to offer one or two of his younger players for a pitcher.
All three factors are, of course, related. Owens talked to fully 20 teams, and might have discussed a deal with the Bad News Bears had Amanda been available. Indeed, the Phillies could've had Houston righthander Joaquin Andujar. A persistent rumor circulated that Owens was willing to trade youngsters Keith Moreland and Lonnie Smith for Andujar. Actually, the Astros wanted a front-line player, not a future prospect, for the pitcher. Owens told them no thanks.
They might have gotten either Ed Halicki or John Montefusco from the Giants. But Halicki, it was discovered, has a sore elbow, And, despite the fact that Montefusco has verbally expressed dissatisfaction witlf the Giants, San Francisco did not want to part with him.
Green made it generally known that he would rather struggle with the pitchers he already had than deal away a More-land, or a Smith, or a minor-league prospect, for someone who might – or might not – help the Phillies. It was Green's opinion that such a trade would be tantamount to mortgaging the club's future for a one-season need. It was a risk the former minor-league director thought not worth taking, not with a farm system as rich in pitching as the Phillies'.
"I'm confident this team can win and confident the people we have here now can produce that winning," Green said yesterday, after the Phillies concluded a sweep of the San Diego Padres with an 8-5 victory. "It doesn't look real good right now because the pitching is patchwork. But, with patience and a little luck, we'll get it done."
The Phillies will need generous portions of both if they hope to win with their present pitching staff. They will need patience with pitchers like rookie Bob Walk, who painfully lacks experience, and Randy Lerch, who is 2-8 and lacks even a small measure of confidence. And, they'll require luck with Steve Carlton, who cannot be expected to continue pitching at his present dominating pace. Dick Ruthven, whose bruised right shoulder is the latest of injuries to attack the staff, and Nino Espinosa, who is being counted on to return from Spartansburg in workable form.
"You hate to keep harping on it," said first baseman Pete Rose, "but Randy's the key. I don't want to put any more pressure on him, but if he's in the rotation, he has got to win. That don't mean you got to win 20, or 18. But if he's five games over .500, we win this thing easy."
That neatly summarizes the position of the Phillies. They can win if the pitchers they already have pitch to their potential. They refused to allow other clubs, mindful of the Phillies' need, to burglarize their starting lineup. And they correctly held on to their future, knowing that 1980 is this present team's final opportunity to win.
Standing pat may not have been the best road to take. But it was the only sensible path open to Owens. Only time will tell whether the tolling of the midnight bell was for the Phillies.