Los Angeles Times - June 17, 1980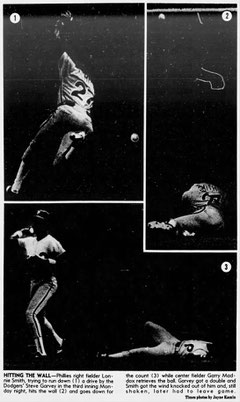 Phillies Hold Balk Party and Win, 3-2
Dodgers Lose as Reuss Makes One False Move in 4th, Sutcliffe Another in 12th
By Richard Hoffer, Times Staff Writer
The Dodgers, who had lost only six games at home this year, played as if they were still on the road Monday night, losing to Philadelphia, 3-2 in 12 innings before 41,340 at Dodger Stadium.
Although the game was a stunning piece of evidence for the soundness of the Dodger pitching staff – starter Jerry Reuss, almost unstoppable since being removed from the bullpen, gave up just two runs in his 10 innings of work -it was also an illustration of the lengths a team can go to in losing an important game.
The Dodgers, now two games behind Houston in the National League West, allowed the Phils to score by way of the balk, something new for the Dodgers.
The Phils got their first two runs in the fourth when Reuss balked, sending Pete Rose home and setting Mike Schmidt on third (Schmidt scored on the next play). Then they got their final run in the 12th when reliever and loser Rick Sutcliffe (1-4) allowed Larry Bowa to parlay his one-out single into scoring position with a balk. Bowa scored on the next play on Manny Trillo's double to center, the winning run as it turned out.
The Dodgers scored two runs in the third inning. Davey Lopes singled off Phillies starter Randy Lerch with one out. Then, on the hit-and-run, Lopes got to second on Bill Russell's grounder to short. Reggie Smith, one of the hottest Dodgers, singled to left to bring Lopes home. Then Steve Garvey, another hot-hitting Dodger, doubled, sending Smith home.
The Phillies came back in the fourth, putting together a couple of hits and then taking advantage of Jerry Reuss' balk to tie.
Pete Rose, who has raised his average some 80 points since struggling with a .200 average early in the season, singled to right. Mike Schmidt, the league leader in home runs (20) and second in RBIs (50), doubled to right.
Then Reuss, who does a lot of hunching of shoulders during his delivery, got called for a balk and Rose was sent home and Schmidt waved to third. Greg Luzinski made the balk even more momentous when he scored Schmidt from third with a long fly to right.
There was no additional scoring for quite a while, although the Dodgers had a couple of chances.
In the sixth, Garvey led off with his second double, then advanced to third on Dusty Baker's fly to right But Ron Cey and Pedro Guerrero failed to advance him any farther.
In the eighth, after Smith got on base on shortstop Larry Bowa's throwing error, Garvey lined to second for a double play.
The Phils had their chances, too. Lerch led off the sixth with a slow grounder that drifted right past an astonished Lopes at second. But, although Bake McBride sacrificed beautifully behind him, Rose and Schmidt could not hit safely.
In the ninth, Schmidt singled in front of center fielder Derrel Thomas, usually a sure fielder. When Thomas allowed it to bounce past him, Schmidt took second. Reuss walked Luzinski intentionally, and it paid off when right fielder Reggie Smith chased down Keith Moreland's long fly and left fielder Dusty Baker caught up with Garry Maddox's sinking liner to end the inning.