Camden Courier-Post - June 18, 1980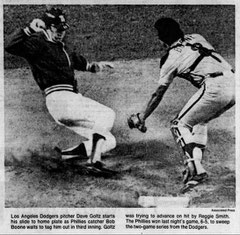 Reed, McGraw save Phillies
By Hal Bodley, Gannett News Service
LOS ANGELES – When the Phillies failed to deal for that quality pitcher they so desperately need, Dallas Green refused to commit suicide.
In fact, the rookie manager didn't even lose any sleep when the June 15 trading deadline passed and the Phils were left with the same cast of characters.
"I'll do some patch work and we'll be OK," Green promised. "All I ask is that they (pitchers) don't get us buried. If we stay close, we'll be fine."
For the second night in a row at Dodger Stadium, Green showed the skeptics what he meant.
THE PHILLIES stormed from behind to shock Los Angeles, 6-5, and win their fifth straight after the Dodgers had taken a 5-3 lead on Steve Garvey's three-run homer off starter Dickie Noles in a controversial filth inning.
Greg Luzinski and Bob Boone drove in runs that pulled the Phils even in the seventh and pinch-hitter Greg Gross' clutch single in the eighth scored what proved to be the winning run off reliever Bob Castillo.
But the bottom line was a good starting effort by reliever Noles, followed by superb relief work by Ron Reed and Tug McGraw. For the second straight night, Reed gained the victory (5-1), with McGraw earning his seventh save.
For the Phillies, when Reed lifted himself out of deep trouble in the sixth, the stage was set for their come-from-behind heroics.
THE DODGERS loaded the bases with one out in the sixth, but Reed got Davey Lopez to foul out to catcher Bob Boone and the dangerous Reggie Smith fanned.
"Ronnie pitched his butt off in that inning," said Green. "That turned it around for us."
"It seems like I can't throw a ball below the waist to Bill Russell," said Reed, who has allowed only four earned runs in his last 29⅓ innings. "He got the single and I was in trouble. But I threw some good pitches to Lopes and had super stuff striking out Smith."
Reed says critics of the Phils' bullpen during the first month of the season were unfair. What the fans are seeing now is the true relief corps.
"BECAUSE ALL those exhibition games were cancelled we were not in shape when the season opened," said Reed. "I wasn't in shape and Tug wasn't in shape. It takes time. We just didn't get enough work in spring training. I've said all along our bullpen would be a lot better than most people thought it would."
Green has had to dig deep because of injuries to starters Larry Christenson, Nino Espinosa and Dick Ruthven. Starting Noles was against his better judgment, but he had no other choice.
Green didn't say it, but he's hoping for a compete game from Steve Carlton tonight against the San Diego Padres' Eric Rasmussen. That would allow Reed, McGraw & Co. to recharge.
NOLES WAS doing fine until the fifth inning when his failure to touch first base on what would have been the third out, cost him dearly.
With the Phils leading 3-2, Dave Goltz walked and was sacrificed to second. Lopes filed out and Reggie Smith hit a bouncer between first and second. Pete Rose, who was to be involved in another controversy later, tossed the ball to Notes covering, but first base umpire Joe West said the pitcher did not get his foot on the bag.
Garvey then blasted his three-run homer to left-center and the Dodgers were up 5-3. After Noles walked Dusty Baker, Green summoned Lerrin LaGrow, who got the third out.
After that, Noles threw a bat from the dugout, prompting umpire-in-chief Billy Williams to charge the dugout.
"I DIDN'T throw the bat at them," said Noles. "I would never do anything like that.
"It wasn't professional for me to do something like that. I felt I touched the bag, but he (West) didn't throw the pitch to Garvey, I did."
Homer runs by Ron Cey and Baker have given the Dodgers their first two runs after the Phils had gone in front 3-0 with a run in the first and two in the second.
In the eighth, Larry Bowa beat out an infield single, his third hit of the night. Manny Trillo rifled a single to left, putting runners on first and third. Gross then singled to right and although he was trapped between first and second for the first out, he got the run home.
Rose was the next batter and it appeared Castillo hit him on he finger, but home-plate umpire John McSherry said the ball hit the bat first Rose and Green argued and the 40,786 fans started to boo, but Pete was not awarded first base. He grounded out and the inning ended with Bake McBride grounding out.
PHIL UPS – Rose had three singles to move into a third-place tie with Willie Keeler on the all-time list with 2,534 -... Ruthven, recovering from a shoulder injury, probably will not pitch on this trip... After tonight's game in San Diego Stadium, the Phils will play an afternoon game there tomorrow, then move on to San Francisco for a three-game weekend set.