Los Angeles Times - June 18, 1980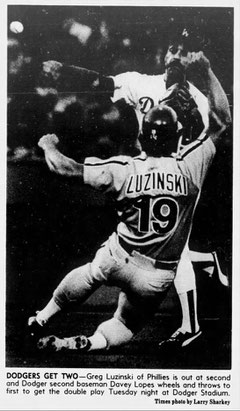 3 Homers Are Not Enough as the Dodgers Lose, 6-5
Cey, Baker and Garvey Connect, but the Phillies Win It in Eighth Inning on Gross' Pinch Single
By Richard Hoffer, Times Staff Writer
Pinch-hitter Greg Gross singled home Larry Bowa with the winning run in the eighth inning, lifting the Philadelphia Phillies to a 6-5 come-from-behind victory over the Dodgers Tuesday night.
The Phils, trailing 5-3 after Steve Garvey's three-run home run in the fifth inning, scored twice in the seventh to catch up and set the stage for Gross' game-winning hit at Dodger Stadium.
Bowa opened the eighth with a bunt single off Dodger reliever Bobby Castillo (1-3) and raced to third on Manny Trillo's single to left. Gross followed with his single to right.
The Dodgers got in the hole early with Pete Rose keying scoring spurts in the first and second innings. He led off the game against Dodger starter Dave Goltz with a single, stole second and then scored on Greg Luzinski's single. Rose batted in both runs in the second after Larry Bowa and Manny Trillo got on base. Rose provided a 3-0 lead when he punched a single over second, scoring Bowa and Trillo.
After that, Goltz settled down. The loser of his last three games and winless in his last six starts, Goltz began retiring Phillies pretty much in order, getting help from his infielders, who turned three double plays in the first six innings.
Meantime, the Dodgers were scoring by way of the home run. Ron Cey tagged Noles in the second with a solo shot to left-center. Dusty Baker got to Noles for his 15th of the season, taking him to left in the fourth.
In the fifth, Noles, making his first start of the season because Dick Ruthven injured his shoulder recently, couldn't do much right.
Goltz, who had nearly scored in the third after leading off with a single (he was thrown out at home on a close play), got on with a walk. Rudy Law sacrificed. Then, after Davey Lopes flied out, Reggie Smith hit a routine grounder to first. Rose fielded it and threw to Noles, who was rushing to the bag. But Noles missed the bag with an awkward swipe of his right foot and all hands were safe.
Then Steve Garvey, who has been dangerous lately, hit his 14th homer, a shot to center that gave the Dodgers a 5-3 lead.
Noles, who was pulled in favor of Lerrin Lagrow, who got the final out, was only out of the game at that point. But after tossing a helmet, a bat and several oaths in the direction of first base umpire Joe West, he was ejected altogether.
Noles might have believed his foot cost the Phillies the game at that point but was likely cheered by the news that his team had tied it in the seventh and gone ahead in the eighth.
Rose led off the seventh with a bunt. It was Rose's 2,534th single and tied him for third on the all-time singles list. It became more than just a piece of trivia, though, when Schmidt walked and Luzinski doubled Rose home from second. Bobby Castillo came in to relieve Goltz and retired the next two batters, but not before Schmidt had scored on Bob Boone's grounder.
Dodger Notes
Jerry Reuss and Rick Sutcliffe were still upset Tuesday over the balks that were called on them Monday night during the Dodgers' 3-2 loss to Philadelphia. Reuss, whose balk contributed to the first Philly run, concedes that, by strict interpretation of the rules, he did balk. "But I wasn't trying to deceive the runner," he insisted. "I was just stepping back off the rubber." Sutcliffe, however, refused to admit he balked. "I've got a pretty good pickoff move and I think people figure I must be doing something illegal when I'm only doing it fast," said Sutcliffe, whose balk in the 12th inning set up the winning run. Sutcliffe, who does have a good pickoff move, has been called for balks three times this season... One of the Dodgers' prized prospects, infielder Mickey Hatcher, strained left shoulder ligaments while playing for Albuquerque, the Dodgers' Triple A team, recently.
Morning Briefing (Excerpt)
Steve Carlton, the Phillies pitcher who usually has a silent spring, followed by a silent summer, followed by a silent fall, followed by a silent winter, emerged from his cocoon ever so briefly the other day and spoke to a newspaperman. It wasn't much, but a word or two from Carlton is almost a media happening.
What happened was that a Phillies broadcaster, Andy Musser, was having breakfast at the Phillies' hotel with a Los Angeles newspaperman. When Carlton came by, Musser asked him to say hello to the newspaperman just to prove he speaks to newspapermen. Carlton said hello.
The newspaperman, who earlier had been asking Musser if Carlton was a head case, then said to Carlton: "All I said (to Musser) was: 'Is Carlton a head case?' "
"We're all head cases," Carlton said.
There it is, an entire sentence, and Carlton can't even say it was taken out of context.