Camden Courier-Post - June 19, 1980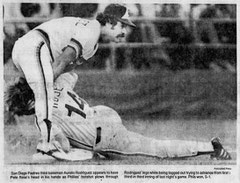 Phils take sixth straight
By Hal Bodley, Gannett News Service
SAN DIEGO – Ever since Manager Dallas Green dropped Larry Bowa to seventh in the batting order during spring training, the temperamental shortstop has been brooding.
During the Phillies' long flight to the West Coast on Sunday night Bowa did some soul searching. He finally reached the conclusion he would approach his new role the way he did when he was batting second last year.
In just three games, the results have been outstanding. Bowa has collected seven hits, including three last night as the Phillies turned back San Diego, 5-1. and is enjoying life a lot more.
STEVE CARLTON turned in a routinely professional effort on a night in San Diego Stadium when he lacked some of the ingredients that made him the best pitcher in baseball this year.
Carlton, now 12-2 with a 1.74 earned run average, worked out of a bases-loaded jam in the eighth inning with the score tied at 1-1, then sat back and watched the Phils explode for four runs in the ninth to wrap up their sixth straight victory and close to within half a game of first-place Montreal.
Tug McGraw, even though he didn't qualify for his third save in as many nights, choked off the Padres in order in the ninth.
But to the Phillies, the scratching, clawing, gritty brand of baseball Bowa rode to the top of his profession, has suddenly returned.
IN TUESDAY night's stirring 6-5 conquest of the Dodgers, Bowa had three singles, including a bunt single in the eighth that eventually was the winning run.
Last night, Bowa bunted his way onto base twice including once in the ninth when the Phils were mounting their winning assault against Bob Shirley.
"I want to work on my bunting even more," Bowa said. "I have to make things happen even if I am hitting seventh. Sometimes even attempting to bunt can create a base it. The infielders might come in a few steps and then if I hit a hard ground ball, it has a chance to get through. It keeps them aware of what I can do.
"I gave it a lot of thought flying out here Sunday night. I realized I wasn't doing what I was supposed to be doing. Because I was batting seventh I got away from what got me to the big leagues. I decided to start bunting on this road trip. Pete Rose lectured me about it, too. Just because I am hitting seventh I don't have to change my style. A bunt can create a lot of problems, just like tonight."
In the ninth inning, Garry Maddox opened with a sharp single to right. Bowa, attempting to sacrifice the runner to second, bunted between the pitcher's mound and first base. Shirley and first baseman Gene Tenace went sprawling on the grass after the ball and Bowa had a single.
BOTH RUNNERS moved up as Manny Trillo slapped a grounder to first base. Keith Moreland, batting for Carlton, went to the plate and San Diego Manager Jerry Coleman went to the mound to talk with Shirley.
"I thought he was going to bring in Rollie Fingers," Moreland said. "I knew if that happened, Dallas would send up a lefthander to face Fingers. I think when Coleman went out, it helped relax me because I wasn't even sure I was going to hit and couldn't worry about the pressure."
Coleman stayed with Fingers, giving Moreland a chance to double off the centerfield wall in the spacious ballpark.
"I can't hit a ball any better," said the red-headed catcher. "In most parks, that ball would be ojit I got all of it."
MADDOX AND Bowa scored and after Pete Rose was walked intentionally, two more runs camp home when catcher Fred Kendall's pickoff throw at second base in an attempt to get pinch-runner Lonnie Smith sailed into center field. It then skidded away from Paul Dade for another error and both runners scored.
The Phils gave Carlton a 1-0 lead in the first inning when Bake McBride tripled and scored on Mike Schmidt's infield out. The left hander-nursed that until the seventh when the Padres scored with two out. Kendall singled pinch-runner Jerry Mumphrey home from second with the tying run.
The Padres loaded the bases in the eighth, but Carlton got Barry Evans looking at a third strike for the final out.
Carlton allowed seven hits during the eight innings, wth four walks and nine strikeouts. He has not lost since May 10 when the Reds defeated him 5-3. Since then, he has reeled off six victories with two no-decisions.