Escondido Times-Advocate - June 19, 1980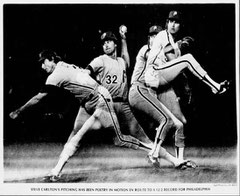 Life is easier for hot Phillies
By Terry Monahan, T-A Sports Writer
SAN DIEGO – Each and every Saturday, during the long winter months, Larry Bowa was reminded of the failures of the 1979 Philadelphia Phillies.
For him it was, unfortunately, Saturday Night Live in reverse. It was not funny at all.
After winning the Eastern Division crown in the National League the previous three seasons, the Phils fell to fourth place.
Manager Danny Ozark was sacrificed to the wolves and angry fans wanted more blood.
"They got real mean on my radio show every week," laughed Bowa, the Phillies shortstop. "Man, what a long winter, and I do mean long."
Now, however, the 1980 edition of the Phillies appears headed, at least right now, for yet another long season. Except that this one could possibly include post-season action instead of inactivity.
The Phillies leaped over the defending world champion Pittsburgh Pirates into second place last night with a 5-1 triumph, their sixth consecutive victory, over the San Diego Padres in front of 15,621 fans at San Diego Stadium.
Naturally, left-hander Steve Carlton took care of matters on the mound, as he has done with alarming regularity this season, with a little last inning relief help from another southpaw of note, Tug McGraw.
Carlton, now 12-2, has been the one rock of consistency for the Phillies, who have suffered through a rash of injuries which have claimed pitchers Larry Christensen, Warren Brusstar and Nino Espinosa.
Somehow, Carlton is all the Phillies seem to need to march on.
"There is an inner feeling of confidence whenever he goes out," noted Bowa, who also chipped in a three-for-three outing to back up Carltons seven-hitter.
"We know we wont have to score a bunch of runs to win because he has his game plan already worked out before he goes out. Hes kind of like Randy Jones of the Padres when he gets in a groove.
"If he gets beat, fine. But when a pitcher shakes off the catcher, the fielders sit back on their heels and the other team tends to have big innings more often. This doesnt happen when Steve pitches. I'd much rather play behind him than any other kind of pitcher.
"Heck, Steve is a winner."
So much so that in his last nine starts, Carlton has a 7-0 record, two no decisions, and a 1.46 earned run average in 68 innings by walking just 19 and striking out 79.
The 6-5, 220-pounder, who was traded eight years ago from St. Louis for Padre right-hander Rick Wise, has not surrendered a home run in his last 58 innings going back to a round-tripper Johnny Bench clubbed back on May 19.
Twenty-two more strikeouts and Carlton will tie the legendary Cy Young for eighth place (2,819) on the all-time list.
Three times he has had 20-win seasons as a Phillie, including 27 in his first campaign in 72 after the trade. His record in Philadelphia is 160-100.
"Without a doubt, hes the best today," added Bowa, without a moments delay.
And the Padres, though they tied the game 1-1 when seldom-used catcher Fred Kendall singled home the tying run in the seventh, never had a chance when the Phils put together a four-run ninth to creep within a half-game of division-leading Montreal.
The Expos, after forging a 6-1 lead over the Dodgers in Los Angeles, must have felt the pressure from behind as they lost, 8-7.
Onward roar the Phillies.
"We don't have a lot of guys with flashy statistics on this club," stated Bowa, "but we can win. It seems like its a different guy every time out."
This time it was a seldom-used catcher on the Phillies' bench who sent a shudder through the Padres.
Keith Moreland, a 20-year-old rookie, rocketed a Bob Shirley fastball off the centerfield wall pinch-hitting for Carlton. The blast scored a pair of runs to break the 1-1 deadlock.
Moments later, after Pete Rose was walked intentionally, a throwing error by Kendall and Paul Dade overrunning the ball resulted in both runners scoring.
"This game and playing Monday night in Los Angeles in a big, big game are my best thrills so far," offered Moreland. "I'm trying to learn. For me, I'm trying to learn pitchers, hitters, ballparks and even umpires.
"I'm not after (Bob) Boone's job. He says hell play another five years or so. I figure the job will be mine in five years if I've earned it. I've got to contribute what I can along the way to earn that chance."
The game-winning hit was Moreland's second pinch-hit in six at-bats, and the other one also drove in two runs.
Oddly enough, the Phillies, who rely on the powerful punch from third baseman Mike Schmidt and leftfielder Greg Luzinski, got just one hit in seven at-bats last night from the pair.
Schmidt managed an infield roller and accounted for an RBI with a ground out in the first inning.
"But those guys get everyone else going," said Bowa. "Greg compliments Mike and vice versa. But when one is hurt, like Greg was last year, its easier to pitch around them both."
Last year, when the Phillies fielded their starting lineup just 62 times, Schmidt hit .253 but socked 45 home runs and had 114 RBI while "The Bull" hit .252 with 18 homers and 81 RBI, an off year for him.
This season the pair has already combined for 35 home runs, 14 more than the whole San Diego team, and 92 runs batted in.
"See," smiled Bowa, winking, "there is always someone around the corner to hurt you when you play us.
"Even the bullpen, which people thought was going to be terrible has just pitched their fannies off all year long."
"Sure, there was some doubt about the pen," said McGraw, who posted his eighth save last night. "Ron (Reed) and I were both over 35 and there was some real doubt.
"But we knew we would be back and there were some strong young arms in the system. Heck, I knew the bullpen would be back. We've lost a few games but we have yet to be torched up once.
"We've gotten in the flow."
And that means bad news for everyone else. But for Larry Bowa the disc jockey, it means an easier winter.
Eric is weary of insurance role on Padres pitching staff
By Terry Monahan, T-A Sports Writer
SAN DIEGO – Everything is somewhat of a blur. It all looks alike.
Eric Rasmussen knows the routine perfectly by now.
Pitching has become, for the 6-3, 205-pound right-hander of the San Diego Padres, a sort of game. He opens the baseball season as a starting pitcher, is demoted to the bullpen and finally finds himself in time for the second half.
Well, Rasmussen thought he had found himself a bit earlier than anticipated last night before manager Jerry Coleman removed him in the seventh inning on the low side of a 1-0 game against the Philadelphia Phillies.
Eventually, the Padres dropped the contest, 5-1, but Rasmussen was long gone when matters became unraveled.
Promoted out of despair, that's the bullpen to a starting pitcher, by the rib injuries to both Randy Jones and Rick Wise, Rasmussen used his first start to match star left-hander Steve Carlton pitch for pitch.
A bunt single by Larry Bowa and a check-swing double that hit the chalk on the right-field foul line by Manny Trillo forced Rasmussen off the mound in favor of Johnny D'Acquisto, a strikeout pitcher.
"I had to have a guy who I thought was still strong enough to get me a strikeout at that point," said Padre manager Jerry Coleman, who was booed as he left the mound with Rasmussen.
D'Acquisto, as it turned out, did not get the strikeout, but did get out of trouble without surrendering a run.
"At that point," said Rasmussen, soberly, "the best I can hope for is a no decision, and no one wants that.
"I had been working on a little more deception in my delivery by hiding the ball in my glove a little longer and I pitched Carlton dead even for six innings. I even got a double off him.
"Yes, I'm happy with the way I pitched."
But Rasmussen is not too thrilled to still be in San Diego past the trading deadline this past Sunday.
A deal fell through that would have sent the mustachioed Rasmussen to Philadelphia.
"I'm a starter here by default," Raz said, slumped down in a chair in front of his locker almost 35 minutes after the final out last night. "I'm just trying to do my best, but I hate being an insurance policy."
I need to find a place where I'm wanted because of one thing – I can be a regular starting pitcher. That's all I need is work to get things straightened out."
Thus far, not much has gone Rasmussen's way in 1980. He is 1-6 although his 5.04 earned run average is now 4.61. He has given up 70 hits in just 56 innings of work.
Rasmussen worked 6-1/3 innings, gave up seven hits, one run, struck out four and walked only two.
"I've got three weeks now to show this club I should be a starter," Raz continued. "I've got to pitch three or four good games and stay in there.
"This same thing happened last year and it seems to be an annual occurrence for me. This is about the time I get things going in the right direction.
"But I can't do it in the bullpen. Two weeks ago this club didn't want me. Now with Jones and Wise out, they need me."
If Rasmussen could return to the form he showed back in '78 when he first came over from St. Louis in the George Hendrick deal, he would be welcomed anywhere in the major leagues.
Rasmussen was 12-10 with a 4.07 for the Padres that year after a 2-5 start with the Cardinals. It was the closest thing to a winning campaign for Rasmussen since a 5-5 mark his rookie year in '75.
"I don't know what Rasmussen did differently," said Phillie shortstop Larry Bowa, "but he had a better idea of what he wanted to do. His game plan was excellent.
"Heck, I go three-for-three and hit the ball out of the infield only once. You can't argue with a pitching performance like that. You just weren't destined for any breaks, that's all."
Recently, breaks have not been a part of Eric Rasmussen's repertoire.