Camden Courier-Post - June 2, 1980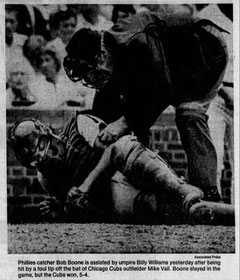 Phils lose as Green takes blame
By Rusty Pray of the Courier-Post
CHICAGO – A managerial move made too late, a few too many deep counts and one strategically placed wild pitch were three major contributors to the Phillies' 5-4 loss to the Cubs yesterday in Wrigley Field.
"You just witnessed a horsebleep piece of managing," said Dallas Green, indicting himself for the club's second loss in three games to the Cubs. "That game is mine, nobody else's."
The offensive piece of managing that had Green seething after the loss came with two out in the seventh inning of a 4-4 ballgame.
RELIEVER RON Reed, a righthander, had sandwiched a Dave Kingman single between a ground ball and a strikeout, bringing centerfielder Scot Thompson to the plate. In the process of falling behind Thompson, 3-1, Reed let fly a wild pitch that put Kingman on second, from where he scored the deciding run on Thompson's single.
"I got a lefthander warming up in the bullpen," Green said. "When he (Reed) makes the wild pitch, I got to go to the bullpen."
What the scenario should have been, according to Green, was a simple matter of walking Thompson and bringing lefthander Kevin Saucier in to pitch to switch-hitting Steve Ontiveros, who went into the game hitting an unhealthy .200 from the right side.
"I SHOULD have changed (pitchers) then," Green continued. "Then I got to put him (Thompson) on and bring the lefthander in to turn Ontiveros around. Cripes, he's hitting a buck ninety anyway."
Green, however, brought Saucier in after the damage had been done. It did little to improve Green's frame of mind that Saucier caught Ontiveros looking at a third strike to end the inning.
That was not the only Phillie gaff in the game. Rookie Bob Walk, starting only his second major-league game, fussed and fretted through 5⅔ tedious innings, allowing five walks and two home runs. Walk especially was hurt by his wildness in the third when he walked Thompson with the bases loaded to force in the Cubs' first run.
"He did a helluva job holding them to one run in the third," Green said. "If you stuck a lawnmower in his hand, he would've cut the whole infield in the first three innings. That's youth and inexperience and wanting so much to do well."
WALK DID WELL enough, issuing no more walks after the third, and managed to quicken his pace between pitches. Still, he was hurt by falling consistently behind in the count.
For instance, he took about 30 seconds to deliver a 1-2 pitch to Kingman. It took Kingman about two seconds to deliver the same pitch into the left-center field bleachers for his ninth home run, cutting the Phils' lead to 3-2.
Walk got the first two outs of the sixth before relinquishing a single to Tim Blackwell on a 3-1 pitch. Pinch-hitter Larry Biittner then greeted a 2-0 fastball with his best home-run swing, putting it out of the park and giving the suddenly resurgent Cubs a 4-3 advantage.
"The home runs never beat you here," said Green. "It's the guys who get on before the home runs that beat you. Like today: The home runs didn't beat us. The (bases-loaded) walk beat us."
THE CUBS asked reliever Dick Tidrow to nail down the win for Dennis Lamp, who pitched well despite spotting the Phils a 3-0 lead in the third. Tidrow got through Pete Rose and Bake McBride without incident, but gave Mike Schmidt a pitch he could handle on the outside part of the plate and Schmidt drilled it into the right field stands to send the game into the eighth tied, 4-4.
It was Schmidt's 17th homer of the year, third in three games here, and second one to the opposite field.
"Lord knows," sighed Green, "how many he'd hit if he hit here all year. Pitchers have been pitching him away and they're going to keep doing that until he proves to them he can go the other way. He's strong enough to do it."
The Cubs went to their strength in the eighth, sicking Bruce Sutter and his split-fingered fastball on the Phils. Sutter was knocked around some prior to yesterday, going into the game with a 3-3 record, a 3.60 earned run average and 26 hits allowed in 25 innings. But he retired all six Phillies he faced – four of them on ground balls – to earn his 11th save of the season.
PHIL UPS – Schmidt's three-game Wrigley totals: 5-for-11, three home runs, five RBIs, five runs scored,.333 with runners in scoring position... Phils open three-game series tonight in Pittsburgh, where Bill Madlock may begin serving his suspension for shoving a glove in the face of an umpire... With shortstop Tim Foli sidelined, the Pirates may have to face the Phils without the left side of their infield... Loss dropped Phils' record in one-run games to 3-7.
Phils' Walk tries to live down name
By Rusty Pray of the Courier-Post
CHICAGO – People whose names fit their occupations always have aroused a certain curiosity in others not so aptly named.
Really, who could resist wanting to meet a minister named Lord, a lawyer named Court or a doctor named Ward? The list could go on and on.
Bob Walk is well-acquainted with those whose names serve also as job descriptions because, well, he has been walking among them for years. Walk, you see, is a pitcher. He would have been happier if his parents' surname had been shutout, or strike, or even passed ball. Anything but Walk.
He's been the butt of jokes ever since he 'first picked op a baseball and began throwing it toward a home plate. Walk has spent the better part of his short major league career, in fact, trying to live down what his name implies.
"I've heard a million jokes," he said yesterday, "but they don't really bother me. The walks bother me more than the jokes. Giving up a home run doesn't bother me because there's nothing you can do about it. But you can do something about the walks. You can't win unless you throw strikes.
It is more than a little ironic that Walk has been a victim of his own name in the two games he has started for the Phillies. Last week against the Pirates, pitching one day after the Phils had called him up from Oklahoma City to take Larry Christenson's place on the foster, Walk walked five in 2⅔ innings. Yesterday, in what would ultimately become a 5-4 Phillies' loss to the Chicago Cubs, he threw ball four to five more. Amazingly, only one of the walks cost Walk a run.
"Usually, I don't walk that many people," he said. "I'm kind of confused right now because I don't know what the problem is. I'm not consciously nervous…. Maybe I'm trying to pitch to spots.
"I have good stuff. I just seem to keep-pitcbing myself into jams. In the first three innings today I let the leadoff hitter get on (twice by walks). You can't do that and win."
The truth is Walk came to the Phils with a reputation for wildness. He does have good stuff – an excellent fastball, hard slider – but lacks the kind of control it takes to win in the majors. In fairness, though, the Phillies presently are asking a lot from a 23-year-old who was pitching Double-A ball in Reading this time a year ago. What Walk lacks, more so than control, is the consistency that is born of experience.
"He got going pretty good after the third," said Phillies Manager Dallas Green. "We talked to him in the dugout about his approach and he responded. He got a little more composure and demeanor, and went after the hitters better.
"It's just that inexperience and inconsistency kills you."
Walk trotted into the third with a 3-0 lead and promptly walked leadoff man Lenny Randle for the second time. Ivan DeJesus followed with a single to right and, after Mike Schmidt made an excellent defensive play to retire Bill Buckner on k foul pop, Dave Kingman walked to loal the bases.
Walk went 3-2 on Mike Vail, then fanned him, but forced in a run when he walked Scot Thompson on a 3-1 pitch.
Walk might have gone to the mound a little weary after helping himself in the second with his first major league hit, a ground single to right. You could say Walk is unaccustomed to running the bases because his hits are rarities. He had one earlier this season in Oklahoma City, but before that his last hit had come in high school.
Still, Walk managed to keep his composure long enough to break from first as Pete Rose singled to left on what must be termed a "hit-and-walk" play. Walk's journey from second to home, however, was somewhat less routine.
When Bake McBride lined a single to center, Walk was determined to hold at third. But third base Coach Lee Elia waved him on and the 6-3 pitcher stumbled on his way to the plate. He finally arrived, sliding belatedly on his knee, as both dugouts looked on in disbelief.
"The umpire (Joe West) didn't call me safe," Walk said. "All he said was, 'What the hell's that?'
"I wanted to get back to the dugout fast because I was kind of embarrassed."
It was one time, at least, Bob Walk did not.