Chicago Tribune - June 2, 1980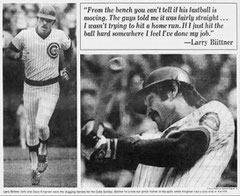 Cubs' comeback leaves Phils puzzled
By Robert Markus
LIKE PIECES IN a puzzle, everything came together for the Cubs in the late innings Sunday. Larry Biittner, just trying to hit the ball hard, hit it all the wav into the right-field bleachers for a two-run homer.
Dave Kingman, just trying to get a piece of an inside pitch, managed to punch a single into the wide open spaces in right field. Scot Thompson, just trying to keep his mind on his business, looped a hit to left to score Kingman.
And that's how the Cubs fought back for a 5-4 victory over the Philadelphia Phillies that drew them to within a game of the .500 level as they headed out for Montreal and the start of a 10-game trip.
If this had been merely a battle between two single combat warriors, then perhaps Philadelphia might have won Sunday's duel in Wrigley Field.
TWO OF THE strongest men in baseball came to the plate within moments of each other with the game on the line. The Phils' Mike Schmidt got jammed with an inside pitch and almost unbelievably managed to hit the ball over the fence to the opposite field for a game-tying homer.
Then Kingman got jammed and managed only to fight it off for his single. But in the end, Kingman's one base was as important as Schmidt's four.
Kingman advanced to second on Ron Reed's wild pitch and came home when Thompson managed to forget his fielding miseries long enough to knock in the game-winner.
Thompson made three errors in the outfield during the homestand and nearly made another one Sunday when he fell chasing a fly ball but managed to recover in time to catch it.
"I HAVEN'T BEEN thinking about hitting when I've been up there lately," Thompson admitted. "I've been thinking about defense because I've been struggling. I've worked a long time to be a good outfielder and I thought I was. Then one bad game can play on your mind."
Thompson said he wasn't trying to aim the ball to left-center. "I was just trying to stay on the ball and I went that way after I saw it starting to go away from me," he said.
While Kingman could have accepted plaudits for foiling the Phillies' extreme defensive shift, he declined to do so. "I got jammed on the pitch," he admitted. "I couldn't get my bat around."
Kingman had managed to get his bat around in the fifth when he lofted his ninth homer - and first since May 14 - against Phillie rookie starter Bob Walk.
THAT HAD CUT the Phils' lead to 3-2 and It disappeared entirely in the sixth when Biittner pinch hit for Cub starter Dennis Lamp with two out and Tim Black- well on first.
Before going to the plate, Biittner had asked about Walk, who was making only his second appearance in the major leagues. "From the bench you can't tell if his fast ball is moving," said Biittner. "The guys told me it was fairly straight." Ahead 2-and-0, Biittner figured he "wouldn't want to go 3-and-0" and hit the anticipated fast ball into the last row of bleacher seats.
"I wasn't trying to hit a home run," Biittner said. "If I just hit the ball hard somewhere I feel I've done my job." He did it so well that Lamp, who pitched well for the fourth outing in a row, stood to gain his third consecutive victory.
But that was before Schmidt stepped up in the seventh with two out against Dick Tidrow. "That guy," exclaimed Cub Manager Preston Gomez, "I don't know how many home runs he's hit in this park already. It's unbelievable."
THE ONE SCHMIDT hit against Tidrow to make the score 4-4 was his 17th of the season - best by far in the majors - his third in two days, and the 25th of his career in Wrigley Field. "And Tidrow said the ball was inside," marveled Gomez. "He's so strong."
Even Schmidt admitted, "how I even hit it out I'll never know." Gomez, confessed he was hoping Bruce Sutter wouldn't have to face Schmidt again in the ninth.
Sutter, who earned his 11th save, eased his manager s mind with one of his tidiest performances of the season. He mowed down six in a row and left the menacing Schmidt stranded in the dugout.
Sutter conceded he has not been particularly sharp this year but feels he is finally getting his rhythm back. "This weather is helping," he said. "I'm getting the feel for the ball again. When it was cold, I'd sometimes try to guide it to make it break. The more I do that, the less it breaks."
Catcher Tim Blackwell concurred. "His ball used to almost stop and then go down," said Blackwell. "Now it's kind of rolling over."
Sunday, however, Sutter got four easy grounders and one strikeout, indicating one more piece in the puzzle is starting to fall into place.