Montreal Gazette - June 25, 1980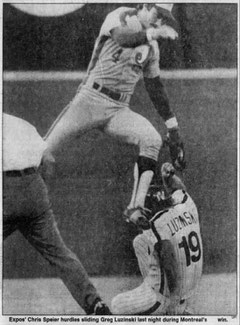 Cromartie keys Expos' win in 10th
By Ian MacDonald of The Gazette
PHILADELPHIA – The Expos will be in first place when they open that crucial six-game homestand against the Pirates and Phillies at the Olympic Stadium Friday night.
They assured themselves of that when they hung on in tenacious fashion to nip the Phillies in the first game of a three-game series here last night.
The Expos are now 2½ games ahead of the Phillies and four up on Pittsburgh Pirates in the National League's East Division.
Factually, the Expos hardly can be credited with hanging on because before ultimately winning 7-6 in 10 innings, the Expos blew three leads. They needed all of the season high 18 hits they managed against four of the five pitchers they faced because along the line they left a season high 14 runners on base.
Percentages hurt
Once again the opposition didn't understand that it doesn't pay to follow percentages and walk anybody to get to Warren Cromartie – especially a hot-hitting Cromartie.
With first base open in the 10th inning, the Phillies had Tug McGraw walk Gary Carter intentionally to face Cromartie. Hitting safely in his eighth straight game, Cro lined a clean single to right which scored LeFlore and made Elias Sosa a winner for the fifth time in seven decisions.
The Expos now have 13 winning decisions in a row against lefthanders. They have pushed the second place Phillies two-and-a-half games behind and own a four-game lead over the deafening champion Pirates.
"Cro comes through, doesn't he?" marvelled Expos' manager Dick Williams. "That's the sign of a good ball club to keep coming back.
"We aren't doing it with mirrors. We're doing it with good personnel."
Shortstop Chris Speier, one of seven Expos with at least two hits and author of several outstanding defensive plays, especially one in the 10th inning, was excited about the game.
"These are the great ones," Speier said. "After they tied us in the ninth, the guys were a little down. I said: 'How do you think the Phillies felt every time we went ahead?' We got psyched up all over again."
Cromartie has 34 hits in 83 at bats over the last 20 games for an average of .410. Cro's over-all average is now .316 and finds him in the top five among the league's leaders.
It's these situations though where teams walk the man ahead of him to force a lefty against lefty situation that give Cromartie his greatest delight. This was the second game in succession that Cromartie has come through with the game-winning hit under precisely these conditions.
'All a myth'
"I've been saying all along," said the talkative Cromartie, "that it's all a myth, that stuff about lefthanded hitters not being able to hit lefthanded pitchers.
"I want to keep coming through like that for all those guys who have been taken out of games because of that theory that is all wrong."
Actually, this is the third time in 12 days that the opposition has walked Carter so that a lefty could pitch to Cromartie. And it's the third time that the positive thinking Cromartie has upset the strategy.
Sosa was far from his best. The free agent acquisition was asked to protect a one-run lead in the seventh and did not.
The Expos jumped ahead again and Sosa frittered away that opportunity in the bottom of the ninth.
Once they had given him one more chance though, Sosa was tough in the 10th as he had Manny Trillo and pinch hitter John Vukovich ground out and he whiffed the always dangerous Pete Rose.
The Expos took over first place in the NL East back on June 7th but their chances of retaining that lofty perch appeared remote when they headed west for the start of this current four-city road trip with four regulars sidelined.
After losing four of the first five games, the Expos now have won three straight to even their record for the trip at fours.
EXPOSES – The Expos hope that their three disabled players – Ellis Valentine, Larry Parrish and Bill Lee – will be in uniform prior to the all star break... Valentine had the pin removed from his fractured cheek Monday. Ellis has started a conditioning program but it will be a few days before he faced a pitched ball after his beaning accident...