Montreal Gazette - June 27, 1980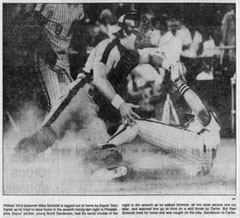 Sanderson 2-hits Phils
By Ian MacDonald of The Gazette
PHILADELPHIA – Scott Sanderson magnificently climaxed a superb road trip for the Expos here last night.
Five-five! Successful?
"Before we started this trip," Sanderson said after his second complete game shutout of the season was a 1-0 thriller over the Phillies, "who would have thought we would come back home with a two-and-a-half game lead?
"Without Ellis Valentine and Larry Parrish, nobody could have thought that we would be able to do that. But we've done it. Coming home two-and-a-half ahead instead of half-a-game is a huge difference.
By taking two-of-three from the Phillies right here at the Vet the Expos have indeed stretched the lead they first took on June 7. Not only are they two-and-a-half ahead of the Phillies but they are four-and-a-half up on the defending champion Pirates.
Sanderson faced just two over the minimum 27 men. He allowed two singles, walked one batter and had another man reach on an error.
Besides his 2-0 whitewash of the Cubs at the Big 0 on June 5, Sanderson also has two combined shutouts with ol' Woodie Fryman.
Expos' manager Dick Williams, calling Sanderson's effort superlative, said he was perfectly happy with a .500 trip.
No longer 'rookie'
Williams also had a little story to tell about Sanderson. After Scott pitched back-to-back complete game wins on May 30 and June 5, he told newsmen that he hoped the manager would understand that he didn't have to be relieved every time things got tough.
"He came in to my office and told me he wasn't a rookie anymore," Williams said. "He said he was capable of completing his games. Then he went out and pitched three and four innings in his next two starts. Of course, he had an injury."
Bothered with an ailment in his upper right thigh Sanderson, not only didn't go far in those outings but he missed a start as well.
"Any starting pitcher hates to miss his turn," Sanderson said. "It seemed like it had been quite awhile since I pitched. I was well rested and well prepared.
"We were talking before the game and it seems like we've been playing an awful lot of long games. I tried to make this one faster. I threw 90 percent fast-balls."
Probably the most important fastball that Sanderson threw came about in the seventh inning when major league home run leader Mike Schmidt tried to get things going for the Phillies and the 31,696 fans.
Trouble in seventh
Schmidt drew a walk after Sanderson had faced the minimum number of batters following a Pete Rose leadoff single in the first. Del Unser came close to taking Sanderson downtown with Bob Pate making the catch against the fence.
Schmidt then stole second and took third on Gary Carter's errant throw. Dramatically. Schmidt broke for the plate as Sanderson was winding up. Fortunately for the Expos, Sanderson's fastball and Carter's subsequent tag just did prevent the steal of home.
"That's aggressive baseball," said Wiliams. "I'm glad it was a fastbalL Maybe on a different pitch he would have been safe."
Schmidt thought he had his foot in," Phillies' manager Dallas Green said. "He had a good jump and the kid has a slow motion.
"Anyway, it was a good effort – a good gamble. It didn't look as if we were going to get any hits of that guy anyway. That's the best game that's; been pitched against us this year."
For the Expos this was their 14th straight winning decision against a lefthander. It wasn't easy. Randy Lerch was tough.
The Expos' only run came about on a well executed play. Chris Speier, flawless defensively once again, opened the fifth with a single and was sacrificed ahead by Sanderson.
After Ron LeFlore, who moved to within one of major league steal leader Omar Moreno with thefts of second and third, grounded out, Rodney Scott walked.
Andre Dawson then muscled the ball to the opposite field and Speier's slide just did manage to beat rightfielder Bake McBride's throw to the plate.
EXPOSES – Phillies' shortstop Larry Bowa left the game in the first inning with a severe hamstring strain after his futile attempt to flag down Andre Dawson's base hit grounder. Bowa is likely out for a week...
Dickie Noles' farcical appeal of his three-day suspension for throwing a bat on the field was lifted as expected. By appealing and then withdrawing a three-day suspension, a starting pitcher can be kept in the rotation...
Pirates' manager Chuck Tanner will be naming his pitchers for the NL all star team early next week. Expos' Steve Rogers, going tonight, and the Bucs' Jim Bibby, who puts his 8-1 line on the mark tomorrow, are leading candidates...
Joining the list of outstanding hitters who are impressed with the Expos' Bill Gullickson is the Phillies' major league home run leader Mike Schmidt, who struck out the first two times he faced the young righthander…
Bucs, Phillies crucial home series for Expos
Rogers gets call against both teams
PHILADELPHIA – (Gazette) – Far short of the halfway mark in a long, long schedule it hardly makes sense to classify games as being crucial.
However, the Expos' six-game homestand starting tonight ranks as important as any series of games that they will play until late September.
The all-star break division leadership, traditionally an omen of how the final standings will read, is certainly at stake in the NL East as the Expos entertain the Pirates and Phillies for three games apiece.
Steve Rogers, the ace of the Expos' staff, starts one game in each series as the Expos fight to bold the first place berth they took over on June 7.
Rogers draws Bert Blyleven (2-7) tonight in the first game of the Pirates' series and there is a distinct possibility that his outing against the Phillies Tuesday or Wednesday will be against Steve Carlton.
Rogers admits to a slight change in the style which saw him strike out 206 batters in '77, one dictated by the elbow surgery of '78.
"I'm not throwing as hard a breaking ball," Rogers says. "My hard slider was a stress pitch on my arm. I think what's happened now that I have to pitch with a certain amount of pain is that I've learned to conserve energy. I know that I can't go out and blow every pitch past the batters."
Steve is 4-0 for June and that includes the game at Los Angeles when he was removed after six because of tightness in his elbow and the bullpen blew a 7-2 lead.
Rogers has been accused of being something less than super in clutch games but his work this spring should dispel that myth.
When the Expos rode a 10-game winning streak to the top of the heap with as many as four regulars out of the line-up, Rogers won three times.
Since May 16, Rogers is 7-1 in nine starts. With five complete games over that stretch he has averaged 7.85 innings per outing and has an earned run average of 2.15.
Expos are still missing Larry Parrish and Ellis Valentine (disabled after being hit by pitched balls) and they are catching the world champion Bucs in a terrible slump.
Losers in nine of their last 10 games, the Pirates simply haven't been hitting. They've scored 24 runs in the nine games on their current road trip and they haven't scored more than four runs in any of their last 10 games.
The offence has been such that manager Chuck Tanner hasn't been able to operate normally. For instance, there haven't been opportunities to use relief ace Kent Tekulve because the team hasn't been involved in the late innings.
Willie Stargell, out for six games with a pulled hamstring, has told Tanner that he will be ready tonight The Bucs' infield is intact with shortstop Tim Foli (disabled) and third baseman Bill Madlock (suspended) back in action.
Expos' manager Dick Williams is going with Charlie Lea and David Palmer tomorrow and Sunday, ignoring the temptation to try Ross Grimsley.
When Cards' manager Whitey Herzog saw how ineffective the Bucs were against lefties Jim Kaat and Bob Sykes at St. Louis, he switched from rightie star Bob Forsch to rookie southpaw Ron Hood for the third game and came up with the sweep.
Though advance sales are tremendous for the weekend – 34,000 tonight, 30,000 tomorrow night, and 33,000 Sunday afternoon – the Expos will be hard pressed to pick up any of the 40,000 they are down from last year. In comparable 79 dates, the Expos attracted 124,053 for three games with the Dodgers.
Noles drops appeal
PHILADELPHIA – (AP) – Philadelphia Phillies pitcher Dickie Noles yesterday began a three-day suspension after dropping his appeal to National League President Charles Feeney.
Noles is being disciplined for tossing a bat and helmet onto the playing field in Los Angeles on June 17. The player was angered over a first base umpire's decision which preceded a Dodgers' home run, after which Noles was pulled from the game.
Feeney announced a J500 fine and three-day suspension Tuesday and Noles appealed through the Major League Baseball Players Association.
"I was upset when I heard about the suspension," Noles said. "But after talking to several people the last two days, I decided to drop the appeal and get the entire thing over with."
Manager Dallas Green said the suspension means he will have to juggle his pitching plans for the weekend series with the New York Mets.