Camden Courier-Post - June 29, 1980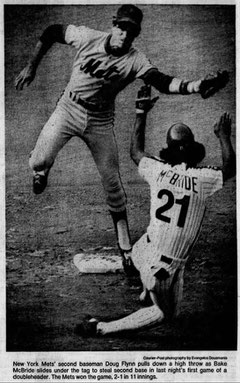 Slumping Phils drop pair to Mets
By Rusty Pray of the Courier-Post
PHILADELPHIA – The Phillies have gotten both good hitting and good pitching this season. The trouble is, the two have seldom appeared in the same game.
It has been the pitchers' turn lately. Dick Ruthven, pitching for the first time in 15 days after bruising his right shoulder, last night added to the growing list of impressive performances by a Phillies' starter, allowing the New York Mets just one run in nine innings. That, however, was not good enough to win, the Phils and reliever Ron Reed dropping a 2-1 decision in 11 innings.
Steve Henderson's bases-loaded single broke a ninth-inning tie that capped a Mets 5-4 victory and a sweep of the doubleheader.
As 47,169 fans in Veterans Stadium looked on in dismay, pinch-hitter George Vukovich grounded out with Garry Maddox on third base to bring a frustrating conclusion to the first game of a twi-night double-header. Maddox, who doubled in the Phils' only run in the third off Met starter Ray Burris, had opened the inning with a double to right-center. But Maddox got to third only after Bob Boone looked at a called third strike on a 3-2 pitch. Pinch-hitter Greg Gross' meek grounder advanced Maddox before Vukovich's bouncer up the middle was turned into the final out by shortstop Frank Taveras.
It might have been interesting to learn the thoughts of Manager Dallas Green after his club lost for the fourth time in six straight one-run decisions. But, whatever Green's opinion of his club's performance might have been, he kept it to himself, keeping his clubhouse closed to reporters between games.
Burris, who beat Steve Carlton, 3-0, in his only other appearance against the Phils this season, faced a lineup that was minus Mike Schmidt, who had started every game this season at third base. Schmidt aggravated a pulled left hamstring Friday while running out a ground ball and sat out both games of the doubleheader. With shortstop Larry Bowa still out with a pulled hamstring, the left side of the Phillies' infield featured John Vukovich at third and Ramon Aviles at short.
Whether or not Schmidt would've been able to help the Phils' impotent offense is a question that will remain unanswered. The truth is, they had struggled with him in the lineup, losing by scores of 1-0 and 3-2 going into last night's twinbill.
The scoring drought has produced some disturbing statistics. For instance, going into last night's nightcap, the Phils had scored precisely five runs in four games, losing three of them. They had scored 21 runs in nine games, losing seven.
There's no reason to further beat a dead offense. Except, last night's opener was a study in ways not to score. The Phils failed to produce a run because they got only two runners in scoring position after the fourth.
The Mets' method of non-scoring was different, but just as effective. They had at least one man in scoring position with less than two out on five separate occasions, but cashed in only once prior to the 11th.
And that run came only after Ruthven balked Doug Flynn to second, setting up an RBI single by Lee Mazzilli.
Burris was the batter in a bunt situation after Flynn had stroked a one-out single in the fifth. As Ruthven went into his stretch, first baseman Pete Rose charged off the bag. But Ruthven picked that moment to try his pickoff move, balking with no one to throw to.
The night remained calm until the 11th, when Stearns' double brought with it a thunderstorm, a 32-minute rain delay and the Phils' third straight defeat.
And, the night remained one of unfulfilled promise for the Phillies. The fourth had even more potential. Maddox opening with a single and streaking to third on Keith Moreland's base hit. But the Phils could get only a 1-0 lead out of it on Aviles' sacrifice fly, Moreland failing to score on John Vukovich's suicide squeeze attempt.
The Phils increased the lead to 3-0 in the fifth when Pete Rose and Greg Gross doubled and Maddox bad a triple.
The Mets scored two runs in the sixth, but the Phillies made it 4-2 in the seventh when Maddox doubled home Lonnie Smith, who had singled.
However, the Mets tied the game in the eighth on Alex Trevino's two-run single with the bases loaded.
In the second game, Lee Mazzilli opened the ninth inning with a walk. Frank Taveras bunted and Phils reliever Kevin Saucier threw the ball into center field, allowing the runners to move up to second and third.
After Claudell Washington struck out, Joel Youngblood was intentionally walked, with Henderson following with a line single to right.
John Sterns' double to the gap in left-center made reliever Neil Allen the winner of the first game. Joel Youngblood had greeted Reed in the 11th with single to left before Stearns unloaded his game-winner on a 1-1 pitch.
PHIL UPS – Righthander Nino Espinosa has rejoined the team after testing his injured shoulder in Spartanburg... Espinosa pitched 19 innings, went 1-1.
Trim Luzinski anxiously awaits 'fat' pitches
By Ray W. Kelly of the Courier-Post
PHILADELPHIA – Greg Luzinski didn't want to think it. He didn't want to hear it. Yet, in the back of his mind, the familiar refrain began to play.
Same old song, entitled, "A Lot Of Batters Would Love To Have The Kind of Season You're Having Big Guy... Cha, Cha, Cha."
Projecting his current offensive pace into the half a season that follows the All-Star break, the powerful leftfielder for the Phillies probably will hit more than 30 home runs, walk 100 times and drive in about as many runs.
A lot of guys would, indeed, love to take those figures to the bank in the fall. Some would even give the devil's agent the options on their souls and the mineral rights to the family burial plot to see those numbers on the flip side of their bubble gum cards.
But Luzinski is not a lot of guys. He wants to make 1980 a Greg Luzinski kind of year. A duplication of 1977 would be nice. That's when he batted .309 and clouted 39 homers, while collecting 130 RBIs.
That's also when he was healthy and not battling the kind of leg injuries that put the brakes on a three-year offensive explosion which nosedived into a pair of seasons in 1978 and 1979 that would have made others proud, but left the Bull grinding his teeth.
Physically, the big man is not only back, he's better than ever. Luzinski is leaner and meaner than he has been in a long time, the result of a winter in which he set a personal record for "push-a ways" – that's a pushup done while sitting at the dinner table.
"Playing every day has helped me keep the weight down," he said. "But I watch it just the same."
It's amazing that Luzinski's streamlined frame, which is even more impressive when he's out of uniform, hasn't been assaulted lately by a constant barrage of Twinkies, Yankee Doodles and Chips Ahoy. Most frustrated people are junk food junkies. And, at the moment, Bull is . starving for some hitting satisfaction.
With a little luck, he could be enjoying a super year. For example, even though he already has driven in over 40 runs, he knows the total could be a lot higher if the bases weren't so empty so often.
It's not that the people batting in front of the big guy aren't doing their jobs. The truth is, they're doing it too well. Pete Rose, Bake McBride and Mike Schmidt already have combined for more than 110 RBIs. Luzinski has bad to settle for leftovers.
There must be some comfort in the knowledge that the threat be represents, now that he's healthy, has forced opposing hurlers to deal honestly with Rose, McBride and Schmidt. A good indication of this is the fact that Schmidt, who led the league with 120 walks last season, went into the weekend with just 35 walks to his credit.
In other words, when Luzinski was appeasing Danny Ozark by playing on just one leg in 1979, enemy pitchers did the smart thing. They pitched around Schmidt whenever possible and went after Greg.
Things have changed. As a result, Schmitty is feasting on better pitches, clearing the bases on 21 occasions with home runs. After six of those 21 homers, Luzinski also circled the bases, driving home just one run – himself.
Bull knows the facts of baseball life and he can live with them. What he needs, although he won't say it, is for the guy hitting behind him to force opposing pitchers to throw him something besides sliders in the dirt and fastballs around the eyebrows.
"It's no big secret that Bob Boone (who normally hits behind Luzinski) has been struggling a little at the plate," said Manager Dallas Green. "I'd love to see Boonie get hot with the bat, not just for himself, but for Bull's sake as well.
"But it has been a tough year for Bob. Sometimes I get the feeling he hasn't been with us mentally for half the season, what with all the strike things he had to handle... then he had injury problems and other teams trying to run (steal) on him... his mind hasn't been totally on hitting."
Green admits he has felt some pressure , to possibly juggle the batting order to get a hot bat behind Luzinski. Some days it seems like everyone wants him to drop McBride into the five-slot in order to lighten some of Bull's burden.
"I'm not going to start shuffling the lineup if I can help it," said the manager. "We're getting pretty good run production the way things are. As for moving Bake, why take a chance on screwing him up? He's going good. Let him stay right where he's doing well.
"I know you're going to ask me why I don't put Keith Moreland in Boone's spot. Well, I believe that if we're going to win this thing, over the long haul, we're going to need Bob Boone in the lineup. He'll come around."
Boone, who is struggling with a sub-.230 batting average, always has shown the dedication and talent to overcome his problems. And he'd like nothing better than to embark on a hot streak that would help the Bull, who is climbing the walls over this "pitching-around-him" business.
"I get into a pretty good groove with the bat and right away we run up against a team that comes into a series with the idea that they're not going to pitch to me," said Greg. "It gets me all loused up because I want to stay in the groove by swinging the bat.
"So I get a little frustrated. I get a little over anxious. I chase bad pitches. Then, when a pitcher makes a mistake and throws me something hittable, I jump at it instead of just taking my normal swing. Pretty soon, I'm into bad habits."
Green sat down with Bull the other day and tried to convince him that the only thing to do was to accept his fate for the moment and refuse to swing at all those bad pitches.
"I told him, 'take the walks... if they're not going to give you anything to hit, why give them an out?'" said Green.
The manager rolled his eyes. "Of course," he said, "there are two schools of thought on the matter. Bull insists he's not paid to look at pitches."
That's exactly how Luzinski feels. "I'm supposed to drive in runs. That's why I'm , hitting fourth in the lineup," said the big guy.
On more than a few occasions, Luzinski has forced the issue and come out on top. That's a tribute to the way he has sharpened his skills for what he knows could be the year he proves to the fans that he's not getting older, he's getting better.
On paper, Luzinski is having the kind of season a lot of major leaguers only see in their dreams. But that's an old song that Greg is sick of hearing. What you see now is only the tip of an offensive iceberg that could be dangerous if it ever gets the chance to break loose.