Wilmington News Journal - June 29, 1980
Mets sweep as Phils' bats remain silent
By Kevin Noonan, Staff Reporter
PHILADELPHIA – The only thing worse for a pennant-contending team than a loss to the New York Mets is two losses – especially on the same night.
The Phillies had the unthinkable happen to them last night, dropping a double-header to the surging Mets 2-1 and 5-4 at Veterans Stadium.
The Mets scored the game-winner in Game Two on Steve Henderson's ninth-inning RBI single to right, which scored Lee Mazzilli from third.
The Phils have now been involved in seven consecutive one-run games, with a 2-5 record over that span.
"We're hurting physically, but we're hurting even more mentally," said Manager Dallas Green of the Phils. "But we're gong to avoid what we had last year when we got into a syndrome of feeling sorry for ourselves."
Nobody's feeling sorry for the Mets any longer. The former sad-sack cellar dwellers have won seven of their last eight games.
"We're starting to complete games, in terms of the basics," said first baseman Mazzilli, who went 6-for 8 in the double-header, with two walks. "Before it seems like we'd play good, fundamental baseball for five or six innings, then come apart. We're starting to play good the whole game."
The Mets started their winning rally in the ninth-inning of game two when Mazzilli opened the inning with a walk. What happened next typifies what has happened to the Phils of late.
Frank Taveras laid down a bunt to try and advance Mazzilli to second, but his bunt hit the Vet's Astro-Turf surface too hard and caromed directly to relief pitcher Kevin Saucier. Saucier had time to go to second to try and get the lead runner, but his throw hit the sliding Mazzilli and bounced crazily into left field.
By the time the Phils tracked down the ball, Mazzilli was on third and Taveras was on second. An intentional walk to Youngblood loaded the bases for Henderson, who lined a Saucier fast-ball into right to drive in the game-winner.
"We seemed to be jinxed," said Garry Maddox, who led the Phils' offense in both games, with a pair of doubles and an RBI in game one, and a single, double, triple and two RBI in game two. "When you start to lose games like we've been doing, it's the little things that do you in. We just have to rally now and keep playing hard. If anybody has a suggestion otherwise, I'd like to hear it."
The Mets won the first game in 11 innings, scoring the game-winner on John Stearns' double to left-center, which brought in Joel Youngblood, who opened the inning with a single.
Youngblood led off the Mets' 11th with a solid single off of loser Ron Reed (6-2). Youngblood's ground single went between third baseman John Vuckovich and shortstop Ramone Aviles. If that doesn't sound like the normal Phils' defense on the left side, blame leg muscles. Both Mike Schmidt and Larry Bowa are nursing hamstring injuries.
After Youngblood's base hit, Stearns ripped his double to the gap in left-center field. Cut-off man Manny Trillo cut down Stearns trying to stretch his two-bagger into three, but the damage was done.
Maddox led off the Phils' 11th – after a 32 minute rain delay – and legged out a double to right-center. Bob Boone looked at a third strike, after working Met reliever Neil Allen to a full count, before pinch-hitter Greg Gross bounced out weakly to shortstop Frank Taveras. George Vuckovich, pinch-hitting for John Vuckovich, hit a bouncer up the middle that Taveras gloved and threw to first, getting his man by a step to end the game.
Dick Ruthven, the Phils' starter, kept the Mets under control, giving up eight hits and one run in nine innings. But a mental lapse on his part in the fifth inning gave the Mets their first run. Doug Flynn, the Mets second baseman, lined a one-out single to right field. With pitcher Ray Burris batting, first baseman Pete Rose charged the plate for a possible bunt. But Rose's action distracted Ruthven, who committed an obvious balk, advancing Flynn to second. Ruthven got Burris to ground out to Vuckovich at third, but Lee Mazzilli, who went 4-for-5 with a double, dropped a single in front of slow-moving Greg Luzinski in left field to score Flynn.
The Phils had taken a 1-0 lead in the third inning, when Trillo lined a single up the middle and moved to second on Luzinski's base-hit to left. Trillo scored when Garry Maddox' dropped a double down the right field line. With Luzinski on third and Maddox on second, Boone popped out to Flynn to end the inning.
Allen was credited with the victory for two inning's work in the 10th and 11th. Burris went nine innings, giving up six hits and one run.
PHIL-UPS - Dickie Noles (0-3) will pitch for the Phils tomorrow against the Mets' Pat Zachry (2-4), starting at 7:05 p.m...There will be a fireworks display following the game... Phils leave on road trip alter tomorrow's game... Monday night's game with Montreal will be televised on Channel 6, starting at Mickey Rivers had four hits for Texas. Comer, 2-3, who went on the disabled list last month with a sore shoulder, walked three and struck out one. Danny Darwin allowed only one hit in 21-3 innings of relief to pick up his first save.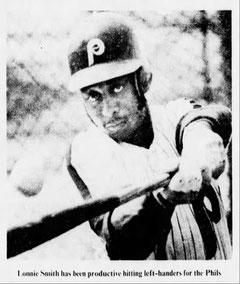 Phillies' Smith finally feels he belongs
By Hal Bodley, Sports Editor
PHILADELPHIA – All Lonnie Smith wants to be is one of the guys. He doesn't want to be the outfielder the Phillies are always talking about trading and he doesn't want to be just another minor leaguer up for a cup of coffee.
Lonnie Smith thinks he belongs with the Phillies and after 62 games, nobody is arguing with him.
"I'm finally becoming relaxed," said the 24-year-old who has worn a can't-miss tag since the Phils signed him as their No. 1 draft pick in 1974. "Once we got past the June 15 trading deadline, I figured I had a home here."
At present, Smith is a reserve outfielder, but more and more it appears Manager Dallas Green is going to start him in right field in place of Bake McBride against left-handed pitchers.
Through 65 games, Smith is hitting .375. He has five stolen bases and was playing his outfield positions well, if not with reckless abandon.
Smith paid his dues with four summers at Oklahoma City where he averaged .308. He stole a total of 171 bases, yet each spring he felt like he had more to prove than most youngsters.
Then, this past spring, all he heard was that he was going to be traded. One deal would have sent him to Baltimore for infielder Billy Smith. And after the season opened and it was definite the Phils would need additional starting pitching, Hal BodSey Sports editor Lonnie Smith's name was frequently mentioned. In fact, the week before the June 15 deadline he played in just about every game, obviously a showcase.
"I feel better now than I have at any time," said Smith, who can go from first to second in a blink. "I don't have to worry about being traded now and I don't have to continually listen to people talk about me being traded."
With that monkey off the Californian's back, his play has improved tremendously. He has been contributing key hits and his base-running has been intimidating to the opposition.
"At first, the part-time role was difficult for me," said Smith, who as a boy growing up in Los Angeles dreamed of becoming a policeman, not a major leaguer. "As I see it now, I can get into just about every game in one way or another. It's becoming easier for me to handle than it was last year when Danny Ozark was the manager. The only thing I could look forward to when he brought me up was pinch running and not even doing very much of that. Dallas has confidence in me and that means a lot."
There were those who felt Ozark, convinced Smith could not cut it in the big leagues, tried to prove his point in last season's opener. He started Lonnie in right field and the experience was embarrassing for the rookie and the Phillies.
"I didn't think he tried to embarrass me," said Smith. "It's just that I had no chance to prepare for that start. I didn't have any inkling I was going to be in right field until I got to the ball park. I was nervous and not mentally prepared. I misjudged some balls and fell down once. I had hoped I would be able to play right as well as I play left and center, but it didn't happen that way."
So, on April 26 it was back to Oklahoma City for Smith who promptly hit .330 and stole 34 bases.
Green, former director of minor leagues for the Phils, has always been a staunch supporter of Smith. He has reportedly nixed deals that involved the 5-foot-9, 170-pounder.
"I was never going to trade Lonnie Smith," Green said. "I have preached that for quite some time. Even though I know our pitching doesn't look good on paper, I still don't want to trade Lonnie Smith for a pitcher I don't know that much about. If you're talking about a high-quality pitcher, somebody who could add 14-15 games to our win column, I might reconsider, but there's not too many of those guys around.
"Lonnie Smith is one of the few players in my opinion who, without hitting home runs, can excite and ignite a team. He puts that extra pizazz into your offense. He breaks up doubleplays as well as anybody I know. He goes from first to third, or second to home as well as anybody I have seen. And he hasn't looked bad at the plate."
"I'm hitting decent," said Smith, "but I can hit the ball a lot harder. When I'm going good with the bat, I hit a lot of line drives to the alleys."
At times, people have said Smith has had a bad attitude, but this might have been caused by all the frustrations built up inside of him. When he was sent down in April of 1979, he considered quitting baseball.
"With Danny Ozark I never felt comfortable," said Smith. "He doesn't like to use young players, except for pitchers. I never felt he had enough faith in me to play me. The day I was sent down last April, I was told some things and to me they were outright lies. Anything after that I did not believe from Ozark. He told me I would learn to play right field, but from the first day I arrived, I was in center. He told me I'd be back up in a month; I didn't get back until September. At that point, I almost felt like quitting."
In the beginning, Smith was turned off by the Phillies.
"When I first heard Philadelphia was interested in me, in high school, it was when they were still a bad team. I didn't really want to sign with them. Montreal showed more interest in me, so whenever the Phils came out to watch me, I wouldn't really give it my all.
"Before I got into baseball, I wanted to be a policeman. I was going to go to the police academy in Los Angeles. That was the only thing I was really interested in."
Lonnie Smith knows a trade probably would have meant a chance to play everyday with another team.
"That would be nice," he said, "but right now I prefer to be right where I am. I have something to prove here."