Camden Courier-Post - June 9, 1980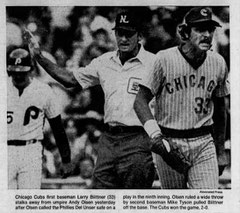 Sutter guns down Phils
By Rusty Pray of the Courier-Post
PHILADELPHIA – There is an art to beating Bruce Sutter, Chicago's version of "The Man With the Golden Gun." But, as in all creative endeavors, it's easier explained than accomplished.
Sutter's specialty is something called a "split-fingered fastball." The pitch was known as a forkball in an earlier incarnation. Whatever you care to name it, the pitch is one of the National League's nastiest, heading for the plate on a bullet's straight line, then making a 90-degree dart toward the dirt.
"The only way to beat Sutter is to layoff the split-fingered," Phillies Manager Dallas Green was saying yesterday, minutes after Sutter shot down a ninth-inning rally to preserve a 2-0 triumph for the Cubs. "You got to make him bring it up and that requires a great deal of patience from the hitters. Most of the time, if you have patience, it (the split-fingered fastball) is a ball."
GREEN'S THEORY, no doubt is workable. But try putting it into practice and you'll swear almost every pitch Sutter throws at you is a fastball until it takes a sudden nosedive as it reaches the plate. The only pitch even comparable to it is Steve Carlton's slider, which also rotates exactly like a fastball until it breaks at the plate.
Sutter faced five Phillie hitters in the ninth after Greg Luzinski had opened the inning by doubling to left field off starter Lynn McGlothen. McGlothen's primary use has been as a long reliever – he had made only three previous starts – but yesterday he played the role of shutout pitcher, quashing the Phils normally potent attack.
"He put the ball in pretty good spots and you would think that would be unusual for a spot starter," said Green. "Sometimes you get a little anxious with a guy like that, but he was throwing strikes.
"We've scored runs in the past. We just didn't do it today. I don't know why. I'm surprised we didn't grind out at least two runs off him somewhere along the line."
THE PHILS had ground out exactly five hits – two by Manny Trillo – prior to Luzinski's double. They had gotten doubles by Bake McBride and Garry Maddox, but could do nothing to turn them into runs.
So it was that Bob Boone was the first to face Sutter in the ninth, routinely grounding Sutter's first pitch to shortstop. Maddox followed by swinging at – and missing – the righthander's next three deliveries.
Del Unser, pinch hitting for Larry Bowa, fouled off the first pitch he saw from Sutter, took the next two for balls, then slapped a bouncer left of first that second baseman Mike Tyson fielded in shallow right field. Tyson's throw, however, pulled first baseman Larry Biittner off the bag and suddenly the Phils had the tying runs on base with Trillo at the plate.
Sutter walked Trillo on four pitches to load the bases, forcing Green to go to his last available left-handed pinch hitter, George Vukovich. Green sent Vukovich to meet Sutter's split-fingered fastball after giving his hitter a crash course in applied patience, and Vukovich dutifully took the first pitch – for a called strike. He fouled the next one off his foot, then lined sharply to shortstop Ivan DeJesus to end the game.
IT WAS THE fourth time the Phillies have been shutout this season, spoiling one of Dick Ruthven's better outings and overshadowing another impressive performance by the Phillies bullpen. Righthander Ron Reed pitched hitless ball for the final two innings, keeping the Phils close. Ruthven permitted just seven hits, three of them coming in the third when McGlothen – a good hitting pitcher – doubled to left-center, went to third on a single by DeJesus and scored on a double by Tyson.
Tim Blackwell scored the game's final run in the seventh after singling to right with one out. McGlothen moved Blackwell to second with a sacrifice before DeJesus singled to center. Blackwell, who does not run particularly well, might have been out at the plate had not Maddox' throw from center short-hopped Boone, the catcher dropping the ball as Blackwell slid safely home.
"Boone, said Green, "had no chance unless it was a great play."
PHIL UPS – Sutter has figured in 15 of Chicago's 22 wins, saving an even dozen... Trillo extended his hitting streak to six games, raising his average from .309 to .336... Steve Carlton goes for sixth straight against Giants' John Montefusco tonight.
Phils might let Bowa go in deal for pitcher
By Ray W. Kelly of the Courier-Post
PHILADELPHIA – It's possible that Larry Bowa may end up playing shortstop for the Montreal Expos before the week is out.
Right now, the rumblings of a trade that would give the Phils a "quality pitcher" in a deal with the Canadian club can only be classified as rumor and as speculation. That may change before the arrival of the trading deadline, which is midnight this coming Sunday.
Word has it that the first-place Expos feel they are a middle infielder away from having a championship team. And, that they might be willing to part with some pitching in order to bring their infield defense up to the standards set by their outfield.
Bowa, who has fielded with unparalleled excellence during his 10 years as the Phils' shortstop, admits he's heard some grapevine talk concerning such a move. But he was quick to add that, since he's a five-and-10 (year) veteran, he would have veto power over such a deal.
"It's not hard to figure out that Montreal would like to have infield help," Bowa said. "Would I go? I don't know. I'd have to think about it. I've sunk a lot of roots in this area over the years. It would depend."
It might depend on whether the Expos would be willing to make such a traumatic move financially worthwhile for the All-Star infielder who has not been on the greatest of terms with the front office since Dallas Green took over as manager.
Phils General Manager Paul Owens is keeping a low profile. And for good reason. He's got several irons in the fire, all of them designed to bolster the pitching staff.
A good guess is the Phils could easily obtain righthander Stan Bahnsen from the Expos. As a middle reliever, he has chalked up a 4-1 record, with a 1.23 ERA in only 29 innings of work. The memory of how much trouble Bahnsen gave the Phils when he was a starter a few years back with the Chicago Cubs lingers on, however.
Since Bowa is considered a "top shelf performer, however, one can safely assume that the Phils would demand a front-line pitcher, such as Dave Palmer or Scott Sanderson. Which, in turn, might scare off the Expos, even though injuries to third baseman Larry Parrisb and outfielder Ellis Vallentine have put added pressure on a defense that is anchored by a very average Chris Speier at shortstop.
Could the Phils risk trading with a contending rival within their own division? And could the Phils hope to win the division without the defense that Bowa gives them?
"I think this team is capable of doing anything it sets its mind to do," said Manager Green. "As for the subject of dealing with any club in our division, I don't think Paul Owens is afraid to talk to anybody... especially if he thinks he might help our team."
The presence of young Luis Aguayo (he'd become Bowa's replacement) in the minor leagues makes such a trade a possibility. Although, Green insisted that the Phils aren't as desperate to make a trade as people think, and that if he began getting consistency out of Randy Lerch and Dick Ruthven, he wouldn't want to deal at all.
Still, the tell-tale signs of an impending trade by the Phils can be seen. The playing of Lonnie Smith in both right-field and centerfield last week may have been a showcasing of the youngster for another team.
Both the San Francisco Giants and the San Diego Padres have shown interest. Officials in Frisco have been trying to palm off righthander Ed Halicki for years. Ironically, Bowa's father was listening to the radio the other night when Halicki admitted his arm was sore. So much for that nonsense. How well John (The Count) Montefusco burls tonight against the Phils could strengthen the Giant's bargaining position, however.
San Diego has longtime Philly nemesis Randy Jones on the trading block. Pittsburgh still wants to dump Bert Blyleven. And, despite declarations to the contrary, Houston is still willing to part with Joaquin Andujar.
The fact that Orlando Gonzalez is hitting .430 at Oklahoma City and John Poff is flexing his offensive muscles (five triples) with that club may play a part in negotiations.
Yet, the truth is, if any of the Phils' starting eight has to be made available to solidify a trade, the odds are good that it will be Bowa.