Camden Courier-Post - May 1, 1980
Phils waste gem by Lerch
By Rusty Pray of the Courier-Post
NEW YORK – Chances are, whenever this strike-threatened baseball season does draw to a conclusion, people will look at Randy Lerch's 0-3 April record and nod knowingly.
"There," they'll say, "there's one big reason why the Phillies finished their first month with a 6-9 record, why the promises of spring training went unfulfilled."
It will be of little meaning to the bottom-liners that Lerch pitched as well as possible – short of perfection – in two of those three loses, the latest coming last night to the New York Mets, 2-0, here in the vacuum of Shea Stadium.
"LAST YEAR," Lerch said, "I pitched my butt off until I broke my hand. Then in the second half, I tried to pitch with a cast (on his right arm), I wind up 10-13 and I'm a horsebleep pitcher.
"What I'm trying to say is, people don't remember if you pitch good; they remember if you won or lost, and losing's getting old. It does you no good to lose, no matter how good you pitch."
Well, for the record Lerch hurled a four-hitter at the punchless Mets, who have beaten the Phillies three out of four times. Coming off a 3-1 complete-game loss to the St. Louis Cardinals in his last start, Lerch permitted New York one run in seven innings on the only real mistake he made.
LERCH GAVE up a leadoff double to John Stearns in the fourth and, after Jerry Morales advanced Stearns with a groundout to the right side of the infield, Lerch got two quick strikes on Dan Norman, a righthanded hitter who lives on fast balls.
"He's set up for the slider in," said Lerch, recalling the situation, "and he's a fast ball hitter." Lerch wasted a fast ball outside, but still had Norman in a 1-2 hole.
"My slider was no good at all all night," Lerch continued. "Boonie wanted a fast ball in, but I shook him off. Anything that breaks in, he's (Norman) gone. But I hung it.
AND NORMAN stroked an RBI single to center. "It was," Lerch said, "my mistake."
His mistake – and the consecutive errors by third baseman Mike Schmidt and shortstop Larry Bowa that cost reliever Dickie Noles a run in the eighth – might have gone unnoticed had the offense been able to produce more than two singles against righthander Mark Bomback.
"Last year, this happened to me and people would say, 'Randy pitched well,'" said Lerch.
And that seemed enough consolation. Even when the low-run losses began to string together, Lerch would shrug philosophically. "Yea, it's getting funny," he would say.
"IT AIN'T funny anymore. I ain't ripping my teammates because we have not scored runs. Our hitters started out on fire, but we've gone in spurts."
The fire that glowed in the Phillies' bats was extinguished during their recent 2-4 home stand. Indeed, the Phils have scored just three runs prior to the sixth inning in their last five games, have been held to two runs or less in five of their last seven games and have not scored an earned run in the last 18 innings.
Last night it was Bomback, who earned his first major league win a week ago against the Phils, who kept the fire from springing back to life. Bomback. a 27-year-old rookie who had a 7.71 earned run average during spring training, became the first Met starter to complete a game this season and the first New York pitcher to hurl a complete-game shutout since last July 25 by permitting only a single by Schmidt in the second and a single by Garry Maddox in the seventh.
"WE'VE MADE good pitchers out of a lot of people so far this year," moaned Manager Dallas Green. '"We just didn't hit the ball, and the balls we did hit hard were hit at people "
Bomback walked six, which gave the Phillies an opportunity to keep it interesting. They had a chance in the sixth when Luis Aguayo and Lerch opened with walks. But Pete Rose hit into a double play and Bake McBride, returned to his starting spot in right field, popped up.
Maddox followed his single in the seventh with a stolen base, giving Schmidt, Greg Luzinski and Boone a chance to drive in the tying run. It didn't happen. And, with two out in the eighth, pinchhitter Del Unser and Rose walked, to set up a final scoring opportunity. But McBridc routinely grounded to second.
"1 wish," said Bowa, who was the only one in the lineup hitting until last night. "I knew the answer. He (Bomback) just did a good job on us tonight. I can't say anything bad about him – he's stuck it up our butts twice."
He also stuck Randy Lerch with another in a series of regrettable low-run losses.
PHIL UPS: Some recent Phillie hitting: Rose 4-for-21; McBride 2-for-17; Maddox 3-for-11; Schmidt 2-for-16; Luzinski 2-for-18; Boone 4- for-2I; Bowa 7-for-22… Stearns leads National League with nine doubles... Series concludes tonight with Steve Carlton going against Pete Falcone... Attendance last night was a sparse 4,559.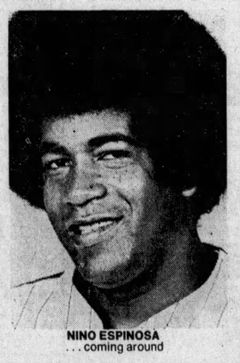 Espinosa making his pitch to return
By Rusty Pray of the Courier-Post
FLUSHING, N.Y. – Randy Lerch walked into the visitors' training room here in Shea Stadium, took one look at Nino Espinosa, and opened a salvo of good-natured complaining.
"The starting pitcher's supposed to take batting practice just to get loose. I walk up there and you give me a fast ball right on the black," smiled Lerch.
Espinosa grinned and began wrapping his right shoulder in an ice bag. If Lerch had reason to complain about not getting some pitches to hit during batting practice, Espinosa had just as much reason to be smiling.
He had just finished throwing a few minutes of batting practice and his arm felt fine. The Philles righthander, who developed bursitis in his right shoulder last September, has been on a patient recovery program ever since. Espinosa, who won 14 games for the Phils last season, seemed to take a few steps backward during spring training, opening this year on the disabled list.
But yesterday, he finally seemed to be making some progress.
"I felt pretty good," said Espinosa, who " threw a total of 155 pitches in the bullpen and during batting practice. "It's not painful, just a little stiff. Before, whenever I felt the pain, I'd stop there and say, 'I can't throw no more.' "I'm happy the way it feels, compared to spring training."
Which has to be good news to the Phillies' shellshocked pitching staff, which, for the most part, has been routinely ripped in the early going.
Espinosa still is at least two weeks away from rejoining the rotation, and the pain, according to pitching Coach Herm Starrette, is something Espinosa may have to learn to live with.
"He's not ready to pitch in a game yet, but there's improvement," said Starrette. "I didn't expect him to come out and fire the ball at the guys (during batting practice).
"He may have to pitch with it (the pain) from now on. Earlier, he said he felt it every time he threw, so I would rest him a day or two. Now, he's not feeling it at all – or not as much – and to me that's a sign he's getting well."
Added Espinosa: "I don't think I'm too far (away from returning)."
The Phillies plan to have Espinosa throw batting practice again tommorrow prior to their game against the Dodgers in Veterans Stadium. That will be followed by more sideline throwing on Monday and a simulated game later in the week.
"The bad thing about it right now is, we're on the road and the guys don't have too much time to hit," said Espinosa. "Those guys (he threw to during batting practice) are probably mad at me. But they know I'm trying to get ready, too."