Camden Courier-Post - May 20, 1980
Rose's hustle spark for Phils
By Rusty Pray of the Courier-Post
PHILADELPHIA – Scoring from first base on a single is not one of baseball's more routine plays. You might see a triple play, or three runners wind up on the same base, or the Dodgers bat out of order, before you'll witness such an uncommon occurrence.
"You don't see it too often," agreed the Phillies' Pete Rose, "especially on that kind of single."
The kind of single Rose was talking about was a ball that bounced just high enough to clear the infield, and one that gave him a chance to score from first with the go-ahead run in the Phils' 6-4 victory over the Cincinnati Reds last night in Veterans Stadium.
IT WAS a run for the Rose rivaling Genuine Risk's, a hustling play that broke a 4-4 deadlock and enabled Steve Carlton to snap a six-game losing streak to the Reds, one of only two teams that holds a winning record against the lefthander.
"Nothing Pete Rose does surprises me," smiled Phillies Manager Dallas Green. "He gambled, but he knows exactly what he can do. A lot of guys would've played it safe and still been at third base at the end of the inning."
Rose was on first after lining an 0-2 fastball from Frank Pastore into left-center field for a game-tying single in the seventh. Bake McBride followed by bouncing his single just over the head of second baseman Junior Kennedy. Rose slowed and glanced over his shoulder while en route to third, then sprinted home as rightfielder Ken Griffey's throw went to second.
"I think he (Pastore) made a mistake on me 0-2," said Rose, "I'm sure if he had the 0-2 pitch to do over again, he would've thrown me a slider down. But it was up where I could handle it."
"I WAS surprised (McBride's) ball got through the infield. Griffey can't be thinking I'm going home. It was just one of those plays where everything fell into place for us. I wasn't trying to show anybody up or anything. Hell, if he (Griffey) throws the ball in and it's cutoff, I'm out by 15 feet."
Pastore, who went into the game with a 4-1 record and a 2.76 earned run average, seemed to have command of the game going into the fateful seventh. He had spotted the Phils a 2-0 lead in the second on RBI singles by Rose and McBride, but was up, 4-2, and had two outs when Manny Trillo doubled to left.
Del Unser pinch hit for Carlton – who struggled for perhaps the first time this season – delivering an RBI double to the base of the wall in right center. Unser now has four hits and three RBIs in eight pinch-hit appearances.
Rose took it from there. His two hits gave him seven in his last 13 at bats (.538) over the last three games, raising his average to .269. Rose was hitting .236 four games ago and was wallowing at .222 as recently as 10 games ago.
IT SEEMED appropriate that two struggling members of the club, Greg Luzinski and Ron Reed, would provide punctuation to the win. The Bull, who broke an 0-for-18 slump in Houston and was 2-for-25 going into the eighth, slugged a Tom Hume pitch over the right field wall to leadoff the eighth. It was Luzinski's eighth homer of the year and his first RBI since May 6.
Reed protected the one-run lead with two hitless innings of relief, adding an emphatic exclamation point to his first save of the season with an energetic cartwheel off the mound as the game's final putout was made.
The righthander, who bounced between long and short relief in search of effectiveness, has not allowed a run in 9 innings during his last five appearances.
Carlton, meanwhile, became the National League's only seven-game winner with a performance that was anything but vintage. True, he helped himself with two hits and by scoring from second on McBride's second-inning single. Indeed, the sight of such a dedicated non-runner turning and heading for home so befuddled the Reds, Carlton didn't even draw a throw from the cutoff man, shortstop Rick Auerbach.
But he hurt himself twice, relinquishing a game-tying homer to Johnny Bench in the fourth and RBI singles to Auerbach and Pastore in the sixth. The homer was Bench's first of the season; the RBIs his fourth and fifth. Auerbach, who hits No. 8 in the Reds lineup, got his first RBI of the year and Pas-tore the third of his career.
PHIL UPS Carlton struck out nine, bringing Us season total to 61, one less than that of league-leader J.R. Richard... Carlton became just the second lefthander to beat the Reds this season... The first was San Francisco's Bob Knepper... McBride Is hitting a cool .475 with runners in scoring position... His 27 RBIs rank second to Steve Garvey's 30.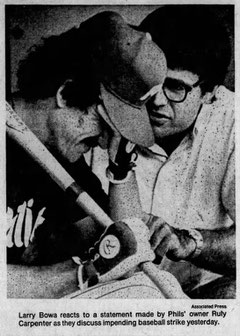 Pete Rose doubts players will strike
By Rusty Pray of the Courier-Post
PHILADELPHIA – Some players still do not believe there will be a baseball strike. Pete Rose, who scored from first base on a single to send the Phillies on their way to a 6-4 win over the Reds last night, is one of them.
"I don't," Rose said, "think there's going to be a strike. I have enough faith in baseball to believe that I think if you ask every ballplayer in this club house, they'd tell you they don't want a strike.
"I want to play baseball. I'm not worried about my finances. If it happens, somebody around here is going to get all my quarters at one of those batting ranges."
The owners have been mounting a serious public relations campaign as the midnight Thursday strike deadline nears. Last night, members of the media were handed a nine-page package detailing the position of the owners in negotiations with the Major League Players Association.
Talks are scheduled to resume tomorrow, but there is little chance a strike will be averted. Indeed, since the owners rejected a proposal by Marvin Miller, the executive director of the players association, to table negotiations on the sticky free-agent compensation issue, there has been little in the way of movement by either side.
With a walkout all but assured, the Phillies yesterday optioned rookie pitcher Scott Munninghoff to their Oklahoma City farm club on 24-hour recall. The move is part of an overall plan to send as many of the younger players as possible to the minor leagues – where they will be able to play – prior to the strike deadline.
"There's only a couple I'll do that with, in all probability," said Manager Dallas Green, adding that he would not fill Munninghoff's vacancy on the 25-man roster. "We have to make that move before it gets sticky because we don't know what kind of rules and regulations (governing a strike) they'll come up with."
Meanwhile, an informal poll taken yesterday by a wire service revealed that some of the Phils' regulars plan to workout on their own during a strike.
•  Shortstop Larry Bowa, the Phils' player representative, said, "It would be stupidity for me to put my glove and bat down and say the heck with it. I'll go somewhere and try to organize workouts even if I have to buy bats, balls and gloves. But there are a lot of guys who don't want to do it."
•  Outfielder Bake McBride: "I'm going home (to St Louis) and work out and stay in shape. Financially, I'm okay although I might get a little job just to keep busy. It will be nice to be home with the kids for a while. It's been a long time since I've spent part of the summer with them."
•  Pitcher Ron Reed: "I'll stay around here (Philadelphia) and see how long it's going to last. Three or four days would be long enough I think. Then I'll go home to Georgia. I have business interests there and I can work a little closer with them."
•  Pitcher Dick Ruthven: "I'll do my best to stay in shape. I'm not going anywhere. I've got a lot of things to do around the house. I don't want this thing (the strike), but the owners are not giving us a choice. I'm behind the Players Association 100 percent."
•  Outfielder Greg Luzinskl: "I'll do some public relations work for a meat company for which I work part time in the off-season. I visit accounts and try to promote sales in New York and Philadelphia."
•  Third baseman Mike Schmidt: "I'll work in my yard... but I don't make enough working in my yard... I hope it doesn't last long."