Philadelphia Daily News - May 20, 1980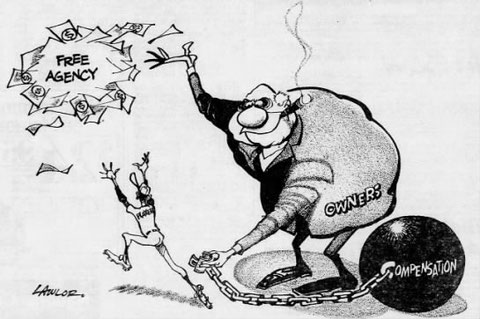 Miller:  Strike Quite Certain
NEW YORK (UPI) – Federal mediator Kenneth Moffett is a believer in the Three Keeps: keep plugging, keep smiling and keep 'em talking.
Moffett, the mediator involved in the stalemated baseball negotiations said yesterday "There is still time for a satisfactory settlement to be reached," and notified representatives of the players and owners that talks will resume tomorrow in New York.
However. Marvin Miller, the executive director of the Players' Association, continued to assert. "It's quite certain at this point a strike will happen."
MOFFETT MADE THE announcement about tomorrow's meeting from his Washington office with hopes of avoiding a strike by the players, set to begin following Thursday's games. Talks broke off Sunday after just a few minutes of head-to-head meetings between the two sides.
"I call on the parties to do their best in the next two days and bargain in good faith," said Moffett in a prepared statement. "A concerted effort on the part of all concerned – the players, their union, the clubowners and their representatives – can produce a contract agreement and avert a strike."
Moffett also pledged to do his utmost in assisting both parties to achieve the best possible agreement and to work toward an uninterrupted season.
But Miller said he advised Moffett that if tomorrow's meeting is similar to Sunday's session, no progress will be made.
"If the mediator called for a meeting then I'll be there." said Miller. "But the meeting Sunday immobilized me for eight or nine hours. We only met face-to-face for two minutes. They asked a brief typewritten question and I made a brief answer. They went into another room for an hour and then said they didn't want to meet anymore.
"THEY WANTED TO KNOW what was wrong with the letter which was sent out to the players which said the players should not strike and should work under the 1976 agreement while meetings continue and that they would not interfere with the 1980 free-agent draft.
"But if I offer you zero retroactively what am I offering you?"
Miller added. "It's quite certain at this point a strike will happen. I won't say a last-ditch effort won't succeed but the owners' tactics indicate to me that they don't want a settlement.
"As for the letters sent out to the players, they won't be conned. This attempt to go around the negotiating committee is a destructive thing. They are allowed to express their point of view but it is questionable behavior under the law."
Rose Ready for More Hard Work
By Bill Conlin
Pete Rose says if there's a baseball strike Friday he's got a sack of quarters ready.
Quarters? The last time Pete Rose bought something that cost a quarter. Vada Pinson was playing outfield for the Reds.
"If the strike happens somebody in this town is going to get a lot of quarters." Rose said last night. "I've got a lot of quarters at home. I'll find one of those batting ranges and do my hitting every day. If there's a strike I'll have an advantage when it's over, I'll be sharp and ready to hit. It's really hard to work out on your own, but I'll do it. I've done it before. That week it rained in Boston (75 World Series) I worked out hard on my own and wound up winning Series MVP."
Rose is one of many reasons baseball is such a glorious summer pageant. No matter how much the 25,109 Vet witnesses paid to watch the Phillies and Reds, the 39-year-old first baseman gave them back a little more than they invested.
THE PHILS RALLIED to beat Cincinnati. 6-4. Rose drove in the tying run with a two-out seventh-inning single off righthander Frank Pastore. Then, in a sequence of baserunning reminiscent of Enos Slaughter's legendary dash in the 1942 World Series, Pete scored the winning run, churning all the way home from first on a 3-2 count single to right by Bake McBride.
It was superb baseball by a man who knows himself, the tendencies of the opposition and has the brazen courage to make the unorthodox work.
On a night when Manny Trillo and pinch-hitter Del Unser set the two-out rally in motion with back-to-back doubles, when the Phillies comeback made Steve Carlton, who left for a pinch-hitter trailing, 4-2, a seven-game winner, when Ron Reed pitched two innings of perfect relief and Greg Luzinski emerged from a deep slump to power an insurance homer in the eighth, Rose managed to steal the show, like Fred Astaire strutting from a swirl of dancers with top hat and cane.
He got a great jump on the 3-2 pitch and knew by the way the ball barely bounced through the hole that it would take some time for right-fielder Ken Griffey to reach the ball.
He was looking back over his shoulder as he neared third and when he saw that Griffey's throw to shortstop Rick Auerbach would bounce at least once. Rose dropped back into high gear. Auerbach whirled in the direction of third, but nobody in a Phillies uniform was there except coach Lee Elia. Rose didn't even have to slide.
"THEY CAN'T BE thinking I'm going to score," he said. "Everything on the play fell into line for me. If Griffey throws it right there to Auerbach I'm out by 15 feet. But he had to handle a two-bounce short hop. On a play like that an outfielder has to get the ball to somebody's hands quick."
If somebody doesn't get some kind of reasonable proposal into somebody's hands quick, Mr. September might be known this season as Mr. May. Despite a Himalayan mound of evidence to the contrary, Rose does not think there will be a strike.
"I just got enough faith in baseball," he said. "I don't think there's gonna be a strike. They talk about a 200 percent chance of rain tomorrow, so I've got to worry about playing Thursday. Hey, I admire the job Marvin Miller did. If it wasn't for what he did I wouldn't be here. You guys would be talking to Richie Hebner and the Phillies would probably still be winning the division. If there is a strike I hope it won't be long."
During the 10-day strike at the beginning of the 1972 season, the Phillies stayed together and worked out on their own. using facilities provided by a prep shool. But if major league baseball sails over the edge Friday, Bob Boone says players who don't live in the area during the off-season will be advised to go wherever they feel they have to go to weather a strike.
"This is different than 72 or 76." the National League, player rep said. "We know a little bit more now than we did then. Part of any agreement that ends a strike will be the owners giving us time to get ready to play again."
BOONE SAID IF the owners are out to de-claw Marvin Miller they have identified the wrong enemy.
"He has been a voice of moderation and reason in our Association." Bob said. "There are guys who want to go a lot further than Marvin's recommendations. A lot has been made about what the strike vote would have been had there been a secret ballot. What people don't realize is that even if guys who have gotten their money like Pete Rose and Mike Schmidt want to keep playing baseball that the vast majority of our membership has played less than six years.
"They're the guys who might lose $30,000 or $40,000 now but who will reap the benefits of free agency in the future. It's going to come down to midnight Thursday. I'm going to be scared, but I'm going to walk. I think well all be scared, but we're all going to walk. That's the way it is."
The owners fired off a nine-page position paper to each club last night for media use. It sums up what the clubs are willing to give if the players continue playing and negotiating with the 1976 "status quo" agreement until "at least the opening of the 1981 season." The owners' offer includes retroactivity of any agreement reached and guarantees the clubs will not declare that an impasse has been reached. The document ends with a less than reassuring statement by League Presidents Lee McPhail and Chub Feeney that, "There is no reason for a strike at this time."
"All the owners are telling us is that they want us to play baseball with a 1976 agreement while they reap 1980 profits," Boone said.
Please hold all rain checks.
PHILUPS: The Phils optioned rookie righthander Scott Munninghoff to Oklahoma City and may do the same with rookie second baseman Luis Aguayo if a strike appears imminent. Dallas Green says he won't make any decision on how to bring the roster back to 25 players until the strike question is clarified... The manager also said that lefthander Randy Lerch, an enigmatic 0-6, has been removed from the starting rotation. "I have no plans to start Randy in the immediate future." Green said. "I'll probably use him in Munninghoff's role early relief or late mop-up." he said. You don't have to be a computer programmer to notice the Phillies are down to three starters without Lerch. "Once again. I'll see what develops on the labor front Friday and take it from there." Green said. "We want to see Marty Bystrom pitch a few times at Okie City. We can't bring Munninghoff back for 10 days, but there's chance if he has a couple of starts and gets into a groove we could bring him back to start." The Phillies have apparently lost interest in Gene Garber. which shows you what a week of decent relief pitching can do. Ron Reed hasn't allowed a run in his last five outings, a span of 9⅓ innings... Bake McBride was 3-for-4, drove in two runs and is second in the league with 27 RBI. one more than Mike Schmidt... Steve Carlton struck out nine and trails J.R. Richard. 62-61... John Bench's 15th Vet homer, most among visiting players, was his first since April 13.
Phillies Win Tickets for 3
There were three winners last night in the Daily News Home Run Payoff contest. In the fourth inning of the Phillies-Reds game, winners of four tickets each to a Phillies game were, Doris LaSanta of Runnemede, N.J., Sam Schwartz and Vince Esposito, both of Philadelphia.
So far the Daily News has paid out $3,525.
Today's entry coupon appears on this page.