Camden Courier-Post - May 24, 1980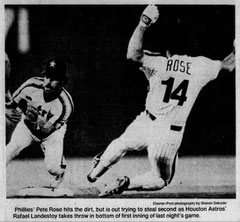 Carlton bests Astros' Ryan on shutout
By Rusty Pray of the Courier-Post
PHILADELPHIA – Well, baseball survived its labor negotiations to live another season. And the Phillies, flaming hot before negotiators went into their New York marathon, last night celebrated the 17th-hour settlement with a 3-0 victory over the Houston Astros and Nolan Ryan.
It was obvious from the beginning that the Ryan the Phils saw in Veterans Stadium was not the same fastball factory they faced last Sunday in the Astrodome, when he overpowered them with a 10-strikeout shutout.
"His fastball was good, but the breaking ball wasn't there at all," said Phillies Manager Dallas Green, who was in a jovial mood after being liberated from strike limbo. "He couldn't get his breaking ball over. It was that simple."
MIKE SCHMIDT managed to meet one of Ryan's fastballs in the third inning and said hello by rocketing it over the left field wall for a three-run home run that would provide Steve Carlton with all the runs he needed. Ryan had fallen behind Schmidt, 3-0, before giving him a taste of the fastball, Schmidt fouling it back. Schmidt did not make the same mistake on the next pitch, powering his 11th home run of the season to tie teammate Greg Luzinski and Ben Ogilvie for the major league lead.
"It was very simple," said Schmidt. "I was lucky enough to get him 3-0 and be able to look for the fastball. I just tried to relax, get a nice easy swing and hit the ball somewhere. I wasn't trying to hit it out.
"What happened was a result of just trying to hit the ball, make contact. If I tried to hit it out, I would have swung and missed."
RYAN HAD survived to that point, getting the first two batters of the inning out, largely on finesse. But the superb control he had in Houston apparently failed to make the trip East.
Carlton, on the other hand, had enough to produce his 44th career shutout and win his eighth game of the season, a major league high. He permitted the Astros four hits, one of them an infield single, and did not allow a runner past second base.
"And," smiled Green, "believe it or not, it wasn't one of Lefty's better performances, in my opinion. Except that he struck out a hell of a lot of people."
AS A matter of fact, Carlton struck out eight to take over the major league lead in that department. The total gave him 69 for the season, five more than Houston's J.R. Richard.
The Phils have won seven of their last 10 games, this one without shortstop Larry Bowa, who has been bothered by a strain in his lower back. Ramon Aviles started in Bowa's stead, going one-for-three, helping turn two double plays and making a diving stop near second base to throw out Enos Cabell in the second.
Even Bob Boone, who went into the game hitting .212, picked up a couple of hits. Boone, who serves as the National League player representative, was perhaps buoyed by the news that a strike had been averted in the pre-dawn hours of Friday.
"I KNEW that was it," he laughed. "I knew my shoulder would stay in there as soon as that agreement was signed."
The Phils made a roster change that might not have been particularly significant if that change was not scheduled to pitch tonight. They purchased right-handed pitcher Dan Larson, a starter, from their Oklahoma City farm club yesterday and Green decided to use him tonight against the Astros, giving Dick Ruthven and Larry Christenson another day's rest.
Larson will face Joaquin Andujar, whom the Astros may be showcasing for the Phils. Ruthven will go tomorrow against Ken Forsch and Christenson Monday against the Pirates. That leaves Randy Lerch out of the rotation – for now.
"I NEED a pitcher and he (Larson) has pitched well down there (in Oklahoma City), " Green explained. "He has some experience and he will be the least awed of the guys available."
Still, Green has not ruled out using Lerch sometime during the four-game series against the Pirates. Lerch is 0-6 with a 5.14 earned run average, but has a history of pitching well against the Bucs.
"I don't know yet," Green said. "He (Lerch) may be a part of it, but I'm not sure yet. He's had a week off, done some thinking. It may boil down to having to use him anyway."
PHIL UPS – Greg Luzinski doubled off the wall in right in the third, giving him eight hits in 14 at-bats... He finished one-for-three and now has seven hits in his last 15 appearances, including the double, four homers and six RBIs...Carlton's 8-2 start is his best as a Phillie... He started the 1976 and 1977 seasons 8-3... The shutout moved Carlton to third on the all-time National League list behind Tom Seaver (52) and Don Sutton (51).
A face-saving compromise prevented strike
By Dick Young
It didn't take "a small miracle" as Marvin Miller had said it would.
All it took to avert a baseball strike was a willingness to compromise, to give a little on both sides. That's all it ever takes.
That's how the United States still could send a team to the Moscow Olympics.
That's how war could be wiped from the face of the earth.
In these baseball negotiations, there never was a strikeable issue.
A strikeable issue is one where the gain or loss has such impact that it over-rides all other considerations. Did the owners' demand for a professional ballplayer, a warm body, in exchange for a star who walks away as a free agent, warrant the ballplayers, all ballplayers, quitting jobs that pay $150,000 on the average? Did it warrant losing pension time, and irretrievable career time? Did it warrant losing increased minimum salaries and increased meal money that go into effect immediately.
Of course it didn't.
When the players got their heads straightened, they realized this was nothing to strike about. They weren't losing their freedom. They weren't having their union busted. Those are terrorist words, propaganda words, used for public consumption, to gain public sympathy. Public sympathy is something a striking $150,000 worker has no chance of getting.
As the strike deadline approached, the players began to worry. Both sides worried, but mostly the players. The owners have faced up to strikes in their other businesses. George Steinbrenner with his shipbuilding company, Gene Autry with his radio-TV network, the Carpenter family with their chemicals and whatever, all have been through strikes, and they are not, most of them, dependent upon their baseball earnings.
A Lee Mazzilli, on the other hand, was slightly shaken by the idea that the $35,000 check, minus withholding, would not be there twice a month. Worse, the bencher making the big league minimum would miss the $1,500 or so take home. He doesn't have the fat bank account to ride out a strike. It would be tough to explain to the wife, this free-agent business that might never happen to him anyway.
And so, in those last days of the apparently-stalled negotiations, when baseball seemed to be moving inexorably toward stoppage, the players let their feelings be known to Marvin Miller. He recognized the pressure. He acted.
Miller came up with the germ of an idea for compromise: Put aside the stalemated issue, the repayment of a player for a free agent, and sign the agreement on all other things; the increased pay, the increased pension benefits, the health care, and such.
Then let a four-man committee study reforms of the free-agent system requested by the owners, for two years. No? One year?
It wasn't much of an offer, but it was a breakthrough. It indicated Marvin . Miller's willingness to talk compromise on a previously stone-walled issue. No longer was he saying never. Then this improvement in the event that the owners would be dissatisfied with the study results: they could, it was suggested, disavow the signed agreement and shut down. That is, a lockout.
The owners countered: "Accept our plan for free-agent replacement for one year and if the players don't like it, if they think it inhibits their freedom, then they can strike."
That was the turnaround point of the settlement, the breakthrough.
It transferred the onus of "lockout" by the owners to "strike" by the players if there is displeasure in the future with this compromise.
But not in 1980. For 1980, the free agent draft shall be the same as it is now; No player payment, except the high school kid, the amateur draft pick, that has been in effect right along. The owners' plan, the new system, the compromise, goes into effect for the free agent draft of November 1981, or 18 months from now.
That's why a strike seemed so illogical to me and others. Why do you strike on May 22 for something that won't happen until November? And then, when it does happen, maybe it won't be all that bad?
Maybe it's something both sides can learn to live with. I expect they will.
The Lords of Baseball are banking on that. They have come up with a three-level formula for draft-compensation between ballclubs that an MIT cum laude just might be able to explain to you. At one point, there even is a computation of a free-agent's worth that involves multiplying the total free agents by 5.4 and dividing the result by 26. I kid you not.
Mathematics aside, it seems apparent that future free agents won't lose their, shot at the big bucks.
The lesser talented can move without any player repayment. The second or middle group, can move with payment of the present amateur draft pick, the high school or college kid. The top level of free agent alone will command payment to the deprived club of a major or minor leaguer, after the team that gains the free agent has named 15 players that cannot be picked.
"That is fair to the fan," Commissioner Bowie Kuhn said. "To lose Hisle and Bos-tack and get back nothing was not fair to the fans of Minnesota."
It should be remembered that the original free agent plan, the draft that exists now, was regarded as "experimental" by both parties. That is the word in the expired agreement, "experimental." In effect, the owners have asked for a different experiment.
It is the face-saving for both sides.
It is not really a "give-back" by the players, who had only an experimental system to give back. What should be learned by both sides from the near-strike is this:
Players: Don't be so free with your spring training strike vote, so macho. Remember, when you make commitments, there are consequences to be faced at a later date. And make your strike vote by secret ballot, in writing, where you don't face the scorn of your peers; where you can express your true feelings. That is democracy.
Owners: Take a more active part in the proceedings. Don't play it so cool. Talk to your players as a group from time to time. Let them know your side, so that they don't hear only from Marvin Miller, or whoever it is that succeeds him upon his planned retirement in the year or so.