Corpus Christi Caller - May 24, 1980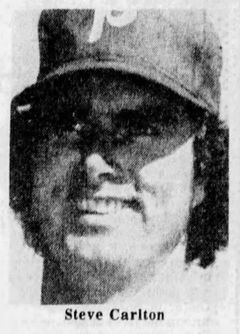 Schmidt homer sinks Astros, 3-0
By The Associated Press
PHILADELPHIA – Mike Schmidt said he wasn't coiled to muscle one out when he smashed his third-inning home run that backed up Steve Carlton's four-hit pitching as the Philadelphia Phillies beat the Houston Astros, 3-0, Friday night.
"I was just getting relaxed for the 3-1 pitch, aiming to make contact," said Schmidt.
He made contact. The ball traveled like a bullet and sipped over the left-field fence.
"I'd have swung and missed if I was trying to hit it out," Schmidt said.
Houston pitcher Nolan Ryan wishes Schmidt had been swinging for the fences. The Astros' fireballer, minus his breaking ball, lasted just 3⅓ innings.
"I wasn't getting my breaking ball over, and I was wild with the fastball," said Ryan. "Those guys are good fastball hitters. I was getting ahead of the hitters and that makes it a different game."
Carlton, of course, did his usual disappearing act, so manager Dallas Green spoke for the news-media-shy left-hander.
"It was one of Lefty's better performances," said Green. "He started out with all three pitches, (fastball slider and curve) lost them in a couple of the middle innings, then finished strong."
Schmidt provided Carlton with all the offense he needed when he followed two-out singles by Pete Rose and Bake McBride in the third with his homer that ironically struck the Astros' logo on the left-field-wall backdrop.
It was Schmidt's 11th homer of the season, tying him for the major league lead with teammate Greg Luzinski, who had a double for his eighth hit in his last 12 official at-bats.
Carlton held the Astros hitless until Terry Puhl topped a ball to the left of the mound and beat it out in the fourth. Cesar Cedeno walked, but the next two batters grounded out.
Carlton, who has lost just twice this year, collected his 24th career shutout, a department in which he trails only Tom Seaver and Don Sutton among active National Leaguers.
Carlton struck out eight and passed Houston's J.R. Richard to take the NL strikeout lead this season.