Pittsburgh Post-Gazette - May 28, 1980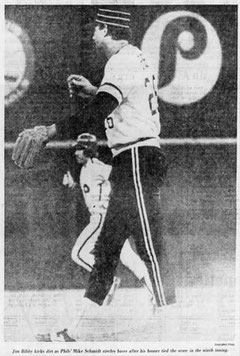 Bucs Refuse to Buckle Under Phils' Pressure
By Charley Feeney, Post-Gazette Sports Writer
PHILADELPHIA – It was a game that showed the character of the Pirates. The Phillies thought they had the defending world champions set up for the kill last night after Mike Schmidt's dramatic two-run homer with one out in the ninth tied the game.
Jim Bibby lost his shutout and nearly lost his temper over a call by umpire Andy Olsen a few pitches earlier.
Bibby retired Greg Luzinski and Bob Boone to end the ninth and the Pirates went 13 innings before they won it on Mike Easler's two-out pinch single off Dickie Noles.
Bill Madlock opened the 13th with a single off Noles'. glove. Lee Lacy bunted Madlock to second before Phil Garner struck out. Steve Nicosia was given an intentional walk, setting the stage for Easier to deliver for winning- pitcher Enrique Romo. Kent Tekulve, loser in Monday night's game, retired the Philies in order in the bottom of the 13th for his sixth save.
Bibby, who is 5-1, thought he had Bake McBride struck out before Schmidt hit his game-tying homer. Bibby claimed Olsen missed two pitches to McBride.
When Schmidt hit his homer, Bibby flung his hands in the air and paced the mound, staring at Olsen.
"I was angry," Bibby said. "I had McBride struck out. McBride thought so, too. He said so when he reached first base."
Bibby said he realized he could not blow off too much steam.
"There was a job to do," he said. "I wasn't going to let the game get away."
Bibby hung tough through 11 innings and disappointed most of the crowd of 35,489, who expected a Phillie victory after Schmidt tied it so dramatically.
The Pirates were battling the umpires at various times during the game. After the Phillies' ninth, John Candelaria, apparently doing some needling from the Bench, was ejected by Olsen.
Lee Lacy and Madlock also questioned decisions by Olsen.
The Phillies had a beef with second base umpire Fred Brocklander in the fourth inning. With Pirate runners on first and third and one out in the fourth, Steve Nicosia hit what appeared to be an inning-ending double play shot to Schmidt at third. Manny Trillo's pivot throw hit Garner sliding in and bounced away, allowing Lacy to score from third base and giving the Bucs a 2-0 lead against Steve Carlton, who struck out 11 in the eight innings he worked.
The Pirates first run came in the first inning on Larry Bowa's throwing error and Madlock's two-out single.
Bibby was in command most of the way and, although he came out without a victory, he had a share in ending the Phillies' five-game winning streak and carrying the Bucs back to first place in the National League East.
There seemed to be little, or no, tension among the players from both sides following Monday night's on-the-field brawls.
The Pirates were angrier at the umpires who handled Monday night's game than they were at the Phillies. There was one umpire missing from the regular crew last night. He was Gerry Crawford, who, on May 1 in Pittsburgh, was hit in the nose by Madlock's glove. Brocklander, one of the umpires who worked early last season when the big-league umps walked out in a labor dispute with the owners, is an alternate umpire this year. Crawford's absence in the first two games here indicates that National League President Chub Feeney would prefer the umpire not work games involving the Pirates at this time.
During the Phillies' pre-game batting practice, Dave Parker walked from the runway leading to the bench and he had his hands taped like a boxer. Parker went to the top of the dugout steps and started shadow boxing.
"Keep it going Bluto," said Greg ' Luzinski, who was standing next to the batting cage while Schmidt took his swings.
Parker was laughing and so was Bowa who was standing near Luzinski.
"You look good," Bowa shouted. "Who do you want to take on? Ali? Holmes?"
"Bluto," Luzinski said to Parker, "keep it going. You look good."
Bluto is the bad guy in the Popeye cartoons.
Most of the Pirates and Phillies indicated they wanted to forget Monday night's free-for-all.
"The big guys like Schmitty and the Bull (Luzinski) and Parker and Stargell were the peacemakers," Bowa said. "The coaches kept the fight going."
Phillies' pitching coach Herm Starrette was ejected by umpire Doug Harvey, who said Starrette became an instigator after it appeared there would be peace after the first fight in the sixth inning Monday night.
Harvey also threw Lee Lacy out of the game.
Harvey said Lacy, like Starrette, became an instigator.
The Pirates suspect that Harvey had another reason for ejecting Lacy.
Wasn't it Lacy who testified in Bill Madlock's behalf when Madlock appealed his 15-day suspension and $10,000 fine to National League President Feeney?
Tanner spoke with Harvey before the game.
"I don't like certain things that went on in Monday night's game," Tanner said. "I think Harvey missed about 15 pitches that Blyleven threw. It got to the point where Blyleven was afraid to throw his curve ball."
Tanner also was critical of decisions made by base umpires Andy Olsen and Nick Colosi. They and Harvey were part of the umpiring team when Madlock had his fight with umpire Gerry Crawford on May 1.
Madlock is appealing his fine and suspension.