Pittsburgh Press - May 28, 1980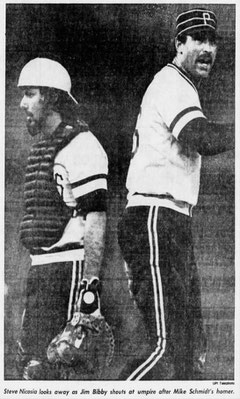 Bucs Scratch 'N Claw To Beat Phils
Pirates In Combat With Umpires, Too
By Dan Donovan, Press Sports Writer
PHILADELPHIA – Pirate-Phillies games are as intense as border wars.  Or samurai fights to the death.  Well, at least more intense than a church bingo game.
The Pirates could have bitten all their fingernails and turned prematurely gray just on the drams in the 3-2, 13-inning win over the Phillies last night, but they also had to add a running battle with the umpires.
Games here are exhausting on their own, Pirate Bill Madlock said. But in this one, we had a thing with the umpires right from the start."
The battle with the umpires stretched back to Madlock's controversy with Gerry Crawford May 1, continued with two appeals to the National League president of Madlock's suspension and in a bitter 7-6 Pirate loss to Philadelphia Monday, and precipitated a pre-game meeting between Pirate Manager Chuck Tanner and the umpires.
"I didn't like the way some things happened Monday and I wanted to talk to them," Tanner said.
After the game last night, Tanner was trying to smooth the road between the Pirates and the umpires, a road that seemed bumpy with argument after argument in last night's game.
"We were kind of excited after what happened Monday night," Tanner said. "We've got to get our minds off the umpires and go out and play good baseball. We can't fight the umpires and the other team, too."
Yet that appeared to be what the Pirates were doing last night.
The first dispute came after Lee Lacy was out on a fly ball in the first.
"I came back and the home plate umpire (Andy Olsen) was yelling at me to watch how I threw my bat," Lacy said. "I didn't know what happened, but, he acted like I threw it at him. I asked. (Philadelphia catcher Bob) Boone what he was talking about, and Boone said the bat hit in front of him and rolled around, but didn't hit either one of them."
Lacy feels the umpires are trying to get even with him because he supported Madlock in his protest against the 15-day suspension Madlock received.
"I testified that Madlock didn't hit Crawford viciously," Lacy said. "I testified he hit him, but not viciously. I think they are mad at me because of that testimony. Otherwise, why was I the one thrown out of Monday's game? (Philadelphia catcher) Keith Moreland was quoted in the papers as saying he got me with a good punch to the neck, yet he wasn't kicked out and I was."
The running battle with the umpires hurt Jim Bibby the most, and he was the Pirate most responsible for the win.
The Phillies were averaging 5.57 runs per game in May until Bibby shut them down, holding them to seven hits and two runs through 11 innings.
But he didn't get a win because of some controversial calls in the ninth inning.
"I was pretty much a victim of circumstances," Bibby said. "I don't want to come off as critical of umpires because I understand how they can have bad days just like ballplayers have bad days.
"I don't know exactly what the deal is between the umpires and some players, but I thought it was supposed to end once you cross the white lines. Things like what happened to me tonight aren't supposed to happen, especially to guys who weren't involved."
Bibby was particularly disturbed with a ball called during a walk to Bake McBride, who scored when Mike Schmidt homered in the ninth, sending the game into extra innings.
The first pitch to Schmidt apparently down the middle of the plate, was called a ball. Schmidt hit the second pitch over the left-field wall.
"When McBride got to first base, he admitted he was struck out," Bibby said. "Something's wrong when that happens. And the first pitch to Schmidt was right down the middle."
Pirate pitcher John Candelarla wu thrown out of the game for argviag about the Schmidt pitch.
After the home run, Bibby stomped around the mound, but settled down and pitched two more strong innings.
"He got even stronger," marveled Madlock. "He was pretty mad, too."
Of course, Bibby pitched well when he wasn't mad early in the game. He was aided by four key double plays, but mostly he kept the Phillies in his back pocket. They threatened so little, they left only three runners on base in 13 innings.
Bibby has become the Pirate stopper, as they have lost only once in his 10 starts, a 2-0 shutout in Los Angeles.
The game put the Pirates back in first place in the National League East and evened this early series at 1-1. Bibby dismissed the significance of the game.
"I don't think it was a pressure game," Bibby said. "But it was a tough game to play when there was all that stuff going on between the players and the umpires. You know you have to watch your P's and Q's."
Bucs Scratch 'N Claw To Beat Phils
'Fight' Still A Hot Item
By Dan Donovan, Press Sports Writer
PHILADELPHIA – "The Fight!!!" someone yelled.
Players ran to the far corner of the Pirate locker room, jumping chairs, dodging sports writers, eager to crowd around the television set in the corner.
A local television station came up with "better" – more violent – pictures of Monday's brawl between the Pirates and the Philadelphia Phillies.
The Pirates wanted to see themselves in action.
"All right, go get 'em Bert," the cry went up.
"Look what you started, Bert," said Phil Garner, who then smiled.
"I bet you don't want to leave us now," said Bill Madlock. And Blyleven smiled, which is a major accomplishment for the tortured soul who rejoined the Pirates almost against his will May 9.
The fight, a wild, two-round brawl, was still the main topic of conversation last night. And it will probably affect the entire Pirate season, if only for its effect on Blyleven.
Since his return from a brief walkout early this month, Blyleven seemed to build a wall between himself and his teammates, a wall even his friends felt.
"Ever since he came back, I don't think he was the same Bert Blyleven he was before he left," said Pirate catcher Ed Ott. "He was more quiet around the clubhouse, more reserved."
The brawl was touched off when Philadelphia pitcher Kevin Saucier hit Blyleven in the side with a pitch and Blyleven charged the mound. Blyleven's teammates eagerly defended him in a lively baseball fight, perhaps re-establishing a friendly relationship.
"After the fight," Ott said, "it seems to me that everything is back to the way it was. Bert put a lot into that game and there was a lot of bustle and muscle in it For him it was a way of breaking loose, pounding out, so to speak, a lot of frustration.
Ott said Blyleven "seemed a lot different" the next day. "He was loose and smiling. He's back to the same Bert Blyleven he was before.
Pirate superscout Howie Haak noticed Blyleven seemed "more humble."
"I think he's coming around," Haak said.
¶     ¶     ¶
The Pirates beat Philadelphia starter Steve Carlton the only way you can – with strong pitching and heads-up baseball.
Two mistakes that were not Carlton's fault caused the first two Pirate runs. Tim Foli's hustle to first on a ground ball was rewarded when shortstop Larry Bowa's throw was in the dirt for an error.
Foil stole second, his sixth straight stolen base without getting caught, even though he isn't very fast.
"I just feel comfortable," said Foli, who, in his best season, stole 13 bases in 15 attempts. "I am guessing right. For me to steal a base, I have to be guessing right."
After a walk, Foli scored from second on a Madlock single.
The second Pirate run was even more controversial. With runners on first and third and one out, Pirate catcher Steve Nicosia hit a bouncer to third that looked very much like a double play ball.
Third baseman Mike Schmidt threw to second, but Manny Trillo's relay throw to first hit Pirate Phil Garner in the left wrist.
The Phillies said Garner deliberately interfered with the play.
"No way," Garner said. "I was lucky I didn't get hit in the head instead. I was trying to break up the double play, so I slid late. I've seen 1,000 pictures of me slide and I always have my hands up. With all the area he has to throw to first, I can't begin to try to knock his throw dqwn. I wish I could - I'd do it every time."
The two runs earned on the scrappy plays were important because Carlton is probably the National League's best pitcher, one who doesn't give up runs easily.
"You've got to make things happen against Carlton," Foli said. "You can't sit back and wait for a big inning against him – he doesn't give up the big innings."
The Pirates' biggest inning was the 13th, when Madlock reached on a liner off pitcher Dickie Noles' leg. Another big little play was Lee Lacy's perfect sacrifice bunt. After an intentional walk to pinch hitter Ed Ott another pinch hitter, Mike Easier, singled sharply to right for the game-winning RBI.
"Whenever I come in to pinch hit," Easier said, "I always tell myself I have the advantage, because the Eitcher is under pressure and has to get me out. I know he probably has an advantage because I'm coming off the bench cold and he's hot but I try to put that out of my mind."
Easier pot it out of his mind long enough last night to lead the Pirates to as important a win as you can have in May.
"They thought they had an advantage with their best pitcher going in the second game," Haak said. "But we messed them up and won it"
"I think this game means a lot," Easier said. "It puts us back in first place and it's a boost we needed after we lost Monday. We've got the winning feeling again, and once we've got that, we're a hard team to stop."
¶     ¶     ¶
PIRATE NOTES - The Phillies have finally named Randy Lerch (0-6) to pitch against Don Robinson (1-0) tonight. In tomorrow's afternoon game, Eddie Solomon (1-0) will face the Phillies' Dick Ruthven (5-3).
Several Pirates are still peeved at Phillies utility player John Vukovich, apparently for throwing sucker punches during Monday's fight.
Foli is upset at speculation he hit Bowa during the melee.
"I never saw Bowa during it at all," Foli said. During batting practice, Foli told Bowa of the reports and laughingly suggested he and Bowa get together the next time and stand around and talk about the fight together.