Pittsburgh Post-Gazette - May 30, 1980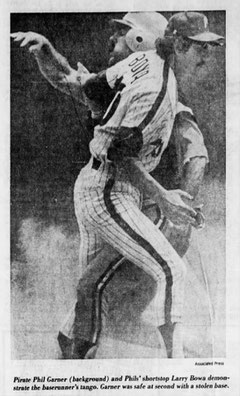 Pirates Seesaw Back to First
By Charley Feeney, Post-Gazette Sports Writer
PHILADELPHIA – The Pirates can play better. They know it. The Phillies know it. The rest of the National League knows it.
Struggling to win games with some of their hitters slumping, the Pirates took on the hot Phillies for four games. The Bucs gained a split and regained first place yesterday afternoon with a 5-4 squeaker.
It could have been a much easier win. The Phillies' runs off winner Eddie Solomon were unearned. An error by Dale Berra set up a three-run first inning and Solomon's wild throw in the seventh gave the Phillies their other run.
In the seesaw battle for first place in the National League East, the Pirates, losing Monday's series opener, dropped out of first place. Tuesday they regained the lead; they lost it Wednesday and took it back yesterday.
"It was disappointing that we didn't sweep them," Phillies Manager Dallas Green said yesterday. "I guess Chuck Tanner feels the same way. You always want to sweep."
The Pirates this month haven't been sweeping anybody. They are 13-12 in May and have lost eight of their last 13 games. The Phillies are 16-8 this month and they've been sweeping some teams.
Solomon, who pitched five scoreless innings before he weakened in his first start Saturday night against the Giants in Pittsburgh, was effective through seven tough innings yesterday. Enrique Romo zipped the Phillies in the last two, retiring six batters in a row.
"Good screwball. Good control," said Romo, who is short on words and big on talent.
The Pirates acquired Solomon from Atlanta in late March, and he says pitching for the Buccos "is the greatest feeling in my life."
Solomon isn't sure if he will continue as an active Pirate. The threat of suspension by Baseball Commissioner Bowie Kuhn hangs over his head. Kuhn's staff has been investigating incidents involving Solomon when he was in spring training with the Braves in West Palm Beach, Fla. Kuhn has had two hearings with Solomon.
"I try to wipe from my mind anything that might happen," Solomon. "I try to think only of pitching."
As Solomon spoke in the clubhouse, Bill Madlock yelled: "Nice throw, Eddie."
Solomon laughed. Madlock was needling Solomon about his two-base throwing error after he fielded Pete Rose comebacker in the seventh.
"I've never been in a clubhouse like this before," said the 29-year-old righthander, who has pitched for the Dodgers, Cubs, Cardinals and Braves. "These guys are loose. They have fun. We lost last night and we had a day game today. On some clubs, the guys would be down and grumbling about a day game after a night game. Not these guys."
The Pirates made a loser out of Dick Ruthven by scoring three runs in the first inning and two in the fifth.
With one out in the first, Phil Garner and Dave Parker stirred from their batting slumps. They ripped singles. Willie Stargell and Mike Easier banged RBI singles and Berra drew a walk with the bases drunk with Buccos to make it a three-run round.
The lead lasted just long enough for the Phillies to bat. Berra failed to back hand Rose's leadoff grounder. Rose came around on a walk, an infield hit by Greg Luzinski and George Vukovich's force out grounder. Bob Boone rapped a two-run double with two out to tie the game.
In the fifth, Madlock singled and Ed Ott banged a RBI double off the wall in right-center. Berra punched a hit through the right side and Ott scored ahead of Vukovich's off-target throw.
Green rested two outfield regulars. Garry Maddox, the centerfielder, and Bake McBride, the rightfielder, sat while Vukovich and Greg Gross played.
"I'm going to rest all the regulars from time to time," Green said. "Unfortunately, one of the players who played today had a bad day. Those things happen."
Green was talking about Vukovich, who went zero-for-four, striking out twice and hitting into a rally-killing double play with runners on first and third in the fifth inning.
The Phillies had runners on first and third with none out in the sixth and couldn't produce. With Larry Bowa running from first base on the pitch, Manny Trillo bounced to Garner at second. With no chance for a double play, Garner threw to the plate and Boone was an easy out. McBride, pinch-hitting, grounded into a double play.
"I think Boone thought Garner was going to throw to first base," Green said. "I thought so, too. I don't think Boone broke from the third base bag."
Garner said if Bowa hadn't been running he would have gone for the double play and allowed the Phillies to score the run.
NOTES – Tanner's leftfielders - he has four – continue to produce. Easier had two hits yesterday and Lacy, a late-game replacement, extended his hitting streak to 10 games, with a single. Ed Ott, one of the batting stars, said he thinks left field has been the club's most productive position. "Everybody who plays out there – Bill Robinson, John Milner, Easier, Lacy – they hit. It's amazing. Then again, it's not. We have a great bench." Tanner said he doesn't believe there is a club in the league with a better bench than the Pirates.
Berra started at shortstop because Tim Foli has a bruised shin... Both teams appear to have forgotten about Monday night's free-for-alls. "Nobody wants to be intimidated," Garner said. "I know we don't and the Phillies, I guess, feel the same way. That's why we fight sometimes"... The Pirates open a three-game weekend series against the Mets, who have won nine of their last 13 games. John Candelaria will face Pat Zachry tonight at Three Rivers Stadium.