Pittsburgh Press - May 30, 1980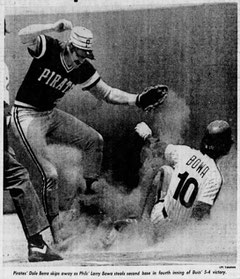 Slumping Pirates Split Hot Phils
But 4-Game Standoff Fails To Satisfy Bucs
By Dan Donovan, Press Sports Writer
PHILADELPHIA – Other teams might have slipped out of Philadelphia happy with a 2-2 split and a slim hold on first place, but the Pirates say they should have had more.
"The Pirates are never satisfied with breaking even on the road," said Pirate catcher Ed Ott.  "We think of being 3-1 or 4-0 in Philadelphia."
"We should have won three out of four," Pirate pitcher Grant Jackson said.  "We should have won the first game and, if Don Robinson doesn't have a bad first inning in the third game, we could have won that. Did we wind up out-hitting them?"
No, the two teams finished even in hits, 38-38.
Thus the point is made – the red-hot Phillies and the slumping Pirates played to a standoff.
"If I had hit at all in the first three games," said Dave Parker, who had three hits in the fourth game yesterday, "we could have won all four. It was a mental lapse on my part. I was overanxious, too keyed up."
Parker was keyed up because, East Division rivals or not, the Pirates and Phillies just love to beat each other.
"It doesn't make any difference what the race looks like," Ott said. "Any Pirate-Phillie game would be a great competition. We have that state rivalry, the heat between the two teams and a lot of history between the two teams."
"Montreal and SL Louis have good teams, too," Parker said. "I don't know why St Louis is in last place. But the Pittsburgh-Philadelphia rivalry is a great one. I don't know how it carries over to other teams. I do know we have another big series with them at home (a three-game set Monday through Wednesday) and we'd like to win ail three."
The Pirate-Phillie rivalry is felt the most where the action is – on the field. Three of the four games in Philadelphia were decided by one run, and the tension invaded the benches.
"If you could bear the noise in the dugouts, you would know it wasn't an easy game," Pirate Manager Chuck Tanner said. "Both dugouts were chewing nails."
Tanner said the Phillies will be a better team than they were last year, when they faded to fourth, but doubts they will be the only contender.
"They have a better team and a stronger bullpen," Tanner said. "But we have 121 games left, and we have to grind it out through them all. If you can find an easy series on our schedule, point it out to me. The Cardinals aren't winning, but they have one of the best hitting attacks in baseball. When they start, I don't want to be playing them. Montreal has a lot of stars, just like Pittsburgh and Philadelphia."
The Mets don't have a lot of stars, but they gave the Pirates fits last year, nearly costing Pittsburgh the division title. Yet the Philadelphia games in the past and the ones ahead are something special.
"I realized the intensity of the rivalry the first night here, when suddenly we're in a free-for-all," said Eddie Solomon, yesterday's winning pitcher who was with the Atlanta Braves last year. "It wasn't the Atlanta feeling any more. From a distance, I watched the Pirates and Expos play last year. It seemed whenever thev did, Pittsburgh won. That may happen again. To win, we'll probably have to beat Philadelphia and Montreal ourselves."
¶     ¶     ¶
PIRATE NOTES – After two perfect innings yesterday, Enrique Romo has a 1.59 ERA, lowest on the team. Romo has pitched 33⅔ innings, more than anyone but John Candelaria, Jim Bibby and Bert Blyleven. He has three wins and two saves.
Omar Moreno, 0-for-5 yesterday, is mired in a 3-for-26 slump (.115) over the last five games.
Tim Foli missed the game yesterday with a sore leg but hopes to play tonight.
Solomon Mines Starting Role
By Dan Donovan, Press Sports Writer
PHILADELPHIA – Welcome, Eddie Solomon, to the Pirates.
Yeah, yeah – Solomon has been with the Pirates since spring training. But he wasn't a real Pirate until yesterday.
Solomon pitched seven strong innings in the Pirates' 5-4 win over the Philadelphia Phillies but, instead of congratulations, he got the needle.
"Nice throw to first," Bill Madlock said.
"Best sinker you threw all day," came a taunt from another direction.
 Solomon's throw to first cost the Pirates the Phillies' fourth run. In fact, all four runs were unearned and several of the Phillies' hits in the first inning were high bouncers off Solomon's real sinkers.
Solomon's second straight strong start earned him a place in the starting rotation. Until now the Pirates tried to get by with four starters. With a paucity of off-days. Pirate Manager Chuck Tanner will use five starters – John Candelaria, Bert Blyleven, Jim Bibby, Don Robinson and, ta-da, Eddie Solomon.
"It feels good," Solomon said. "When I came here Chuck told me he was going to have a four-man rotation and all four were throwing well. I had to wait and stay as ready as I could be."
The four-man rotation threw so well, Solomon didn't pitch much in his role as a long reliever.
"The one game I did get in was the one where Jim Rooker hurt his arm in the first inning," Solomon said. "I had just come from a hearing with the commissioner – it was against ray old team (Atlanta) – and I never have relieved much. It was the weirdest feeling I ever had."
Even though he didn't know he was going to be traded to the Pirates, Solomon prepared for it well.
"I went to winter baseball last year to try to get some playoff experience," Solomon said. "I was lucky enough to get to a team that went to the playoffs. We were down 3-1 in the playoffs in Puerto Rico, went on the road and I was the pitcher. I was able to win the game."
After playing so long with the hapless Braves, Solomon said playing with a winner in winter baseball was a good feeling. And playing with the Pirates, he added, yields an even better feeling.
"It's a different feeling pitching for a team that wants to win the pennant," Solomon said. "You know they can play defense behind you and score some runs for you."
Often, the left fielders are the ones who are scoring those runs. Everybody Tanner plants in left field suddenly starts smashing covers off baseballs.
One left fielder, Lee Lacy, hit two home runs in Philadelphia Tuesday night. So Tanner put Mike Easler in left field yesterday.
Easler got three hits in his first four at-bats, but as soon as the Phillies put in a left-handed pitcher, in went Lacy. And Lacy got a hit.
"I guess left field is just the spot for platooning on this team," Easier said. "It was the same way last year with Bill Robinson and John Milner. It's the one spot on the club that is not secure."
Easier cannot win a full-time job even though he is hitting .327 with four home runs and 11 RBIs in 52 at-bats.
That's partly because Lacy is hitting .427 with three home runs and 10 RBIs in 75 at-bats.
"We have a lot of talent in left field," Tanner said. "And if we can keep those guys strong all year, we'll get good production out of them."
Tanner will keep them strong by continued platooning.
"We know that and we accept it," Easier said. "With a different ballclub it might be different. But this team is going to win a pennant again.
"I feel it will continue as long as I do my job. If I don't, well, things could change."