Philadelphia Daily News - May 6, 1980
Even Phils Sing Red-Ink Blues
By Stan Hochman
The Phillies sold 3,000,000 tickets last year. Drew 1,912,647 on the road. Collected on a local radio-television package worth $3,500,000.
If the Phillies didn't make a fistful of money last year, then baseball is indeed in deep, deep trouble and the outlook is grimmer than grim for the player-owner negotiations that resume today.
"We sold 3,000,000 tickets," Bill Giles said last night, "and it's the first year I didn't get a bonus. Only the second team in baseball history to sell 3,000,000 tickets.
"We lost money."
If the Phillies lost money selling 3.000,000 tickets plus all those Philly Phanatic dolls and all those $1.50 cups of beer, how do you think Clark Griffith made out in Minnesota?
"Minnesota," Giles said solemnly, "made more money than we did."
THE PITTSBURGH PIRATES won the whole gonfalon and claimed losses of $1,200,000. But the Pirates are responsible for the Three Rivers Stadium operation and the ballpark showed huge losses for the year.
The Yankees, meanwhile, finished fourth and made more than S3.000.000. But the Yankees have a sweetheart lease with New York City and the game's best radio-TV contract.
Are the owners crying poverty with a loaf of bread under each arm? Under one arm? Has free agency driven some teams to the brink of bankruptcy?
Did Ted Turner really lose $3,500,000 on the Braves last year? And if he did, how could he justify giving Al Hrabosky a 30-year contract worth $5,100,000, even in Confederate money?
"At the meetings, where it counts," said National League player rep Bob Boone, "nothing is said about money. They dont want to open their books to us, and I can understand that.
"If they were in that dire trouble, they would open their books. You could count on that.
"Take the Chrysler problem. Their employees got a raise. Less than the rest of the industry got, but they didn't take a cut. Even after Chrysler opened its books."
YOU CANNOT COMPARE ballplayers with guys installing fenders on automobiles. But can you expect an assembly line guy to work up any sympathy for ballplayers making average salaries of $140,000 if they hit the bricks?
"That's 600 people in the entire country," Boone said. "And everybody has wanted to try to become a major league ballplayer.
"We have worked as hard as any orthopedic surgeon, any lawyer. Count the numbers there. A tremendous amount of revenue is generated by a few people."
Let the record show that a "white paper" issued by the league presidents during the umpire's strike said, "The players are the game."
Meanwhile, the player-owner wrangling is beginning to show in Boone's eyes. He has been the voice of reason. He is a moderate, but he is no marshmallow.
"They're asking us to limit ourselves," Boone said bluntly. "We're not causing them to lose money. Player salaries are only 27 per cent of the total revenue.
"What we're saying to them is, run it like a business."
It is a crazy business, crammed with an assortment of owner types, some of them very rich, some of them moderately rich.
Some teams, including the White Sox and the Orioles, are ill-equipped to survive a long strike. Even with the war chest built up last year and the strike insurance that will pay each team approximately $40,000 a day.
BOONE IS RIGHT, of course. The players did not hold a gun to anyone's head, demanding 30-year obscenely rich contracts. But there are some very old, very rich owners who want to win a pennant before they go to that great tax shelter in the sky. And they would sooner give the money to Garry Templeton than to Uncle Sam in inheritance taxes.
"No baseball man would pay the kind of salaries that are being paid," sneered Dallas Green, who thinks the strike threat will become reality on May 23.
"I'm not sure all the cards are on the table on either side," said Green. "But, when you have sincere hate for a single person as all the owners seem to have for Marvin Miller....
"And you have owners who will not do as their negotiator says they must...
"I just dont see any way out of a strike. It's the only thing I can see, and unfortunately for the players, it will be a long one and a nasty one.
"I don't see any way of getting things back into kilter, if there is a kilter to get back into."
One man's kilter is another man's killer.
A little bit of history is essential at this point. When the courts upheld the arbitrator who freed Andy Messersmith, it meant that all big league players were free to leave, one (option) year after their contracts expired.
BUT BEFORE THE next season began, the players agreed to wait until they had six years in the big leagues before being set free. And they also agreed to negotiate with a maximum of 13 teams after a free agent draft.
"We were locked out that spring," Boone said. "Possibly we weren't strong enough as an organization then. But the owners weren't going to allow us to play unless we gave in.
"It was so dramatic a move, there was thought that it might ruin baseball. We said we don't agree, but we are willing to compromise our position.
"We said, we do owe you something. Plus, we're a little bit afraid to jump into this also."
It is Boone's contention that free agency has tightened the pennant races, increased interest in the grand old game, and resulted in terrific new television contracts.
Hindsighters might argue that the owners goofed. That if they had stuck with freedom for all after the option year the basic law of supply and demand would have kept salaries at a reasonable level.
Take Boone's case. If he had been free at the same time as Johnny Bench and Ted Simmons and Carlton Fisk, his bargaining power with the Phillies would have been skimpy.
BUT WHEN HIS contract expired and the only other catcher thinking of free agency was Brian Downing and Downing signed with his old team, Boone's clout was magnified.
Ancient history will get you only so far.
"As soon as we come to grips with reality," Boone said, "things are going to be solved."
Meanwhile, he spends his off days attending meetings, and the hours before the ballgames explaining the issues to media types.
"It's been tough," he conceded, toying with his new, thick glasses. "I've been staying involved, because my whole life has been baseball and I think I can contribute something here.
"I want to see both sides survive and prosper. I wanted to retire (as player rep) after the last strike. But I saw I could contribute in a positive way.
"And besides, I want someone who thinks like me representing me. Now, it's tough. But I just want to get this over and ride off into the sunset after clearing up a couple more problems."
The issues would be so much clearer if the owners did, indeed, crack open their books. It would be there for all to see, in black and red. But the owners don't want their fans, their players, or their usherettes, to see the bookkeeping.
"A few years ago,", Giles confessed. "I was thinking about buying a club. An attorney friend of mine knew I was looking for partners.
"He asked me, 'Do you want guys who want to make money or who want to lose money?'
"WHAT HURT US more than anything was the purchase of the Mets for $21 million. The players saw that. Look, I don't blame the players for what they're doing."
"Around 40 organizations bid for the Mets," said Boone. "They knew the salary structure, the strike situation.
"The only reason someone owns a team is because it's a helluva business deal. It can be a tax break for 'em, or a money maker.
"You can make it whatever you want to make it. If 40 outfits bid for the Mets, they're not in it because they are 40 ego-freaks. You don't spend $21 million to massage your ego.
"But baseball is healthy, attendance is up, even this year (33,000 over 1979 so far). We would be the only industry in the history of labor-management relations where, at the peak of prosperity they are saying we must compromise backward.
"It's frustrating. But it's the way our country has gone. Gamesmanship. The deadlines that must be reached or breached.
"But I tell you, we could have Jesus Christ, or Jimmy Carter, or Ayatollah Khomeini as head of our Players' Association, and the decision we make will reflect the thinking of the majority of players, and that is a fact."
Financial Picture One for the Books
By Stan Hochman
How can you sell 3,000,000 tickets, generate $20,000,000 in revenues, and still lose money as the Phillies claim they did last year?
It depends on your style of bookkeeping. The Phillies use three styles of bookkeeping: the cash flow bottom line, the proper accounting method and the IRS long form.
The cash flow books indicated a loss, because the Phillies have several large loans outstanding.
The proper accounting method showed a loss because the debits include all the deferred payments, like the portions of Mike Schmidt's salary they have promised to pay him in 1990.
IRS says you can only count that as expenses in the year you pay it. Which means the IRS thinks the Phillies made money last year, despite a payroll of over $4,000,000.
Add to that payroll spring training expenses, travel and meal money costs, and you're dealing with a $7,500,000 number.
The Phillies claim they spent $3,000,000 on their minor league system, which includes scouting, player development, coaches, managers and bus drivers.
The city collected $4,200,000 in rent, concessions and parking. There's an insurance premium that costs close to $450,000 and a park payroll of nearly $1,000,000.
Marvin Miller has a word for that sort of bookkeeping. Brrrrrrrrack....
Lefty Almost Perfect
By Bill Conlin
Bill Nahorodny had his first National League single in 1976-during a September cup of coffee with the Phillies.
He went to spring training the following season asking for a three-year contract worth something like $200,000. Dallas Green, who was the farm director, and GM Paul Owens sort of felt that was a lot of money to pay a catcher ticketed for another season in Triple-A.
Without remorse, they shipped him to the White Sox organization in a minor-league deal.
NAHORODNY COLLECTED his second National League hit last night. A lot of people will remember it, although Nahorodny seems to have been unaware of the significance of the high fastball he lined cleanly up the middle with two outs in the eighth inning.
"The kid that broke up the no-hitter didn't even know it." Pete Rose grinned after Nahorodny ended Carlton's most intense flirtation with a no-hitter, an overpowering performance against a Braves team that went after him with two of the game's-best right-handed hitters, Bob Horner and Gary Matthews, watching from the bench.
Didn't know he broke up a no-hitter with two outs in the eighth and the yet crowd of 26,165 awarding ovations for foul tips?
"He told me down at first, 'I didn't know he had a no-hitter going,'." Rose said after the Phillies pounded that portion of the Braves not restricted to quarters, 7-1. "We should have reminded him – maybe it would have put a little pressure on him. He didn't start the game, you know. He pinch-hit and Lefty struck him out with all sliders and breaking balls. I guess the guy saw the first fastball and hacked away at it."
CATCHER BRUCE BENEDICT lined out to Larry Bowa in the fifth. That was as close as the Braves came to a hit until outfielder Brian Asselstine hit a hard grounder to the right of Rose leading off the eighth. Would Carlton cover first in time? The pitcher got over there like Harvey Glance and took Pete's perfect feed for the toughest out to that point. Then Lefty blew away pinch-hitter Charley Spikes for his 10th punchout.
He wound up walking shortstop Luis Gomez on a 3-2 pitch, but not before Bob Boone just missed gloving a pop foul that looked like the third out until the swirling wind around home plate carried it into the Braves' dugout, inches from a lunge by the catcher, who wound up bouncing down the steps.
The last thing Nahorodny, who pinch-hit for reliever Preston Hannah in the sixth and struck out, was looking for was a first-pitch fastball. "I was thinking breaking ball," he said. "I've got to go up there and try to get a hit. I was more excited about just getting into a game than I was about the hit. I broke my thumb in the spring and got set back by that."
IT WAS NAHORODNY'S fourth at bat of the season, his second National League hit.
"I just wanted to get to the big leagues and the Phillies were loaded with catchers," he said of his '77 holdout. "The Phillies fans were great to me when I was here, the organization was super. Steve Carlton's a great pitcher; it's tough to break up his no-hitter."
Carlton's bid for a seventh career one-hitter – his one-hitter against the Cardinals during the last homestand broke the National League record – ended when Dale Murphy led off the ninth with his fourth homer, an opposite field shot to right. Chris Chambliss singled to center and Jeff Burroughs walked before Asselstine became Carlton's 11th strikeout victim. Matthews, who occupies the apartment just under Horner in Ted Turner's high-rise condominium of a doghouse, got on base when right-fielder George Vukovich dropped a routine fly ball for an error which loaded the bases. But Gomez bounced into a game-ending double play.
CARLTON IS 5-1 and they hardly make ERAs like 1.84 anymore. He has 37 strikeouts in 49 innings pitched and is averaging eight innings per quality start.
"After the sixth I thought Lefty had the no-hitter," Dallas Green said. "And after he lost it he went after the one-hitter just as hard... I go back to what I said in spring training. Lefty is in as good a physical shape as I've seen him in his career."
For sheer power, this was as close as Carlton can get to his awesome 1972 form, when he had 35-victory stuff for a team which managed just 32 more victories than the 27 he accounted for. At 35, he might be the best pitcher in baseball. With apologies to Mike Flanagan and Ron Guidry, he is certainly baseball's best lefthander.
"There hasn't been a game he's pitched so far where he hasn't had two outstanding pitches," Boone said. "And a couple of starts he's had all three. In the late innings, you know you're going after a no-hitter, so you're being more careful, trying to make a nasty pitch every pitch."
Bill Nahorodny, a high fastball hitter, went up looking for the kind of nasty breaking balls which struck him out in the sixth. He got his pitch – up and not quite nasty enough – and ended Carlton's longest flirtation with a no-hitter of a career flecked with near misses.
That's two so far this season. And the way the lefthander is pitching, it will not be the last.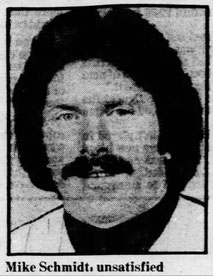 Schmidt Knocks 2 Homers, Self
By Bill Conlin
You're not going to believe this, but we'll run it by you anyway.
And if you happened to be a member of a University of Delaware group seated in the 400-level sponsors box in left field which came under heavy siege last night, you'll swear we're lying.
Here it is anyway.
Michael Jack Schmidt, the hitting man's thinker, says he is not in a groove right now. Despite about 850 feet of evidence to the contrary, Schmidt almost said he came close to smelling out the Vet during a 7-1 victory over Ted Turner's Job Corps, the Braves.
It's not the two baseballs he fired to the vicinity of the upper deck for homers No. 7 and 8 that are in question. He mugged those pitches. What bugs Schmidt are all the pitches he's seen in the past week or so he should have pounded lopsided and didn't.
"I DONT PUT them down he said. "I'm happy to hit two home runs and win the ballgame and all that. I still don't feel I'm the hitter I'd like to be. I pull off of too many pitches, you know? I'm opening up on too many pitches, swinging and missing too many pitches I should be taking. It seems like I'm swinging at everything they throw up there and that's not me. When I'm in a good groove I swing at good pitches. You don't see me waving at those balls down and in and diving across the plate at breaking balls. I'm not really relaxed like I hope to be sooner or later."
The swing Schmidt is currently stuck with will have to do until the real thing comes along. It has produced a .313 average, 18 RBI and the major league lead in home runs and total yardage. The guy who is concerned because he has been getting only one good swing a game is hereby advised that a lot of players don't realize the results of one of those swings in a career. Long home runs don't count any more than ones that just drop over the fence, but they sure are fun to watch. Hit enough of them to distant places often enough and a lot of extra people start coming out to watch.
In the 1920s and '30s, this phenomenon was called Babe Ruth.
I'M NOT GOING too bad." Schmidt said. "Hopefully, tomorrow I'll start a groove. I just don't feel fundamentally that sound right now, even though I'm hitting some home runs and getting some hits. The guy (Rick Matula) made me look like an idiot on five or six pitches and I got lucky on a couple. I'm crazy if I stand here and tell you I'm swinging good."
Schmidt surveyed his semi-incredulous audience and grinned. "I know you guys think I'm crazy," he said.
Oh.
The Phillies came out smoking against a team which swept them in six games here last season, all you need to know about last season. Greg Luzinski stroked an RBI double in the first. Larry Bowa tripled leading off the second and scored on Steve Carlton's first hit of the season.
Schmidt made it 3-0, leading off the third with a rocket that had the Delaware folks ducking. And his follow-up shot interrupted whatever game – dodgeball? – the Braves' infield was playing during a four-run fourth.
About Schmidt's second homer: It came on one of those crummy swings where his rear end is flying toward the visitor's dugout and all he has left to handle a pitch on the outside part of the plate are his arms and hands. Nevertheless, the ball got to the 400 level in about the time it takes Turner to put bis foot in his mouth.
That's fast.
PHILUPS: Braves are holding back Phil Niekro until tomorrow night, good news for Dick Ruthven. who will match up with Doyle Alexander tonight ... Braves fans and players alike are being heavily penalized while Bob Horner and Gary Matthews ride the bench waiting for owner Ted Turner's next mind game. Horner's a classic example of the too-much, too-soon syndrome, but Matthews is a gamer. Both players should be in somebody's big league lineup every day. Turner tried to send Horner to Richmond. The joke's on Ted, though. When he benched Matthews and decided to let Horner grow cobwebs, the Braves became Richmond.
$1,000 Winner Will Make Donation
By Rich Hofmann
When a person wins $1,000, the first question – "What are you going to do with the money?" – is expected. Florence Levin's answer, however, was anything but expected.
This year's third $1,000 winner in the Daily News Home Run Payoff, courtesy of a Mike Schmidt homer in the third inning of last night's game with the Braves, wants to donate some of the money to Schmidt's favorite charity.
"My husband (Edward) and I are both retired," she said, "and we're both on Social Security, so the money will come in handy, and the donation is just something I want to do."
THE MOTHER OF three and the grandmother of six was sitting in her Marlton, N.J., home, lis-, tening to the Phils on the radio, when... ah, she, tells it better.
"My husband and I were listening to the game," Florence said. "We never miss following the Phillies on radio or TV. So anyway, it's the third inning and they call my name and the first thing that goes through my mind is, 'It must be me – I don't think there are any other Florence Levins in Marlton.'"
From this little bit of skepticism, she continued.
"The first pitch was a ball." she said, "and when he got that first ball, I remember asking my husband if I won anything if he walked. And then when he hit the home run, well, I just couldn't believe it."
For a last few years, Mrs. Levin has been nursing a habit of sending in six or seven Home Run Payoff coupons per week. This yeart though, she's retired and has cut down to six or seven coupons so far for the season. She buys the Daily News, fills out the coupons, and lets her husband mail them.
"And that's the first thing my husband brought up," Florence said. "All he wanted to know was, I mailed it – what do I get?
"It's all so unbelievable," she repeated. "When I listen to the games, I always kind of hope, but I never really expected anything to happen."
Florence Levin wasn't the only Home Run Payoff winner last night. Sandy Leone of Philadelphia, Julia Pope of Eddystone and Stan Stacherski of Reading all won four tickets to a future Phillies game.
With Florence Levin's $1,000 bonanza, the Daily News has paid out $3,835 this season. To enter, mail in the coupon on Page 61.