Camden Courier-Post - March 13, 1980
Ruthven, Wright pass tests
By Rusty Pray of the Courier-Post
CLEARWATER, Fla. – It was merely an intra-squad game and, as such, was indistinguishable from the many other rites of spring major league baseball teams perform.
But for pitchers Dick Ruthven and Jim Wright, the Phillies' first intra-squad game yesterday was something more than a ritual undertaking. It was a significant step toward returning from the limbo world of injury.
Indeed, Ruthven and Wright were the reason why the Phillies staged the game on their final day of workouts at Carpenter Complex. Today the club begins a new phase in Manager Dallas Green's spring training regimen at Jack Russell Stadium.
WITH THE competitive part of spring training beginning tomorrow with the Phillies' first exhibition game against the Detroit Tigers, the club wanted an opportunity to observe Ruthven and Wright pitch under controlled conditions.
"We put them in this game because we knew the adrenalin wouldn't be running like it would if they pitched against Toronto or Cincinnati," said pitching Coach Herm Starrette. "We didn't want them to feel they had to throw everything hard. We just wanted them to get their feet on the ground."
While the results were not nearly as decisive as those obtained by a couple of other noted slingers in Tuesday's Florida primary, the Phillies nevertheless were heartened by what they saw.
"RUTHVEN THREW free," said Starrette. "There was nothing in his delivery to indicate arm problems. With Wright, the real test is yet to come, but it's nice to see him smiling once in awhile."
Ruthven and Wright each worked two innings, allowing two hits between them. The Phillies purposely made them work with men on base, an innovation of sorts in a sport so governed by tradition.
True to his nature, Ruthven didn't think much of walking out to the mound and staring at base runners. "If they wanted to keep the adrenalin from running, why'd they put men on base?" he grumbled good-naturedly. "I walked out there and there were guys on first and third and I hadn't even messed up yet."
STILL, RUTHVEN couldn't help but be pleased with the 17 pitches he threw, because they came without the pain that served as foreshadowing for a frustrating season in 1979. The only hit the righthander relinquished was a single by Del Unser. And, only John Vukovich was able to get the ball in the air off Ruthven.
It was, ironically, this time a year ago that Ruthven's right elbow began showing signs that there was something seriously wrong.
"Last year I threw batting practice here (at the Complex), then we moved back to Jack Russell Stadium," Ruthven recalled. "I remember going to the ballpark with my elbow the size of a grapefruit It bothered me for about a week and a half, then it didn't bother me again until May."
RUTHVEN WON his first six decisions and appeared destined to at last establish himself as one of the top righthanders in the National League. But the pain returned and Ruthven would win only one more time the rest of the season. Doctors later removed six bone chips from the joint and Ruthven embarked on a lengthy recovery program.
"Everything," he said, "is better than it was (a year ago). "I felt accurate. I didn't feel like I was throwing hard, but nothing hurt. The curve ball felt uncomfortable, but nothing like last year. I didn't throw too many of them anyway. My arm just isn't in good enough shape for that yet."
Wright's work was equally free of pain, which must be something of a new experience for the 6-6 righthander. Wright was one of the club's brightest pitching prospects until a series of arm troubles sidelined him for the better part of the last two seasons.
THE DIFFICULTTES began in 1977, when a tumor was discovered on his right forearm. It was removed during the 1978 season after he had pitched only 20 innings for Oklahoma City. Last March, while be was pitching in a "B" game at the Complex, Wright threw a fastball and broke the same forearm. That was the last time be bad faced a batter until yesterday.
"I'm not saying it wasn't on my mind, because it is," Wright said. "But I gave it (his arm) a good test. I'll tell you, (being on a pitcher's mound) is like coming back from a vacation – it's always good to come home."
The intra-squad game was just the first in a series of steps Ruthven and Wright must take. But it was encouraging for the Phillies, a team that had more than its share of discouragement last year, to see two of their pitchers returned to the mound, back from their respective vacations.
PHIL UPS – The trade that will bring utility infielder Billy Smith to the Phillies from Baltimore may be consumated this weekend… The Phils are offering the Orioles outfielder Orlando Isales and, reportedly, non-roster pitchers Paul Thormodsgard and Dan Larson... Detroit pitchers for tomorrow's exhibition game are Steve Baker, Dave Rozema and, Jeff Holly... Phillies play Toronto Saturday at Dunedin and Sunday in Jack Russell Stadium... Randy Lerch, Bob Walk, Thormodsgard and Tug McGraw are scheduled to hurl Saturday while Larry Christenson, Carlos Arroyo, Jose Martinez and Lerrin LaGrow are to work Sunday's game.... Blue Jays have scheduled Jess Jefferson, Balor Moore, Ron Willis and Steve Grilli to work Saturday.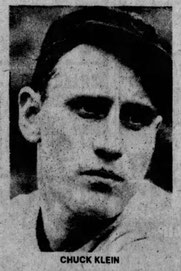 Klein, Yawkey are named to 'Hall'
TAMPA, Fla. (AP) – The late Chuck Klein, who batted .320 in 17 years in the National League, and Tom Yawkey, the late owner of the Boston Red Sox, were named to the Hall of Fame today by the Veterans Committee.
They will be inducted in the Hall Aug. 3 with Duke Snider and Al Kaline, who were elected earlier by members of the Baseball Writers Association of America.
Johnny Mize, former St. Louis Cardinals, New York Giants and New York Yankees slugger, was the closest of the finalists failing to be named by the Oldtimers Committee. Other finalists were Charlie Grimm, Jimmy Dykes, Glen Wright, Walter Alston and Vic Willis, who pitched at the turn of the century.
Klein, who died at of age 54, won the National League's Triple Crown in 1933 when he hit .368, had 28 home runs and batted in 120 runs with the Phillies. He aso batted .356 in 1929 and .386 in 1930 with the Phillies.
He also was the National League's Most Valuable Player in 1932 when he hit .348, with 38 homers and 137 RBI for the Phillies, with whom he spent most of his career. He also played two seasons and part of another with the Chicago Cubs and part of one season with Pittsburgh. He ended his career with the Philllies in 1944.
Yawkey, who died in July of 1976 in Boston at age of 73, was one of the orginal big spenders in baseball.
In Feb 1933, four days after his 30th birthday, he bought the Red Sox for $l million. In the previous 11 years, the club had finished last nine times and never higher than sixth. Yawkee immediately started to rebuild Fenway Park and strengthen his team with such additions as Lefty Grove, Jimmy Foxx, Joe Cronin and Rick Ferrell.
With Cronin as player-manager, the Red Sox finished second to the Yankees four times in the five-year stretch between 1938 and 1942. But it wasn't until 1946 that Yawkee gained his first pennant.
 He had to wait until 1967 for his second and got a third in 1975. The Red Sox lost the World Series in seven games on three occasions.
Yawkee served as vice president of the American League from 1956 through 1973 and was the league's representative on the ix Executive Council from 1951 through 1957.