Philadelphia Daily News - March 13, 1980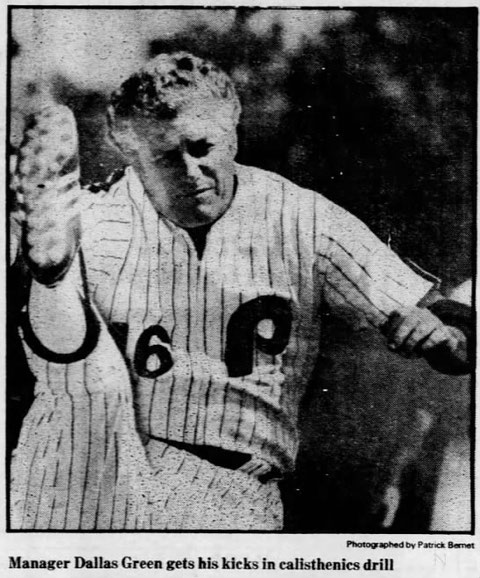 Build-Up for Mike Schmidt
By Bill Conlin
CLEARWATER – Michael Jack Schmidt...
On almost any night after a Phillies game at the Vet you can find baseball people locked in an argument various topics are bounced off the wall, run up the flagpole, rattled around like the ice cubes in a gin and tonic But just as inflation and energy costs dominate any discussion of politics, a central theme seems to emerge.
Michael Jack Schmidt...
"The best run producer in the game – todaaaay," the broadcast type reiterates for the jillionth time. "He walks a hundred times, scores a hundred runs, drives in a hundred runs, hits 40 homers and he's the best run producer... in the gaaaame. Todaaay."
The opposing views surface like heatseeking missiles.
"WHEATS THE LAST time he hit a homer that meant anything?... He walks too much, takes too many pitches he could be driving out of the park... Has about as much emotion out there as a bust on Mt. Rushmore... Looks like the best hitter in history for two weeks. Yon couldn't shoot a bullet past him. Then he's a bum for the next month."
Michael Jack Schmidt...
People say he lacks color, that he should throw a bat or change his expression once in a while. If he's so colorless how come he's on so many people's minds so much of the time? Why does a restless surge of anticipation run through the stands every time he comes to the plate, like a sudden wave on a mill pond. Love him or hate him. cuss him and discuss him, there is one fact beyond dispute: Schmidt is the best all-around Phillies player of the modern era and when his final numbers are totalled he will compare favorably to the best third basemen of all-time.
Throw out his dismal rookie year and Schmidt has averaged 36 homers and 101 RBIs over the past six seasons. He's averaged 104 runs scored and 103 walks.
THAT, FANS, IS truly amazing consistency. Throw in four consecutive Gold Gloves, enough speed to steal 20 bases a year and you have one ballplayer who might, at $540,000 a year, be grossly underpaid. He is not chuck roast masquerading as filet mignon.
Schmidt gained 12 pounds over the winter. "Only four by eating, hopefully eight by weightlifting," Schmidt said yesterday, the Phillies last at Carpenter Complex. "I'm trying to get a little stronger, so 10 or 15 of those fly balls to the warning track make it over the fence. Since you don't hit a lot of those 'just miss' balls real good, I think sheer strength is a factor in whether they do or don't make it. I'm not talking about smoked line drives, but the high lazy ones that have a chance with just a little more carry."
It's nice to hear Schmidt talking more about home runs than singles. That's his game and his fame. At his best, Greg Luzinski is a power hitter who hits for average. Schmidt is a home run hitter and at age 30, he appears resigned that he will probably never be the high average hitter he has always insisted he could become.
"I GET ON BASE as much as any 300 hitter." he said. "I don't get many cheap hits so my .250 doesn't reflect many chinkers or flares. I think I could change my particular style and hit for higher average, wait on the ball as long as Dave Parker does. But I wouldn't hit as many home runs. I used to feel I could hit .320 and still hit 40 homers. But I've changed my thinking some. If Parker changed his style to a.280 swing he'd hit 45-50 homers."
He figures a healthy Greg Luzinski hitting behind him in the lineup every day will put points on his average and give him about 20 more chances to drive the ball hard somewhere.
"I was really hurt by Greg's being hurt and scuffling last year," Mike said.
"I feel that if I repeat the year I had in '79 I'll be doing the Phillies some good. If Greg is healthy all year it will be different. I won't walk 100 times. I'll walk about 80 and that'll be at least 20 times the ball will be going somewhere. I think Greg looks super and his attitude is super. One thing about this club and you can look it up. None of the starters have ever , had two bad years in a row. Greg's not going to have two bad years in a row. Hell bounce back. Hey, we might lead the league in Comeback of the Year candidates."
SCHMIDT'S BEST friend on the club is Garry Maddox. They are alike in many, many ways and he feels the loss of Garry Maddox this season or next would be a grevious blow to the ballclub.
"I don't have any figures to back it up, but I'd have to say that Garry has meant 10 games a season for us with his glove. That's a 20-game swing. He routinely catches so many balls that nobody else would catch I think he's taken for granted. He's probably more irreplaceable than anybody in our lineup. If I was out they'd always find a way to scuffle out some runs but there's nobody in the game to play center the way he does. And he gives you a solid.290 year-in and year-out, steals some bases, hits a ong ball once in a while.
"I'm not trying to be Garry's PR man or agent, but I don't think many people realize his heavy financial obligations. He's from a large and poor family and he's trying to share his good fortune with them like a good Christian. Right now Garry is carrying four mortgage payments. Personally, he's not a guy who needs a lot of money to be happy. I hope Ruly can resolve this. I'm sure he's aware of Garry's true value to this club."
Carpenter realized Schmidt's true value to the club in the spring of 1976 when he signed his third baseman to one of the highest salaries in the game. Now his $540,000 puts him in the middle of the superstar pack.
Don't ask how much he'll be worth in 1982.
Chuck Klein Finally in Hall of Fame
TAMPA. Fla. (UPI) – Chuck Klein, a slugging outfielder with the Phillies in the 1920s and 30s who compiled a lifetime .320 batting average, and Tom Yawkey, the late owner of the Boston Red Sox who was recognized as one of baseball's great benefactors, yesterday were elected to the Hall of Fame by a Veterans Committee.
Klein and Yawkey, both deceased, were chosen from a list of 50 names which was reduced to eight finalists by the 17-member committee. They will be officially inducted into the Hall of Fame at Cooperstown. N.Y., Aug. 3, along with outfielders Al Kaline and Duke Snider, elected in January by the Baseball Writers Association of America.
KLEIN, WHO DIED in 1958 in Indianapolis, hit 300 career home runs and drove in 1,201 runs while playing the bulk of his 17-year career with the Philadelphia Phillies. He led or tied for the league lead in home runs four times and won the National League's Triple Crown in 1933 with a 368 average, 28 homers and 120 runs batted in.
Six times during his career he drove in more than 100 runs and he also scored more than 100 runs seven times, including a National League record of 158 in 1930.
"His average reflects the kind of ball player he was," said Burrleigh Grimes, the former spitball pitcher who faced Klein many times during his career. "To me, he was a Hall of Famer. I'd like to have him on my ballclub.
"In addition, he was a better than average outfielder. He was just a good man to have on the club."
MUCH OF THE CRITICISM against Klein by the baseball writers throughout the years was the fact that his impressive credentials were compiled in tiny Baker Bowl (formerly at Broad and Lehigh) which was an easy park in which to hit home runs. However. Grimes said that Klein's statistics should stand on their own merit.
Playing in the famous Baker Bowl, which had a 230-foot right field foul line, Klein strung together slugging performances which rivaled any in the history of the game.
From 1929 through 1933, Klein compiled batting averages between .337 and 386, drove in between 121 and 170 runs and hit between 28 and 43 homers per season. His total bases during the five big years were 403. 445, 347, 420 and 365.
Yawkey. who owned the Red Sox for 44 years before passing away on July 9. 1976. in Boston, was considered one of baseball's finest sportsmen.
Ruthven Pitches – No Pain
By Bill Conlin
CLEARWATER – Dick Ruthven threw 17 pitches in an intrasquad game yesterday. He reported no strain and no pain in two scoreless innings against a lineup composed of guys who figure to be back in Oklahoma City next month.
Manager Dallas Green said he didn't want to put undue pressure on Ruthven by pitching him tomorrow against Detroit.
If Green didn't want to put pressure on him, Ruthven wondered, why did he station runners at the corners to start each inning?
"I had runners on first and third and I hadn't even screwed up yet." Dick said.
Jim Wright, coming off two years of arm trouble lowlighted by last March's broken ulna bone below his right elbow, also pitched two innings at about three quarters speed and was elated when there was no pain. He threw five breaking balls without shrieking.
PHILLIPS: Pete Rose was at Derby Lane, the Phillies official dog track, last night with a good-looking brunette. Her name is Karolyn. She is still legally his wife. There is not enough evidence. however, to call her presence in town an official reconciliation... Phils will celebrate the move from Carpenter Complex to Jack Russell Stadium today with another squad game. Pitchers for tomorrow's exhibition opener with the Tigers: For the Phils, Steve Carlton, Scott Munninghoff, Doug Bird, Burke Suter and Ron Reed. For the Tigers, Steve Baker, Dave Rozema and Jeff Hally... Nino Espinosa says his shoulder feels fine. He doesn't sound very convincing... Word from the Reds camp is that Ken Griffey seems reluctant to go flat out on his surgically repaired knee, a further reason Dick Wagner may unload his unsigned outfielder.