Philadelphia Daily News - March 14, 1980
LaGrow Has Healthy Outlook
By Bill Conlin
CLEARWATER – Lerrin LaGrow learned last season that time wounds all heels. He also learned that, as far as pitchers are concerned, the heel bone's connected to the shoulder bone.
A heel bruise the 6-5 reliever suffered during spring training with the White Sox last season, an injury which ultimately led to right shoulder miseries after his trade to the Dodgers, might turn out to be one trauma with a beneficial effect on the Phillies.
The Dodgers weren't gonna offer a big contract to a guy with a bum shoulder and a heel which needed surgery, even though LaGrow was one of their best second-half relievers. When the former ace White Sox short man went on the free-agent market in the re-entry draft, 24 other clubs had similar ideas. Only one club drafted him and under the reentry rules he was eligible to negotiate with anybody.
"I JUST WANTED to see what my value was on the market," LaGrow said, "what other people have thought of me. I was under the impression with what I'd accomplished in '77 and '78 I'd draw a little more interest. Other than the injury itself I think the reason I didn't have my normal year was the lack of innings pitched. I think people tended to look at that I'm used to throwing a lot of innings of short relief and last season I was looking at maybe 50 innings' work. That was about 45-50 less than what I was used to. We assumed when we went into the free-agent thing that the injury would not be that big a deal. We didn't count on the fact the injury would play that big a role, but it evidently did. You know, that's the chance you take. The Philadelphia club just treated me very well, though, so I really haven't lost out too much on that I'm not unhappy at all."
People have been wondering if Ron Reed and LaGrow can co-exist as right-handed short men. People who wonder that have spent too much time watching Danny Ozark muddle his bullpen.
There is no reason why Dallas Green can't steal a page from the Pirates and use his bullpen the way Chuck Tanner does. In the typical Pirates scenario, his starter would go like hell for as long as he could. And given the physical condition of some of the Buc starters, that was often only five or six innings.
Tanner never let a hot reliever stand in the way of using a pinch-hitter. He never felt compelled to get "one more inning" out of Kent Tekulve or Enrique Romo. After the sixth, the entire bullpen was usually on call. Chuck only believes in a long reliever if his starter gets shelled early.
IT WOULD SEEM that Dallas can use Kevin Saucier as the guy to get out that one big left-handed hitter, Grant Jackson's role most of the time with the Bucs. LaGrow could be the short hammer, the way Romo was used, an inning here, two-thirds there, depending on when the pitcher's spot was due up next. That would leave Reed and Tug McGraw as finishers and Dickie Noles or Rawly Eastwick as a guy you run out there for three innings when the starter gets jocked early.
In his two big White Sox years, LaGrow was 13-8 with 41 saves, but with his heel throbbing he got off to an 0-3 start in his first 11 appearances. Bill Veeck, committed to a flock of young arms, reluctantly sold Lerrin to the Dodgers for a reported $100,000.
He had been the most consistent Dodger reliever when he left a game on June 25 with a right shoulder strain. His ERA at the time was 2.57. Even with the heel and shoulder bothering him, LaGrow allowed only one earned run in nine consecutive appearances later in the season. When he came off the disabled list in September, he put together a 4-1 record for a team which pulled itself from the pits of the West to third place.
"I really don't know how I got the heel injury," LaGrow said. "It was like I had stepped on a golf ball or a rock or something. I didn't pay any attention to it. It began to hurt a little bit after running toward the end of spring training, so I had an injection and it seemed to work fine – for about a week. It persisted and I ignored it.
"WHEN I WAS traded to L.A. it was something I was aware of but nothing that kept me from pitching. I was covering first base in Cincinnati one night and while I was running over, the muscles at the bottom of the foot where the bone bruise was tore away from where some calcium had been building up. I missed three or four days and was favoring it. I felt I had to continue to pitch. As a result of favoring it I strained the muscles in my right shoulder. We decided the best thing to do was give it 21 days' rest After that it seemed to be pretty good."
He didn't feel he could afford the luxury of packing it in for the season, not when he was trying to establish his value, either to the Dodgers or on the free-agent market.
"As it turned out it didn't make any difference as far as the draft went," LaGrow said. "I could have signed for more money with one other club, but I wanted very badly to pitch with a contender and the Phillies fill that bill. They seem like they're first-class people, just like I've always heard from other players."
LaGrow has fully recovered from October surgery to remove the bone spur which was causing the trouble in his heel. His shoulder is sound. Paul Owens just may have stolen another gem. Lerrin is a big, strong dude who will fit in well with Gus Hoefling's cadre of fitness fanatics. He and his wife, Sherry, are opening an athletic club in Los Angeles and he will be his best customer.
LaGROW COMES at hitters with the short man's basic repertoire – a sinking fastball, hard slider and straight change off the fastball.
"When I come into a ballgame, hitters know I'm not gonna beat around the bush," LaGrow said. "We're not gonna try and trick anybody, but we try to go with hard stuff in certain areas. It's very simple and basic."
Which is just what the doctor ordered for the Phillies bullpen. A simple and basic short man who gets hitters out.
PHILUPS – The scheduled noon squad game at Jack Russell Stadium was washed out by a squall line which blew in off the Gulf ahead of a cold front. Fair weather was forecast for today's exhibition opener against the Tigers, who might be shopping for catcher Dave Rader now that Lance Parrish is lost indefinitely with a possible torn arm muscle... Dallas Green says he is pleased with the work accomplished at Carpenter Complex, particularly in the area of fundamentals. "I feel super about it," he said. "The guys came down in great physical condition and just kept grinding. We've done a lot of fundamental work, which I feel we needed badly, covered every phase of the game in detail"... Mike Schmidt on fundamentals: "In '76 and '77 I thought we were the best fundamentals team in the league. Then we started taking ourselves for granted the past two seasons. I think you'll see us making plays the right way again, better execution in all areas"... Baltimore GM Hank Peters has given Paul Owens a list of players he'll accept in exchange for utility man Billy Smith. Rader is not on the list. The Phils are pushing Orlando Isales, the outfielder they signed when he was 14 years old. Orlando is 21 and has developed into a fine defensive outfielder with some offensive ability, which seems to be what the Orioles are after. If Smith is looking for a big contract, though, you can forget a deal. Besides, Green is sounding more and more like a man who likes what he sees.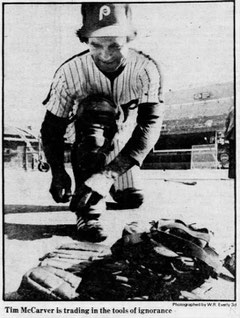 NBC Makes Pitch for McCarver (excerpt)
By Gene Quinn
Tim McCarver on network TV? Duke Snider reliving great moments of the past with Saturday baseball viewers? Ron Luciano yelling. "Kill the bum!" to major league umpires?
Any or all of these developments are possible this coming baseball season on NBC's "Game of the Week."
According to one network insider. NBC has contacted Bobby Valentine. Mike Shannon, McCarver and Snider – ex-big leaguers all – about serving as color commentators on regional broadcasts. Wes Parker, the former Dodger who teamed with play-by-play man Charlie Jones last year, won't be back. Executive Producer Don Ohlmeyer gave Parker the thumbs-down, saying he was too bland on the air.
The most interesting candidate is Ron Luciano, the beefy, boisterous American. League umpire whom many baseball purists think is in the wrong line of work. NBC was set to introduce Luciano to viewers during last season's playoffs but American League President Lee MacPhail ruled against it in the finest "not in the best interests of baseball'' tradition.
MacPHAIL WASN'T alone in his reasoning, but he was wrong – and inconsistent The AL permits Luciano to "shoot" base runners out by pointing his index finger when he makes the call. Other Luciano routines include playing up to the fans and cracking jokes to batters, catchers, base runners and coaches. He's the Phillie Phanatic of major league umpires. So what's the big deal about allowing Luciano to use his unique perspective to entertain viewers?
Anyway, the word from NBC is that if Luciano wants to work for TV he must turn in his chest protector. And for that to happen, the network must come up with a long-term deal without knowing the public's reaction. So don't count on it.
McCarver, the Phillie catcher in his first year of retirement, will debut today as an announcer on KYW Radio (1060 AM. 1:30 p.m.) when the Phils meet Detroit in Clearwater. McCarver will also work for WPHL-TV and PRISM, which televises home games over the cable. How the network will resolve McCarver's commitments locally hasn't been decided.
Timmy looks like a natural. He's an encyclopedia of wit, a walking one-liner. I mean, how can he fail in the booth. Just look at his experience calling play-by-play for Silent Steve Carlton all these years.