Wilmington Morning News - March 14, 1980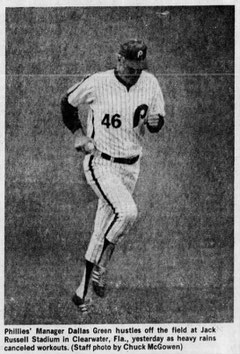 All 1980 Phillies to get solid look
By Hal Bodley, Sports Editor
CLEARWATER, Fla. – Many words have been said and written about Dallas Green's first spring-training camp, but the Phillies' new manager is determined to accomplish at least one thing.
"I don't want any of these players leaving here saying they didn't get a good chance, he said yesterday after rain washed out a squad game. "We are in the second 10-day phase of this camp and it will be during this period that we make a lot of judgments on the younger players."
The second phase, as Green calls it, begins today with the start of the Grapefruit League season. The Phils play the Detroit Tigers at 1 :30 p.m. at Jack Russell Stadium.
"There is a National League rule this year that we have to start at least four players who were with the team last year," said Green. "This hampers my plans a little, but still I think I will be able to get a good look at the youngsters and the extra men in the next 10 days. I don't want anyone leaving this camp feeling he didn't get a chance to participate. I want them all to feel they got a good look."
Today's batting order has Pete Rose leading off and playing first base, followed by Luis Aguayo, second base; Mike Schmidt, third base; Greg Luzinski, left field; Keith Moreland, catcher, Greg Gross, right field; Lonnie Smith, center field, and Larry Bowa, shortstop.
Steve Carlton will start for the Phils, followed by Scott Munninghoff, Doug Bird, Burke Suter and Ron Reed.
"You know," Green said. "Many times there is a tendency for baseball people to pre-judge talent. I think this is wrong, but it happens, with new coaches here, with fresh ideas, we are going to be able to make some new judgments, to determine that certain people should, in fact, be in certain categories."
The first 10 days of spring training were devoted to conditioning and fundamentals. It was a hard period, but nobody seems to be complaining.
"After all," said pitcher Tug McGraw. "Even a Rolls Royce needs a driver."
"I feel super about the first phase," said Green. "We worked hard and got a lot accomplished. We did a lot of running and worked on fundamentals, but the guys came here in outstanding physical shape. At this stage, I couldn't be happier."
Green said the final 16 days of the camp will be devoted to getting ready for the season opener against Montreal on April 11.
"We will go with our starting line-up in most of the games during the last phase," said Green. "Those players will be in most of the exhibition games as a team. I think that is the best way to prepare for the season.
EXTRA POINTS – The Phils had their team picture taken in the morning, but as soon as that was completed, heavy rains washed out the squad game... Tomorrow, they go to nearby Dunedin to play Toronto and return here on Sunday to face the Blue Jays at Jack Russell Stadium... With the inter-league trading period ending tomorrow night at midnight, Player Personnel Director Paul Owens is devoting most of his hours to taking to American League teams... He is trying to find out if there is any possible deal that can involve center fielder Garry Maddox... Maddox became available when it was disclosed that he and the Phils are miles apart in contract negotiations.
Baseball Notes (excerpt)
Grebey: no reason to strike
Ray Grebey, chief negotiator for major league baseball, said yesterday he saw no reason for players to stage a strike prior to reaching a new working agreement.
"They have everything going their way," he told an informal press conference at Al Lang Stadium. "Salary levels are the highest they've ever been. They have just had a raise in pensions and their fringe benefits are the best ever."
He made the statement when a reporter asked him if he thought there was a 50-50 chance of a strike.
"I don't want to put a figure on it because I don't think they have any reason to strike."
He said he felt some progress had been made at recent meetings between him and Marvin Miller, but added: "The players have not budged substantially from their original demands."
Grebey was in St. Petersburg to visit the St. Louis Cardinals training headquarters and a television segment for a future "Sixty Minutes" on CBS.