Philadelphia Daily News - March 22, 1980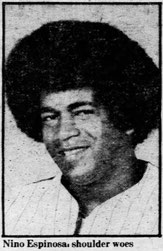 Injuries Taking Toll on Phillies pitchers
By Bill Conlin
CLEARWATER – If Nino Espinosa doesn't do more than toss the ball on the sideline soon, he won't go north when the Phillies break camp April 9.
Larry Christenson has been set back at least a week with a left knee injury. Randy Lerch has stiffness in his left shoulder, believed caused by an adhesion which hasn't broken down.
Sound familiar? One week into the exhibition season and Dallas Green's starting staff consists of one certified starter in the pink of health, Steve Carlton. That's the guy everybody was so worried about when he didn't run with the pitchers at the end of Carpenter Complex workouts.
The Phillies better start worrying about the other guys.
Green split his squads yesterday, sending one team to play the White Sox in Sarasota, the other to play Toronto in Dunedin. The good news is that Rawly Eastwick was excellent in the 6-5 loss to the Blue Jays, a game which featured minor league pitching instructor Jesus Hernaiz throwing a two-run homer for the gamer after the Phils ran out of pitchers. Eastwick pitched three scoreless innings, allowing only one hit and striking out four.
LONNIE SMITH, Del Unser, George Vukovich, Luis Aguayo and Greg Gross each had two hits in the Grant Field bandbox.
The bad news is that Dick Ruthven, another convalescing starter, gave up four runs in four innings in the Phillies' 11-7 victory over the White Sox. If the Phils keep scoring the way they have so far in Florida they won't need a lot of pitching ... ha, ha.
Catcher Keith Moreland continued to earn the spot he has already won behind Bob Boone. The Texas powerhouse smoked a three-run homer in the fourth off Ed Trout. The Phils came from behind to put the game away with a five-run eighth at the expense of former teammate Ed (Wolf man) Farmer. Mike Anderson drove in a pair of runs with a bases-loaded single.
Nobody officially has said that Espinosa has a serious shoulder problem. There is, however, only so long you can hide a pitcher who is obviously in no condition to pitch.
"HE WENT HOME with some shoulder problems and then he went out and pitched winter ball," Dr. Phillip J. Marone said, without getting to the heart of the matter. "Baseball and baseball pitchers just have to come to realize that what they do is an unnatural physical activity and there has to be a limit to how much they can do it each year."
Next week could be an important one as Green's starters begin stretching out. toward the five-inning stage. Meanwhile, will Paul Owens be forced to scrounge up a deal for a starter instead of a reliever. Will Dallas Green be forced to take a long, hard look at rookie righthander Scott Munninghoff, who has been outstanding so far?
Stay tuned.