Wilmington News Journal - March 22, 1980
Maddox may stay; pact talks reopen
By Hal Bodley, Sports Editor
CLEARWATER, Fla. – Garry Lee Maddox wants to remain with the Phillies and the chances of that happening are suddenly brighter.
Maddox, mired in a contract dispute with the Phils, has reopened negotiations which were shut down at his request on March 10, the News Journal learned last night.
That fact was confirmed by Phils' owner Ruly Carpenter, who said he had a long conversation over the telephone with Jerry Kapstein, Maddox' agent,, yesterday afternoon.
"We kicked a lot of things around," said Carpenter. "We discussed general concepts, but there were no new figures discussed by either side. We plan to talk again in a day or two."
Maddox, 30, is on the final year of a five-year contract and when negotiations broke off said he would play out his option with the Phillies.
"Negotiations with Philadelphia on a contract for Maddox are at an impasse," Kapstein said that day. "Negotiations began in January of 1979 and continued until March 2, 1980. We will not discuss a new contract until after the 1980 re-entry draft."
Carpenter, who said there was a huge gap between the center fielder and the Phillies, told Kapstein the door would always be open if he decided to conduct further talks.
Maddox was asking for a four-year contract in excess of the $3.2 million ($810,000 per season) the Phils gave free-agent Pete Rose in December of 1978. Even though Maddox is one of the best center fielders in the game, Carpenter said he could not meet those demands. Thus, the stalemate.
Originally, Maddox' current contract called for $100,000 the first year, graduating to $225,000 in 1980. When it became obvious he was underpaid compared to other center fielders with his ability, Carpenter gave him a raise.
His $425,000 this year makes him the highest-paid center fielder in baseball.
"There is no question I want to stay in Philadelphia," said Maddox, an extremely sensitive man who spends hundreds of hours each year working with various charities. "I have gotten along well with the press, well with the fans, my teammates and especially the front office.
"You can imagine what kind of a position I am in and how it bothers me emotionally to have to do this. In the long run, I have to do what is best for Garry Maddox."
When the story of the impasse broke, several reports stated that Maddox was asking for a million dollars a year. One newspaper called him the Million Dollar Baby. This type of press hurt Garry Lee Maddox and is probably why he decided to try again to reach an agreement with the Phillies.
Several times this week he was seen chatting with Carpenter in the clubhouse and this is probably what originally brought about the new negotiations.
Maddox asked a reporter the other day what kind of a reception he thought he would get from the fans if he remained in Philadelphia this year, with the intention of becoming a free agent at season's end.
Maddox watched the fans turn on one-time favorite Greg Luzinski last year because he slumped so much.
"I'm concerned about the fans, about the people I've met," he said. "I'm concerned about their reaction to it. That's why I hope that they'll just look at the situation and try to put themselves in my place and try to be objective about it.
"I think people have had a chance to learn a little bit about me since I've been in Philadelphia and I just have to rely on the impression I made on them."
On March 10, Carpenter said the Phillies would have no other option but to try to trade Maddox. American League clubs were contacted, but the March 15 deadline passed with nothing happening. This week Player Personnel Director Paul Owens has talked with three National League teams that have shown interest.
"I have been put in a bad light," said Maddox. "Some of the things that have been written are not true. Trading me is one of their options. They have told me that. We have been negotiating in good faith and I can't say the Phillies have been giving me the run-around. The thing that has puzzled me is that they have always given their players the money before and now they are pulling back."
When asked if he is encouraged by the latest developments, Carpenter said: "I learned three or four years ago not to be encouraged. As I said ail along, we have left the door open for them."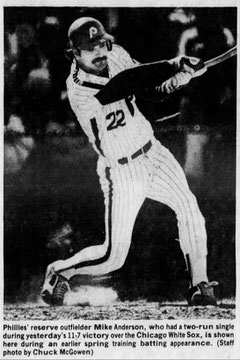 Phils split: top Chisox, fall to Jays
CLEARWATER, Fla. – A two-out, eighth-inning rally produced five runs and led the Phillies to an 11-7 exhibition victory over the Chicago White Sox yesterday.
Mike Anderson drove in two runs and Bake McBride, Luis Aguayo and Garry Maddox one each during the spree. It was their second big inning of the game as the Phillies also scored four times in the fourth inning, including a three-run Keith More-land home run off Steve Trout.
Second-year reliever Kevin Saucier gained the victory.
Meanwhile, in Dunedin, J.J. Cannon hit a two-run homer in the bottom of the 11th inning to power the Toronto Blue Jays to a 6-5 victory over the Phillies B squad.
The Phillies moved in front 5-4 in the top of the 11th after Greg Gross scored on a double by George Vukovich, his second RBI of the game.
Jesus Hernaiz, the Phillies minor league pitching instructor, came on to pitch in the 11th inning after Philadelphia had run out of pitchers. Hernaiz walked Rico Carty, who was replaced by pinch runner Damaso Garcia, and Cannon sent his one-out blast over the rightfield fence.