Camden Courier-Post - March 24, 1980
Hustle often matter of style with Phillies
By Ray W. Kelly of the Courier-Post
ST. PETERSBURG, Fla. – There are more than a few stars in the National League who play the game of baseball with a silken style that reeks of talent, but only hints at what most people would call true grit.
It's easier to like the scrappy jock who kicks up a cloud of competitive dust wherever he goes and enters every game as if it were a battle royal.
Which may be why there always seems to be an uneasiness, an almost constant feeling of discontent, in the bleachers whenever the Phillies take the field.
For they are unique in that the team that Dallas Green will manage this season will once again boast examples of both ends of spectrum.
There is no one in baseball to match the super-competitive image of Pete Rose. He is Charlie Hustle. And, when he thunders head-first into a base, fathers throughout America nudge their sons and proclaim that they have just witnessed the perfect example of how the game should be played.
Rose's No. 1 disciple is shortstop Larry Bowa, who was leading leagues in determination long before he ever set eyes on Rose, but seems to find added fierceness when dressed in the same uniform as Pete.
There are, of course, others on the team whose demeanor on the field suggest grinding teeth. Catcher Bob Boone . likes to mix it up a little. And, there is a danger of riot every time reliever Kevin Saucier looks down from the mound at opposing batters.
This is their style. It's the way they are, pure and simple.
But, just because something is right for Rose doesn't automatically make it right for Mike Schmidt. And. what works for, Bowa wouldn't necessarily work for Garry Maddox.
All four are super stars. Taken individually, it would be hard to draw up a list of complaints against any one of them. The only people who can do that are those who forgot the days when a Phillies game consisted of Chris Short, Jim Bunning and waiting for Richie Allen to hit a home run.
Contrast is the key word. When Rose and Bowa play it hot, Schmidt and Maddox suddenly look too cool. When the truth of the matter is, people out in Los Angeles, insist that if Schmltty joined the Dodgers tomorrow, his approach to the game would be considered ideal.
Laid back is not only a way of life in California, it's the way the Dodgers do things. Heck, two days in Anaheim' and they'd throw a net over Bowa because Philadelphia fanatics don't wash in Malibu.
The perfect solution to the problem would be for the Phillies to go out and find 25 guys like Rose. Even if they finished in last place every year, you can bet Veterans Stadium would be filled to capacity every night with fans who love a dogfight.
Unfortunately, that's not about to happen. And so the adjustment period continues with fans still trying to decide if they'd rather see Ron Stone (former Philly outfielder) busting his butt in right field just to be adequate or watching Bake McBride gliding around being better than most with what seems like half the effort.
The players, including the hustlers, insist that the bottom line isn't how you get the job done, but what you produce in the end.
When production is high, folks will look the other way and remain silent. When a gny's statistics don't live up to expectations, bis motivation immediately becomes suspect.
At the moment second baseman Manny Trillo is a likely candidate for this type of situation. His brand of play is fluid and easy. He doesn't fire the ball to first, he flips it with a hint of disdain that often makes people forget the power and accuracy of his arm.
Trillo has a Golden Glove on his mantel. Yet there is a definite feeling among Manager Green and his staff that if they were ever able to build a fire under Manny, he could become the best second baseman in baseball.
That may be true. It's certainly worth a try.
But, if it doesn't work, it's not the end of the world. Teddy Roosevelt and Harry Truman were successful scrappers in the White House. But, old easy going Abe wasn't half bad either.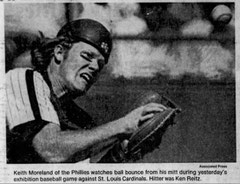 Control miseries again concern Phillies, Lerch
By Ray W. Kelly of the Courier-Post
ST. PETERSBURG, Fla. – Phillies lefthander Randy Lerch keeps telling himself it's only spring training, but after yesterday's 6-1 loss to the St. Louis Cardinals, he's got to be a little concerned.
The lanky southpaw, who came off a fractured right wrist to finish up the 1979 season with a flourish, has now given up 10 earned runs in half a dozen innings of competition here.
"Randy's having some problems, but he'll come around. It's early yet," said Manager Dallas Green, who put the final touches on the dismal day at Al Lang Field by trimming 10 players from the roster.
Slated to be sent to the minor league complex are pitchers Jim Wright, Marty Bystrom, Jose Martinez, Carlos Arroyo, Bob Walk and Dan Larson as well as infielders Ramon Aviles and Jay Lovigilo, outfielder Orlando Isales and catcher Ozzie Virgil.
Bystrom's departure represented the biggest disappointment because the rookie righthander had been touted all winter as a darkhorse candidate to make the club. Unfortunately, he pulled a leg muscle and never got a chance to show his stuff.
"I think we'll hear from Bystrom again," said Green. "As for Wright, the best 'thing for him is work. It's been a long time since he's pitched and he'll be able to get the innings he needs over at the complex."
The Phils, who now have 36 players in camp, were never in this one as Cardinal Bob Forsch kept them in check while Lerch continued to struggle with his control.
Cardinal Bobby Bonds walked to open the second inning. And, after George Hendrick singled, Roger Freed walked to load the bases.
Ken Reitz singled to center to score a pair of runs. Garry Templeton's single made it 3-0.
In the third, the Cardinals hiked their lead to 5-0 on Tony Scott's single, Bonds' double and Freed's single. And, when the Phils finally got on the board in the sixth on Luis Aguayo's double and Manny Trillo's single, the Cards came right back with a run of their own as Joe DeSa tripled and Reitz hit a sacrifice fly.
"At least Aguayo was a bright spot," said Green, who admitted the little infielder from Oklahoma City has helped his chances of making the big club by collecting five doubles in six hits this spring.
The Phils will hold some sort of workout this morning and then embark upon their annual team golf tournament'.
Tomorrow's "B" game against the New York Mets may steal the limelight from the regularly scheduled game against the Baltimore Orioles. Nino Espinosa may be taking the wraps off his tender arm in the game with the Mets.
Elsewhere, Lou Piniella drove in three runs, including the game-winner in the ninth inning, and the New York Yankees rallied to beat the Detroit Tigers 5-4.
Piniella's fourth hit of the game drove in the Yanks' second run in the ninth off Detroit pitcher Mike Chris, who got himself into the jam by walking Bobby Brown and pinch-hitter Dennis Werth.
Garry Smith singled home the tying run, and Piniella singled home the winner as the Yankees snapped a three-game losing streak.
In other action, Ken Landreaux singled home the winning run in the ninth inning as Minnesota edged Cincinnati's A team 5-4. Rookie Charlie Liebrandt tossed five scoreless innings as the Reds B team whitewashed Houston 4-0 behind the hitting of Ray Knight, who doubled and tripled.
Tippy Martinez walked John Mayberry on a 3-2 pitch in the eighth inning to force in the tiebreaking run, and Toronto added two more runs when Baltimore second baseman Rich Dauer dropped a pop fly en route to a 7-4 win
In Brief: 'Owners test players'
ST. PETERSBURG, Fla. – After the 40 St. Louis Cardinals players voted unanimously to support a strike, their union leader, Marvin Miller, charged major-league club owners are trying to "force a strike."
Miller, the executive director of the Major League Players Association, said yesterday that the owners are again "testing the athletes. They feel that, should the players fall apart, they (owners) will pick up the marbles and turn back the clock."
Miller said the owners are proposing to restrict the length of contracts for major league players with fewer than five years' service. Under the proposal's terms, the executive said contracts for players through their first four seasons would be restricted to one year.