Philadelphia Daily News - March 24, 1980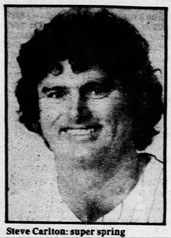 Carlton Only Pitcher Not Struggling
By Bill Conlin
CLEARWATER – Dallas Green is an optimist. He must be an optimist because he says the Phillies staff of starting pitchers has no serious problems at this time.
That's like the president of a savings and loan association saying the stampede of customers pulling their money out to invest in money market funds is not a serious problem. It's like a spokesman for the housing industry saying mortgage money is plentiful and cheap.
Of Green's projected five-man starting staff only one, Steve Carlton, is hitting on all cylinders. Larry Christenson spends his days in Don Seger's MASH unit taking treatments for a badly bruised left knee. Nino Espinosa. the staffs No. 2 winner behind Carlton with 14 last season, will see his first live action of the spring tomorrow, one or two innings in a morning "B" game. Randy Lerch in three exhibition starts so far has been so-so, excellent and awful, a career pitching pattern that has become familiar to people waiting patiently for Green's other left-handed starter to arrive.
DICK RUTHVEN is coming back from elbow surgery and struggling with rhythm and location – although he apparently is throwing without pain. Dickie Noles, blueprinted as a ready reserve should any of the above falter, is struggling. With a logjam developing in the bullpen, it would surprise nobody if Noles started the season back at Oklahoma City. Expensive and guaranteed contracts held by Rawly Eastwick and Doug Bird may make that option a necessity. Shades of Jim Kaat and Jim Lonborg.
"I'm not at all concerned at this time," Green said yesterday morning before Lerch was battered by the Cardinals for five runs and seven hits in five innings at St Pete. "Christenson will have 11 days to the start of the season from the time he starts pitching again. If he would be the last pitcher he'd get another four days. L.C will be ready. I'm confident of that."
How can a manager be confident in a pitcher whose medical file reads like a shooting schedule for "General Hospital?"
"He is in much better shape physically than at any time in his career." Dallas said. "He can better withstand something like this than I think he could have in past years, in terms of coming back arm wise and everything else."
Everything but hamstring pullwise, perhaps. Before Jason Thompson's liner scorched his knee in Lakeland. Christenson had been through a hamstring pull and an aggravation of the injury which occurred during the routine act of backing up third base.
ON PINA COLADA Open Day – a golf/guzzling outing and the Phillies' traditional midpoint of the exhibition season – Nino Espinosa is still somewhere in February.
"I don't think we've got to the point where we might have to leave Nino down here," Green said while the lame-shouldered righthander worked on his batting stroke. "I don't think we know how bad or how good Nino's gonna be. He threw yesterday (Saturday) and we're gonna try to get him into a game just to see his reaction for an inning or so in the next few days and just see where we go with him."
Nino's contract runs out after this season, but as a pitcher with just three years and 13 days major league experience he cant play out his option. There are. however, more subtle ways of getting one's point across. : Jerry Martin, in a similar situation, is currently too "injured" to play center for the Cubs. A long-term contract, it seems, will put the former Phillies outfielder in the pink of health. "We're kind of playing Nino one day at a time and watching his reaction as a result of throwing." said Green. For balance, here's some good news. Carlton is having his best spring since he came to the Phillies in 197Z "The way Lefty's throwing this spring the only hitters who have a shot at him are the bad ones, guys who dont know you're not supposed to hit that stuff he's throwing up," Mike Schmidt said.
I'D LOVE THE season to be going now with his groove," Green echoed. "Wino and I were talking and Bobby said he hasn't seen him like this since 72 in terms of sharp breaking balls, control and everything else. He's pitching with great confidence. He just knows he's got everything in his sink right now. This early I'm surprised the breaking ball is cracking for him like it is. When he struck out the side in the second inning Saturday he threw some fast balls that froze guys."
Ruthven was pleased with his stuff in Sarasota Friday, but not his location. "Wild high with my fastball," he said, "and a plate umpire that was a real beauty, which I didn't need. I'm not trying to prove anything out there, just get ready to pitch."
With at least two varsity starters running behind schedule and hot rookie Marty Bystrom out of the picture due to a groin injury, rookie righthander Scott Munninghoff survived Green's first squad cut yesterday. The 21-year-old former No. 1 draft choice from Cincinnati has earned a longer look with three excellent outings behind Carlton.
"He's thrown zeroes, so you've got to keep him at least for another shot anyway," Green said. "He's certainly done all we've asked him to do down here, including throw more strikes."
The Phillies will drink to that. Which on the day of the Pina Colada Open will be one of many toasts.
PHILUPS: While the National League's batting-average leaders in 79 beat a steady tattoo of singles and doubles on Randy Lerch, Bob Forsch became the first Cardinals pitcher to go seven innings, allowing just one run in the 6-1 victory. Pete Rose and Greg Gross led the Phils attack with two hits each. Cards scored five runs off Lerch, one off Tug McGraw... The game set a big-league record for the most Vukoviches in uniform, one game, three. There were Phils infielder John, rookie outfielder George and Cardinals pitcher Pete, who spells it Vuckovich. None are related... Trade talks seem to be on the back burner while GMs, who will meet today in Orlando for briefing on progress in labor negotiations, see what changes are made in compensation, free-agency requirements. If owners give the Players Association free agency after three years big-league service it will be another new ballgame... Paul Owens officially has informed Garry Maddox that he's trying to make a deal for him. Halfheartedly, one would suspect... Players sent to the minor league complex for reassignment yesterday were lefthander Carlos Arroyo and righthanders Dan Larson, Jose Martinez, Jim Wright, Bob Walk, Marty Bystrom; catcher Ozzie Virgil; outfielder Orlando Isales, and infielders Jay Loviglio and Ramon Aviles.. Among the survivors are off-season pitching acquisitions Burke Suter and Paul Thormodsgard and rookie righthander Scott Munninghoff; infielders John Poff and Luis Aguayo; outfielder George Vuckovich, and catcher Don McCormack... The Phils have an open date today and may be located on and around the fairways of East Lake Woodlands.