Philadelphia Inquirer - March 26, 1980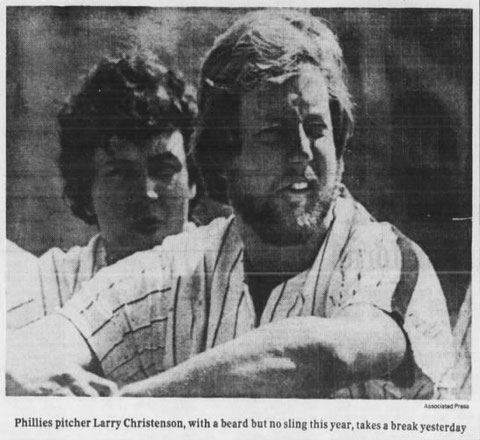 Espinosa's throwing, but arm is still stiff after 2-inning workout 
By Jayson Stark, Inquirer Staff Writer
CLEARWATER, Fla. – There was good news and bad news about Nino Espinosa yesterday.
The good news was that Espinosa finally got out onto a pitcher's mound. The bad news was that he looked more like a candidate for the Olympic shot-put team than a candidate for the Phillies' starting rotation.
"Let's face it. He didn't throw very well," manager Dallas Green said dejectedly after Espinosa had thrown two perfunctory innings in a morning "B" game with the Mets.
"I'm not very encouraged. Let's face it: If he's going to be one of our big winners, he's got to throw better than that. I certainly would have hoped he'd be farther along at this stage. The only way I could be encouraged was that at least he's throwing to hitters again."
Espinosa went out at 10 a.m. to lob a few semi-fastballs and changeups at the Mets' ghastly B-team lineup (or was it Triple-B?) featuring No. 62 in your program, Hubie Brooks, and a catcher named Butch Benton, who hit.198 last year at Tidewater.
Benton actually struck out on a changeup for the high point of Espinosa's day. But Espinosa got nailed for a first-inning run when Mookie Wilson and Rob Andrews stroked back-to-back singles and Mike Jorgenson drilled a sacrifice fly. And only John Vukovich's stab of Joel Youngblood's line shot averted more trouble.
And that was the inning in which Espinosa felt good. His shoulder stiffened again in the second, and he threw nothing but Wiffle balls. Somehow, he got out of it scoreless.
But the fact that Espinosa allowed only that one run did not seem to inspire Green into delusions of optimism. The Phillies may not need Espinosa through the off-days, and rainouts of April, anyway. But it is hard to tell if he will be ready when the grind starts in May.
"If he doesn't come along any better than he is right now, he's not going to be in the rotation. That's for damn sure," Green said. "I'm not going to pitch him unless he's capable of pitching like Nino Espinosa can pitch."
Considering that Green had been keeping a calm front on Espinosa until now, his pessimism was significant. This leaves Espinosa as the only person around who is confident that he can be there April 11.
"Not be ready?' I don't think that ever even crossed my mind," Espinosa said. "I think everything will be fine. It's just a matter of trying to build it up again. I think by the start of the season I'll be ready."
Espinosa said he would pitch batting practice tomorrow, then try another game. ("No more 'B' games. Let's see where the real games are.") He hopes to be up to six innings before the club goes north.
"My body's in shape," he said. "And it's much easier to get your arm in shape than your body."
But it isn't if you bring back the stiffness every time you throw. And Green is worried that there might be something in the way Espinosa curled his arm back at the midpoint of his motion that caused his problems.
"He's a wrist-wrapper," Green said. "And medically, that's not a real good thing for your arm."
So Green and pitching coach Herm Starrette have suggested that Espinosa try a new, more sidearm motion. Espinosa has followed orders. ("They're much older than me, so they should know more about baseball than me.") But be is reluctant.
"I threw the other way for eight years, and I never felt anything," he said. "But maybe they're right."
If they're not, someone will have to step forward to assume Espinosa's role. And maybe that someone will be Dickie Noles, who reverted to form yesterday after what had been a heretofore horrid spring.
"Dickie came a long way today – for me, anyway," Green said after Noles' four-inning stint in the Phils' 6-3 win over Baltimore in the regularly scheduled afternoon game. "He threw a lot better.
"We were concerned. He was cutting the ball. He wasn't Dickie Noles. The ball wasn't coming out of his hand the way I like it. We kept looking at films, trying to figure out what he was doing. But I guess it was just the long winter. He forgot how to do it. He came back today and threw like, he can."
Noles had a shaky first (Al Bumbry double, Ken Singleton homer, Eddie Murray single) but looked sharp, allowing just two singles, thereafter. (He did set up a fourth-inning run with a wild pitch.) So Noles again is a contender for everything from the rotation to middle or late relief.
Until yesterday, it appeared that only a non-functional Espinosa could have gotten Noles north. But now, Green said, "I don't know if it all hangs on Nino as far as him (Noles) making the staff."
NOTES: Lerrin LaGrow (two hitless innings) and Rawly Eastwick (three scoreless innings) continued their impressive pitching against Baltimore. "Eastwick looked like he wanted to get hitters out," Green said. "That's what impressed me. He went after the hitters. And he used his other pitches besides the split-finger. He's throwing better than I remember even last year. And I think that's an approach. I think he's going after guys better." Green hasn't decided what role to use LaGrow in yet, but nobody has hit a ball hard off him all spring, and Green conceded, "He's interesting right now."... Greg Luzinski (nine RBIs in six games) doubled in a first-inning run, Mike Schmidt (a double, two sizzling outs) continued to murder the ball, and Pete Rose was, well, vintage Pete Rose. Rose was 3-for-4 with two RBIs and created a run in the seventh with a single, a head-first-sliding tag-up to second on a fly to center, another tag to third on a fly to right. He scored when the throw to third got by Doug DeCinces.... Bob Boone had his first play at the plate since the Youngblood crash of last season and missed a timid sweep tag on John Lowenstein. "That run didn't mean anything to me, to have him stand in there and take a beating on that," Green said. "When the bell rings, he'll make them if he has to."
TV/radio talk (excerpt)
By Harry Harris, Inquirer TV Writer
WHAT-AM, which recently went back to a music format, will shush the sharps and flats for 68 Phillies home games in Spanish. Monday-through-Saturday play-by-play will be provided by veteran New York broadcaster Juan Neve and former Phillies infielder Tony Taylor.