Philadelphia Daily News - March 31, 1980
Baseball Will Be the Casualty
By Bill Conlin
CLEARWATER – It was an impartial rain which fell on labor and management alike. It came off the Gulf in ragged cells that showed up on the TV radar pictures like inkblots in a psychological test.
The line of thunderstorms moved so slowly down Florida's west coast that the Phillies' team bus, headed to Bradenton 35 miles south, outran it by three hours. It caught up to them in the sixth inning with the Pirates holding a 4-2 lead.
The stay-at-homes were just starting to work out when the first fat drops sent them scurrying to the clubhouse. The Strike weighed heavily on everybody who sat sipping-coffee while the downpour turned the tin roof into a giant snare drum.
Larry Bowa. the club player representative who will fly to Dallas for Tuesday's fateful meeting with Marvin Miller, grumbled about the introduction of the Federal Mediation Service into talks in Palm Springs yesterday.
"NOTHING," BOWA SAID. "It's nothing more than a stalling ploy by the owners. The mediator will say he needs three weeks to study all the stuff that's on the table. They're just trying to buy some time. It won't work."
Tug McGraw sat in front of his locker, playing a game with two writers.
"Let's figure out what different guys on the club can do to support themselves if there's no season," McGraw said. "I'll start with me. I'll be a barber. I really did get my license when I went to barber college in New York. Let's see, Bull has his tennis club to run. Ron Reed can go back to the NBA."
Reed looked down, from his locker. "Who am I gonna hire to jump for me?" the 6-6 reliever said.
The Latin players cart go to work in one of the oil fields owned by Manny Trillo's wife, somebody suggested. Steve Carlton can go on the lecture circuit.
"Bowa can expand his communications empire," McGraw said. "I'd like to hear him do color commentary on roller derby telecasts. Dallas Green can run for President"
Ruly Carpenter emerged, from Green's office, where he had been huddling with George Harrison, the Phillies' chief financial officer. Harrison carried a portfolio swollen with documents which probably included the latest contract offer to Garry Maddox and the payoff figures on several guaranteed contracts. Carpenter will be forced to honor if his manager has his way on final squad cuts sure to raise some eyebrows.
BUT FINAL SQUAD cuts might be down the road a few months if everybody's gothic mood is indeed supported by the grim labor news.
"Tug McGraw and I could hammer out an agreement that would be mutually satisfactory to me as an owner and him as a player," Carpenter said. "Seven owners and seven player reps bargaining in good faith could settle this thing. But both sides have hired guns working for them. They have Marvin Miller and we have Ray Grebey, so its totally out of the players' hands and the owners' hands. There's not a damn thing I could do right now to influence this thing if I wanted to."
Somebody suggested that NFL owners have done a lot more to save their game from 'themselves than baseball owners. They have a compensation plan so stiff that nobody blinks when a Too Tall Jones announces that if he can't get more money he will go into boxing. They have a tough commissioner and a lot of discipline within the lodge.
Baseball has too many nouveau riche dilettantes who could care less about the game or its financial stability. "We have owners," Carpenter "said, "who refuse to see that we're no stronger than our weakest links and right now we have some very weak links.
"THE NFL PEER group pressure is a lot greater than ours," Ruly said. "If somebody"s getting out of line a couple of them will get on an airplane and go straighten him out."
Why not baseball?
"That's a good question," Carpenter said. "A Too Tall Jones is proven quality over a period of time. If I owned an NFL team, from a field standpoint I would give up two first-round draft picks to get a player of his quality, and we all know a first-round draft pick in football and basketball can give you immediate help. It can happen for proven quality. A Too Tall Jones really hasn't come on the market yet in baseball, not in my opinion. There hasn't been a Mike Schmidt, a Dave Parker."
What about Reggie Jackson? McGraw interrupted.
"I don't consider him super quality," Carpenter said. "With all due respect to Reggie, he's a good player, but he's not one of the all-time greats. If a Too Tall Jones quality player became a free agent in baseball, owners. would fall all over each other to see who would sign him. What's screwed up our financial stability is the owner willing to pay an Oscar Gamble $3 million. A Dave Winfield sees that and rightfully says, 'If he's worth that much, then I'm worth three times that.' And if I was a player, I'd think the same way. I can't blame these guys for taking advantage of the system the owners have created for them, but the system has to be changed.
"Marvin and Grebey can both walk away from it when these negotiations are over, but who's left to pick up the pieces? I said it the last time and I'll say it again, God forbid that the fans are completely turned off by the players. Let them call me a cheap so-and-so. But once the players incur fan wrath to the extent they stop coming to the ballpark, we're all in big trouble."
LARRY BOWA JOINED the group.
"Hey, Ruly," the shortstop asked his owner, "how come on this compensation thing the owners are asking for IS players to be protected from the 25-man roster and not the 40-man roster?"
Carpenter looked like he had just swallowed a tainted oyster. In two days the Phillies' player rep would be taking part in a decision which could forever change the face of major league baseball. And he didn't understand the key provision of the owner's compensation proposal. Under the owner's plan, a club losing a free agent drafted by at least eight teams could select any player in the signing club's organization but the protected 15. It is the proviso that gives the compensation plan NFL-style clout. "If I'm forced to protect my three or four top minor league prospects, you've got a helluva shot at my 25-man roster," Carpenter said. "It's a risk a club might take only if a premier player is involved."
The owner jerked his thumb for Bowa to follow him into Dallas Green's office and closed the door. Ruly and Bowa, going head-to-heatf-for an afternoon, could straighten this thing out short of apocalypse.
But the hired guns have brought baseball to High Noon. There will be no backing down. It is the game that will be carried out feet first.
Tug McGraw says he will cut hair by appointment only.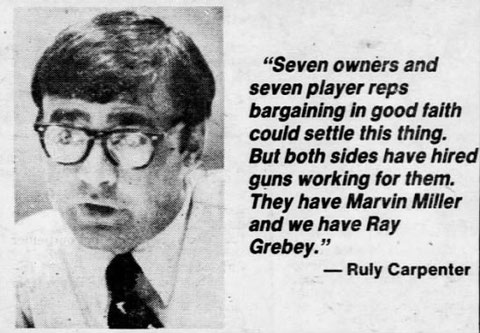 Miller:  Think Strike
By The United Press International
It now appears the strike of major-league baseball players could begin as early as Wednesday.
Despite a belief that the parties might accelerate the bargaining process at the 11th hour, the negotiators for the respective sides left their yesterday meeting in Palm Springs, Calif., with virtually no progress to announce.
Kennedy Moffett of the Federal Mediation Service, following a session with Marvin Miller, executive director of the Players' Association, and owners representative Ray Grebey, tried to avoid pessimism.
"The issues are not that complicated and we will keep going tonight until someone gets tired," he said.
But there seemed little chance for the type of last-minute agreement that marks many labor negotiations.
EARLIER IN THE day the California Angels players voted, 34-0, to authorize the Major League Players Association executive board to call a strike tomorrow in Dallas.
The final team to be polled, the Angels raised the final count to 971-1 to authorize a strike, according to Miller.
The current three-year agreement between the players and the owners expires April 1.
Asked if he expected the executive said, "It looks like it at this time, considering it is the 30th."
Miller said he was unable to say whether the executive board might vote to strike immediately or hold off the action to later in the season.
"They could vote to strike in May but say they wouldn't play in exhibition games beginning April 4," he said. "The players could say, 'We're not getting paid for exhibition games, so why should the owners take in all that money for a war chest to be used against us?'"
Miller labeled last week's negotiations in Phoenix "a shameful waste of time."
"The one thing that is needed is for them to negotiate," Miller said. "After 20 weeks, you look back and the first 18 weeks were spent on the owners' demands. They had ridiculous fixed salary structures."