Wilmington Morning News - March 31, 1980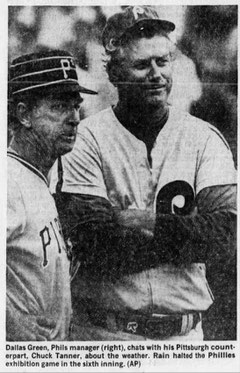 Balls and strikes no worry to Green – labor strike is
By Hal Bodley, Sports Editor
CLEARWATER, Fla. – The pitching staff is struggling and spring training has reached the blah stage for the Phillies.
That, however, is not what is troubling Dallas Green. Deep down, the new manager is dreading the possibility of a players' strike.
"I have no anxieties about this team," Green said yesterday after the Pirates downed the Phils 4-1 in a game that was called after 5½ innings because of rain at Bradenton. "Things have fallen into place, the pieces of the puzzle are beginning to fit. The pitching might not come for awhile, but it will."
The possibility of a strike was mentioned and Green's face suddenly became long.
"I guess that is the only thing I am apprehensive about now," said Green. "That will hurt us; that would kill us. We have a good feel for everything right now, we've got some momentum and everything's here, but a strike..."
Green did not finish his words.
The Phils' catcher, National League player representative Bob Boone, is not optimistic about the next few days. He is in Dallas for meetings with the Major League Players Association executive board. He held a meeting with the team Saturday morning and most of the players left certain there will be a strike.
"It's almost certain," said Pete Rose. "We're going on this trip to the East Coast, but I really think we will be back before we play all three games. I doubt very much the game in Cocoa will be played against Houston."
When the players on all teams voted, they have the executive board permission to call a strike on or after April 1 if a settlement with the owners over a basic agreement was not reached by then.
Phil Garner, the Pirates' rep, talked to reporters before yesterday's game and said he held little hope that accord could be reached.
Marvin Miller, the executive director of the Major League Baseball Players Association, said yesterday that a strike is a likely possibility.
"I am not optimistic," said Miller shortly before a meeting with baseball owner representatives and a member of the Federal Mediation and Conciliation Service in Palm Springs. "The owners group hasn't been negotiating for 20 weeks. They are stalling. I think they have provoked this confrontation. Rumor has it they have bought strike insurance."
The meeting lasted about 40 minutes. The mediator, Kennedy E. Moffett, deputy director of the Federal Mediation Service, left with the owners' group.
"This is standard procedure," Miller said. "He listened to general statements and was briefed, and now he'll talk separately with each side. I don't even see the outlines of an agreement in my head, and that's ridiculous at this time."
Moffett's meeting with the owners' representatives lasted for about an hour. After a brief break, he got together with the players' side.
"Maybe he'll work a miracle," said Donald M. Fehr, an attorney for the owners, of the mediator. "The free agency question doesn't end all major problems, but if we can get it settled, it would be a tremendous step forward and indicate we may be able to get out of this logjam."
In the Phils' exhibition yesterday, Willie Stargell, Bill Madlock and Dave Parker had two hits apiece off Dick Ruthven to lead the Pittsburgh attack before the rains came. Pittsburgh collected nine hits off Ruthven in five innings as Stargell singled in two first-inning runs. Winning pitcher John Candelaria, who gave up just two hits in five innings, singled in a run in the second. Madlock brought home the fourth in the third.
The Phils got their only run in the fifth when Ramon Aviles, who was optioned to the minor-league complex last week, homered off Candelaria. Aviles played shortstop because many of the regulars were given the day off. Normally, Buddy Harrelson would have played in place of Larry Bowa, but he is recovering from a pulled groin muscle.
Despite another so-so outing by Ruthven, Green said he saw some positive things.
"I liked some of the things I saw today," said Dallas. "He threw more good breaking balls and showed signs of consistency. As I said all along, he is physically sound, but is struggling right now. It takes time."
Ace reliever Kent Tekulve gave the Phils nothing in the top of the sixth before the game, which was started in a light drizzle, was finally called.
EXTRA POINTS – The Phils leave this morning for Fort Lauderdale and the beginning of the three-game trip... Tonight, they are scheduled to play the Yankees with Steve Carlton pitching against Ron Guidry... Tomorrow, they move up to Pompano for a game with the Rangers and finish the trip with the scheduled game against Houston Wednesday... After 10 games, Mike Schmidt is hitting .406 with five homers and 14 runs batted in... Greg Luzinski has a .462 average with 10 RBI... Pete Rose is third in RBI with nine... Most of the players plan to remain in this area if there is a strike... They will continue to work out at some venue, but say it is useless to go to Philadelphia where Veterans Stadium will be closed to them.