Philadelphia Daily News - March 4, 1980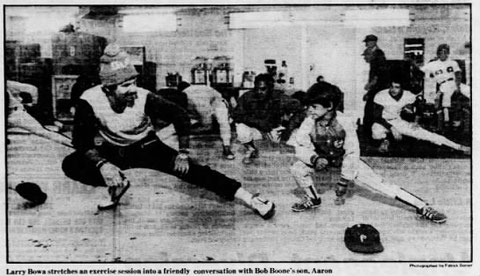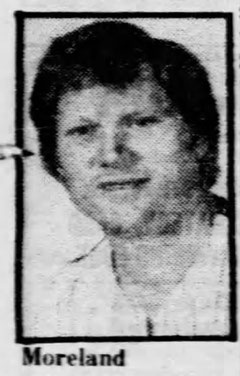 Phils Have a Catch in Moreland
By Bill Conlin
CLEARWATER – Dallas Green says he's a two-catcher manager. That's good news for rookie Keith Moreland. terrible news for veteran Dave Rader.
Green doesn't believe in the old wives tale that disaster awaits a team which dares go into a season with less than three catchers. The Phillies have been paranoid on the subject since an incredible 1970 inning in San Francisco when Tim McCarver and Mike Ryan suffered broken hands on consecutive batters. Since that was the first recorded event of its type in the history of the game, the odds of it recurring in the near future are slim, even with Phillies luck.
"I'm a two-catcher guy." Green said yesterday, the coldest March day in the Tampa Bay area since they started keeping weather records 88 years ago. "I think the guy I'm probably hurting when I say that is Dave Rader. He's an eight or nine-year guy in the big leagues and he certainly has some ability. I'm not downgrading that. All I'm saying ls that Bob Boone, with his durability, is our No. 1 guy and Keith Moreland is one of the guy's we've raised and he showed op very well offensively from the right, which is where we need help. It just figures."
Whatever happened to handwriting on the wall? Dave Rader might be the first guy cut from a squad by decree before the official opening of spring training. It is no secret, therefore, that Rader is an extra goodie in any trade package Paul Owens is dangling.
If Green runs out of catchers through injuries or extra innings, hell go to Plan V. That's V for versatility.
"I don't like to carry a third catcher just to say we've got an insurance policy." Green said. "My insurance policy is at the minor league level. We're a plane ticket and a day away from a replacement catcher and we've got some good kids down there we think can do the job in an emergency.
"MEANWHILE, WE'RE training one or two people down here to catch should the eventuality come up where we use both catchers in one game. I've asked John Vukovich and Mike Anderson to work with the catching gear. Anderson hasn't come in yet, but Vuke is working hard at it. They're both utility guys and something like this never hurts them."
Moreland came up from Oklahoma City last September with a good-hit reputation. But minor league people quickly changed the subject when you brought up the catching style of the former Texas roving linebacker.
Moreland was better than advertised behind the plate when he inherited the first-string job after Bob Boone's knee injury. He had some trouble blocking balls in the dirt. A fundamentally strong arm, however, was negated by a slow release. Best of all. he had a good rapport with the pitching staff and seemed to be in charge.
"The aspect I need the most work on is throwing," Moreland said. "Getting my release quicker. I don't think I have to work on my arm strength. The other thing is getting to know all the pitchers and getting to know the second baseman and shortstop."
Moreland. like Boone, has had superior minor league instruction, first from Whiz Kids hero Andy Seminick, then from Ryan, who managed Keith for a season-and-a-half in Oklahoma City. When Ryan played for the Red Sox and Phillies he had the quickest release in baseball. It was also the most unorthodox. Irish threw from a crouch with absolutely no stride. The ball seemed to take forever getting to the base, but Ryan proved consistently that even a ball thrown at medium velocity can travel 120 feet faster than the swiftest runner can travel 90.
"MY STYLE WAS so unorthodox I'd never try to teach it to another catcher, particularly a kid," said Ryan, who has been brought in as varsity bullpen coach to specifically work with Moreland. "I started doing it as a kid because I had a bad leg and couldn't get up out of my crouch. I'd only teach it to somebody having the same problem. Keith has a strong arm, but he has a tendency to hurry things and winds up wasting too much motion. It's a matter of getting him to realize that you'd have to throw the ball 10 miles an hour faster to make up for each 10th of a second it takes to get rid of the ball."
Moreland knows that as long as Boone is a healthy, premier catcher, his bat is what will keep him here. He batted.302 with 20 homers and 109 RBI in 130 games at Okie City. And the off-season gun salesman fired a.375 at the National League, showing flashes of power.
"I don't think of myself as a big homer guy." Moreland said. "Maybe I'm capable of hitting 25 tops as a regular catcher. I'm a line-drive hitter with alleys power."
Keep this under your hat, but catchers with line-drive power capable of hitting 25 homers are currently driving Rolls Royces. Several of them.
PHILUPS: This is the long-awaited official reporting day... Players have been going through a series of medical tests blood yesterday, chest X rays today and full physicals tomorrow. Marvin Miller is touring the Bay Area training camps, updating the rank and file on the progress of contract negotiations. He'll meet with the Phillies at 10:30 tomorrow. The script calls for some saber-rattling. Look for Miller to announce this week that the players will not open the season next month without a new basic agreement. Insiders say the owners are prepared to scratch the month of April and that if the start of the season is disrupted, they'll go all out to break the union.