Philadelphia Inquirer - March 9, 1980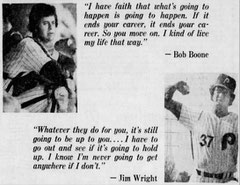 If injuries of body are to be healed, confidence of mind must be restored
By Jayson Stark,
Inquirer Staff Writer
CLEARWATER, Fla. – The thing he talked about most was how alone he felt.
All he had done was throw a baseball. He had been throwing baseballs his whole life.
But this time it was different. Jim Wright threw this baseball, a year ago next week, and it broke his arm. And from that point on, throwing a baseball would never be the same again.
In December, he went to the hospital in Philadelphia, and it seemed as if they hauled out every machine in the hospital to test that arm.
There were X-rays and body scans and tomograms. And they all told Jim Wright that his right arm was totally and properly healed.
But the X-rays and body scans and tomograms couldn't reach into Jim Wright's brain. They couldn't convince him that there was nothing to fear in reaching back and throwing a baseball hard again.
The doctors reassured, him. The trainers reassured him. His wife reassured him, over and over. But when it came down to doing it, Jim Wright knew he was all alone.
"Whatever they do for you, it's still going to be up to you," said the Phillies' rookie pitcher. "You're the one who has to get over it.
"My wife helped me a lot. She told me not to worry about anything. But it was something I kind of had to get through on my own. I'm the only one who knew how I felt. I'm the only one who knew what I was going through."
He still hasn't hit the big barrier. He still hasn't had to throw his hardest fastball. He still hasn't had to stand on a mound against a real live hitter and snap off a hard slider away, the pitch he worries about most.
But he thinks he is ready to do that now. He thinks he has overcome the toughest part of being injured. Healing the bones or muscles is easy. Time does that. For the athlete, making the injury disappear from the mind is the challenge.
"I'm going to take it easy," said Jim Wright. "I'm going to wait till I'm ready. But when the time comes, I think I am ready. I have to go out and see if it's going to hold up. 1 know I'm never going to get anywhere if I don't."
•
The were the team with the most injuries in baseball last year. They had so many breaks and tears that they had to hold a special Walking Wounded spring training this year, a week before regular spring training.
A major reason the Phillies did that was because they know the mental pressures that injured athletes face. The pressure is to get back and show everybody you're all right again. Even when you're not.
"All we wanted out of that week was to get them all just a step or two ahead of everybody else," said pitching coach Herm Starrette, who had four pitchers (Wright, Warren Brusstar, Dick Ruthven, Larry Christenson) taking part in the Walking Wounded Camp.
"If you wait till all the guys get here, they might see some other guys are ahead of them and try to catch up. And that's where you re-hurt yourself.
"I know what it's like. I hurt my shoulder in Cleveland in 1965. So I know what it is to have a good arm, and I know what it is to try and pitch with a bad arm. I can look at these guys and sympathize. I know what they're going through.
"You put a lot of pressure on yourself to get back. Say one of these guys is out there in their first or second game, and they're feeling good, you know, and they say, 'Let me pitch to two more hitters.' All they want to do is show Dallas (Green) they're ready. But I can't let that happen. I've got to say, 'Wait till you're strong.'"
The scar is on Bob Boone's left knee. First there was the collision at the plate in Atlanta in August. Then came the famous Joel-Youngblood-Does-His-Larry-Csonka Impression collision in New York in September.
The surgery to repair the torn ligaments was Sept. 17, four days later. Boone has worked six hours a day, almost every day, to make sure that knee is physically ready for this baseball season.
But what happens when the throw is skipping in toward the plate from rightfield, and some baserunner is getting ready to pound his shoulder into the Phillies' catcher's chest? How do you ever get ready for that again?
"I really don't have any qualms about it," said Boone. "I really don't."
He says he has never relived the Youngblood play in his mind. He says he can't fear the next crash because he never let the first crash get to him.
"A lot of that is my Christian faith," Boone said. "I really believe that all things happen to us for a purpose. Sometimes you can't figure out why. But I've got a firm belief there's a reason.
"You know, it's funny. I was really looking forward to taking this winter off, just play some golf, some racquetball. I was planning on doing a lot less work than I normally do. Maybe this was just one way of making me work.
"I have faith that what's going to happen is going to happen. If it ends your career, it ends your career. So you move on. I kind of live my life that way. So things don't bother me."
•
In the end, they all conquer it. Either that or the fear beats them, and they're never the same. You can't put a cast or a splint on the psyche. The psyche has to do it by itself.
"All I can do is just reassure them," said trainer Don Soger. "But there's no one answer that puts you back.
"How do you beat it? If you're a Brusstar, you go up against a Bench or a Hernandez in an exhibition game and you throw the pitch you want to throw, it explodes, it does what you want.
"I can't do that. I mean, what can you really do? You can't do anything."
Time overdue for Klein to join Hall of Fame
By Allen Lewis, On Baseball
Five players in Philadelphia uniforms who had their greatest seasons in the past half-century are in the Hall of Fame. But the only one who played for the Phillies in his prime was pitcher Robin Roberts, elected four years ago.
There should be a sixth name on the list, that of outfielder Chuck Klein, who played for the Phillies for all but three seasons from 1928 through 1944 and served them as a coach through 1945.
It's possible that oversight will be corrected Wednesday, when the Hall of Fame Veterans Committee holds its annual meeting in Tampa, Fla. We'll champion Klein's cause as we did last year, when outfielder Hack Wilson was chosen and Klein was, once again, passed over.
The 6-foot, 185-pound Klein could do the four things that make superstars. He could run, throw, hit and hit with power. He compiled a career batting average of .320, collected more than 2,000 hits, hit 300 home runs, and led the National League in runs, hits, doubles, homers, runs batted in, stolen bases, batting average and slugging percentage. In most of those categories, he led more than once. What's more, he won a Most Valuable Player Award, he still holds the major league record for assists by an outfielder in one season, and he holds numerous National League and Phillies club records.
There are two knocks against Klein, but neither make him an unworthy Hall of Famer. One is that he played in his prime in Baker Bowl, a park made to order for a left-handed hitter; the other is that he was a great player for only half a dozen years.
The facts are that Klein played less than one-third of his 1,753 major league games in the old park at Broad and Lehigh, that many in the Hall of Fame played in parks that suited their talents, that anyone wilh Klein's accomplishments had to do well on the road, too, and that his first five full major league seasons were the best of any player in history.
If Wilson, who played most of his career in a park (Chicago's Wrigley Field) tailored for his righthanded power, is deserving, then Klein certainly is, too. Wilson played 400 fewer games than Klein, had more than 600 fewer hits, 56 fewer homers and a career batting average (.307) that was 13 points below Klein's. Wilson hit over .300 only five times to Klein's nine, hit 20 or more homers six times to Klein's eight times, and led the National League in strikeouts five times to Klein's none.
Of the 88 non-pitchers in the Hall, 54 had a lower batting average than Klein, 76 a lower slugging percentage. Thirty-one had fewer hits, 32 had fewer runs, 70 had fewer homers and 49 had fewer RBIs.
What's more, since RBIs became an official statistic in 1920, there have been only nine players who have won a Triple Crown. Two are not yet eligible for the Hall; of the other seven, Klein is the only one not in the Hall.
It's difficult to imagine what else is needed to qualify the greatest hitter in the history of the Phillies for admission to Cooperstown.
•
The answer to last week's Trivia Question: The 1979 Pirates are the only major league team to win a pennant without a pitcher winning at least 15 games. John Candelaria topped the Bucs with 14 victories. Thomas Haag of Phoenixville was first with the correct answer.
This week's question (submitted by Joe Helm of Brandywine Manor, Pa.): What major league player, past or present, batted in 100 or more runs for the most consecutive seasons in a streak that began with his first full season?