Wilmington News Journal - March 9, 1980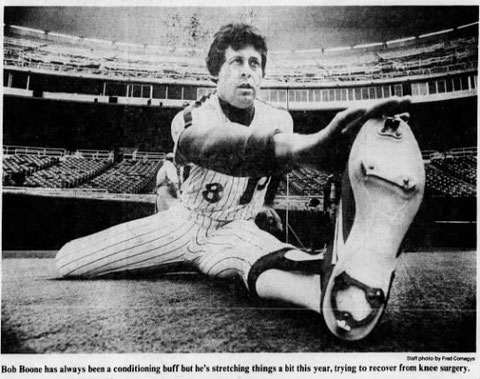 Boone's comeback a punishing ordeal
By Hal Bodley, Sports Editor
CLEARWATER, Fla. – The cold, biting wind made the chill factor in South Philadelphia 15 degrees below zero. It was the kind of weather that keeps the U.S. Male home, especially at 5 o'clock in the morning.
But several mornings each week Bob Boone would climb out of bed a few minutes after 4 and drive to Veterans Stadium so he could torture his body. Then, after meeting trainers Don Seger and Jeff Cooper, he would pull on a sweatsuit and jog across Pattison Avenue to JFK Stadium where he would run up and down the steps for an hour.
For Bob Boone, it was all part of the road back. In fact, he is still on that trail, but the end is in sight.
The Phillies' catcher, injured in a home-plate collision with the Mets' Joel Youngblood last Sept. 13, had ligament surgery on his left knee four days later. Since the cast came off last Nov. 1, the 32-year-old Boone has undergone a rehabilitation program that would destroy a mere human.
"I'm almost there," Boone said after a Phillies' workout the other day. "I plan to take it easy in the early exhibition games, but if the season were to open tomorrow, I would be able to catch. I'm on schedule.
"There's really no short cut. You've got to do your part and hope the knee does its part. I still have trouble sitting back on my haunches to give a sign, then pushing up into a catching position, but that's about all I have trouble doing."
Even with the injuries, 1979 was Boone's greatest year. An All-Star for the third time, he hit .286 with nine homers and 58 RBI in 119 games.
On July 20, he was hitting a season-high .319 and had already collected eight of his nine homers. Soon after that, however, he was hit on the glove hand by a pitched ball. Then, on Aug. 11, a foul tip fractured the right finger of his right hand.
It was tough to handle the inside fastball and tough to throw out runners, but Boone did not give up. In Atlanta on Sept. 2, however, Bruce Benedict crashed into him at home plate and Boone felt something click behind the left knee.
"Funny thing," said Boone. "My hands were beginning to feel good again and I was hitting the ball well when that happened. I had had an operation on my right knee after the 1977 season and the feeling was similar I could run, but only about 75 percent."
Boone continued to play and on Sept. 12 had two hits in New York when the Phils defeated Craig Swan 4-0.
"I had had it," Boone said. "After the game I told Don Seger that I thought I should have the knee checked and, if surgery was needed, get it done right away. We then talked with Dallas Green and Bobby Wine and told them the same thing. I said, 'Look, we're 14 games out of first place; let's get it fixed.' They said a series with Pittsburgh was coming up and then Montreal. They promised to use a pinch-runner for me and all that. I didn't argue."
The next night Youngblood tore into Boone at home plate on what turned out to be a game-ending play that gave the Phils a 2-1 victory. The Mets yelled that Boone didn't hold onto the ball after he tagged Youngblood, but the umpires did not agree as the catcher, grimacing in pain, tried to get up.
"I was set in a good position and had time," Boone remembered. "When the ball took its second hop, it bounced up on me a little bit and I had to rock back in order to catch it cleanly. So, I was off-balance. I got my knee caught between Youngblood's body and mine. It takes 30 pounds of pressure to blow out a ligament like that.
"Mine actually didn't tear. It pulled away from the tibia and there was some capsulum damage, but I didn't have the problem of a ligament which was spliced back together and had to regenerate."
Nevertheless, the only way Boone could prepare for the the 1980 season would be with long hours of grueling work. He has always been a stickler for conditioning and ever since fitness expert Gus Hoefling arrived in 1977, Boone has worked as hard as anybody on the team.
But this past winter was the test. Most days after the cast came off he would spend eight hours trying to build the knee back up and improve its range of motion. When the cast came off, the range was less than 10 degrees 132 degrees less than normal. In addition, he had lost 2½ inches off his thigh and the muscle tone was gone.
"After working at the stadium, I would go to the YMCA and run underwater for 30 minutes. People thought I was crazy, but that helped strengthen the knee. Many days, I worked eight hours."
Boone will never know what kind of a season he might have had bad the injuries not gotten in his way.
"In June and July, before I got hit on the hand, I was on my way to a bang-up year," he said. "I would have hit a lot of home runs. I had worked very hard with Billy DeMars. I had changed a lot of my hitting stroke and everything was coming together. After doing it one way for 25 years, I was really feeling comfortable with the new things."
Boone insists he might not be as far along as he is had it not been for the Hoefling program.
"This is the toughest injury I have ever had to come back from," be said. "There has been so much frustration. The fact I was in such good shape at the time really helped me. It was an asset. My leg was very strong prior to the injury and, because of that, I think I have come back from surgery easier."
Conditioning has always been an integral part of Robert Raymond Boone. It was not until the third game of the 1976 playoffs, however, that he realized improving his strength was so important.
"I hit a ball up against the fence in Cincinnati and George Foster jumped up and caught it," said Boone. "I didn't hit it really good, but if I had been a hair stronger, it would have gone out and I think we would have won the game."
Hoefling arrived the following spring with his strength and flexibility program. Boone couldn't have been happier.
"Conditioning has made me feel better and has made me a better ballplayer," he says. "From a conditioning standpoint, you can work at your skill longer without fatigue when you are in shape. Once you break down as far as fatigue is concerned, you might as well quit. Perfect practice makes perfect, not just practice. Once you're fatigued, you are doing it differently and not gaining a thing."
As a catcher, the fatigue factor is greater than at probably any other position. Boone says if he continues to drive himself, he will have an edge when the dog days of summer, with all the doubleheaders, arrive.
"My skill levels are only average," he said. "I think when you have the tools to start with, you can build. That has always been my philosophy."
A philosophy that has made Bob Boone one of baseball's premier catchers and certainly the most improved player with the Phillies.