Philadelphia Daily News - April 1, 1980
Phillies Send Rader to Red Sox
By Bill Conlin
CLEARWATER – Dave Rader spent March with a bemused look on his face. Which is one of the few options available to a veteran catcher who learned on Feb. 26 that he has no chance to make the ballclub.
At least Dallas Green didn't yo-yo Rader around. "I'm carrying two catchers," Green told the press in the early days of spring training, "and the second catcher will be Keith Moreland."
Rader kept his stiff upper lip fixed in a grin. He knows left-handed hitting catchers are about as hard to find as healthy Phillies starting pitchers and that sooner or later, Paul Owens would get the right phone call from the right club.
The phone rang over the weekend. The Red Sox were out of catchers who could throw. Carlton Fisk and Bob Montgomery were both down with arm miseries.
THE PHILLIES SENT RADER to Boston yesterday for a player to be named later, or cash.
"They'll give us a list of players and if we don't like anybody on it we'll take cash." The Pope said after his first player move of the spring. "It was obvious that there was no place for Dave with our club and I'm just happy to be able to place a veteran who can still help a ballclub with a contender. It's a good spot for him. He's got a chance to catch a lot of ballgames."
With Bob Boone in Dallas for today's Players Association strike decision and Rader on his way to Winter Haven, Dallas Green had to send an SOS to the minor league complex for rookie Don McCormack, so he'd have two catchers available against the Yankees last night in Ft. Lauderdale.
McCormack was cat Saturday.
PHILUPS: Mike Schmidt drove in all three runs with two more homers last night in the Phils' 7-3 loss to the Yankees in Ft. Lauderdale. Schmidt, who has seven spring homers so far, hammered both off ace lefthander Ron Guidry... Steve Carlton must have had good stuff because he racked up nine strikeouts in six innings. Unfortunately, the Yankees scored four runs on eight hits off the Phils' mealticket. Rawly Eastwick allowed two runs in the seventh and Lerrin LaGrow's scoreless streak was stopped at nine innings. The righthander allowed a run in the eighth... Larry Christenson pitched four innings against Oklahoma City at the minor league complex, allowing three runs and striking out six in his first live pitching since fielding a line drive with his left knee in Lakeland 11 days ago... Luis Aguayo has made the squad as a utility infielder. Rookie outfielder George Vukovich and rookie righthander Scott Munninghoff are even money to be with the Phils unless a strike is so long that Nino Espinosa and Warren Brusstar recover from arm miseries. John Vukovich will make the club as third catcher, utility infielder. All this will be bad news for Bud Harrelson, outfielder-first baseman Mike Anderson and one pitcher from a list which includes Doug Bird, Eastwick and Dickie Noles.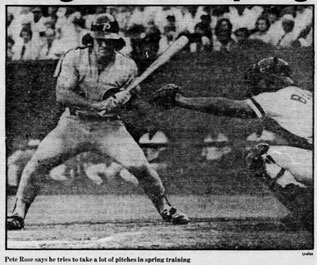 Why Rose Is Having a Great Spring
By Bill Conlin
CLEARWATER – It was time to test another Pete Rose theory.
"Pete." a Cincinnati beat writer told me once, "can write a whole story for you. All it takes is one question. Take notes fast, because Pete won't stop talking."
Armed with an appropriate question – Why are you having such a good spring? – I settled back in a bullpen folding chair and let the tape recorder run. And run. And run. Here is Pete's answer to one question. Verbatim.
"To be perfectly honest with you, although I was 0 for the first 19 last year if I remember correctly, I wasn't swinging the bat that bad," Rose said. "I didn't get no base hits. Just like yesterday. I hit the ball firm and got two ground ball hits – one off the pitcher's glove. It's the same in spring training as it is during the season. Hitting takes a lot of luck and all I look for in spring training is to see if I'm making contact. I try to take a lot of pitches.
"SO LAST YEAR, although I didn't hit for that high an average –.190 or something – I didn't swing the bat that bad, I didn't strike out but maybe once or twice all spring, and one of those times was a night game, so I don't think there's much difference this spring as compared to last year. The only thing is I'm getting more base hits and I'm probably getting a few more at-bats. I guess if there's any reason at all I sort of neglected my hitting the first couple of weeks last year simply because I was attacking a new position, trying to get the basics and fundamentals down playing first base.
(Pete will resume his answer after this message from Aqua Velva... )
"I think the camp has been very beneficial for everybody involved. We're all getting our work done. I think it's. been a well-organized spring training from day one all the way up to right now and everybody seems to be rounding into shape. I don't mind. I'll take two hits every day. I'm accomplishing what I want to accomplish and what I mean by that is I'm seeing a lot of pitches, I'm taking a lot of pitches. I'm seeing the ball leaving the pitcher's arm, which is important and the ball looks big to me. As long as it looks big to me I'll keep working like I have been."
(At this point. Rose begins to search the interviewer's eyes. Maybe the writer is having a bad day, can't think of anything else to ask. He starts pausing, just in case the guy wants to jump in with a fresh question.)
"I DONT GET over-excited because sometimes you go to Vero Beach or Cocoa Beach and they throw out of the white sky and there's a bad background in St. Petersburg and we've had a lot of problems with the infield here, so you can't get revved up on your ground balls if you make errors and stuff like that. What I do is just try to get my work in and get ready... It's just a honeymoon to get up to that Astroturf. (Long pause, searching look. Rose sees interviewer has head down and forges ahead.)
"And you've got that good background in the National League cities. We've been experimenting a lot down here with squeeze plays hitting and running, delayed steals and we've been working on that a lot before the game starts. Just like yesterday, which was maybe three-and-a-half weeks into spring training we was down there at 9:30 working on cutoffs and rundowns and things like that We been executing pretty good, the fundamentals of baseball are so essential because you have so many one-run ballgames in the National League, not only the Eastern Division, but the Western Division, too.
"Who wins the most one-run ball-games should win the division. That's how close the league is, at least our division.
"GETTING BACK to why I'm having a good spring. I think I talk to as many reporters every day as I did last spring. The difference this spring is where I'm just talking to you right now, last year I'd be talking to 20 or 25. That phase of the game has never hurt me. I've always tried to be cooperative with the press because I understand I have a job to do. I really had to work at it last year to get my work done and still cooperate. It was really hard to get the work done I was supposed to get done without neglecting the press and I really had to work at that That was one of the hardest spring trainings I've had. But I don't think that had anything to do with me swinging the bat or anything like that.
"The only thing that had anything to do with me swinging the bat is I was working at a new position. 'Scuse me a minute..."
(Rose huddles with a guy who wants him to speak at a banquet in Cincinnati next winter. "If we can afford you," the guy says. Pete tells him who to call for further details. "Just so it ain't in Mexico City," he quips. He comes back to the bullpen and plops down.)
"Sorry." he says. "Now. what was the question?"
What a piece of work! The players and owners should agree to lock Rose in a room with Marvin Miller and Ray Grebey for about three hours.
PETE WOULD TELL 'em how the strike in 72 cost him 200 hits, made him work another season to break Ty Cobb's record for 200-hit seasons. He'd tell 'em that he still has an outside shot at Cobb's record for all-time hits and that a long strike might put the record out of reach. He'd tell 'em about all the Hall of Famers he's gonna pass before he's through.
Then maybe he'd pick up Marvin Miller and Ray Grebey by the collars and bang their heads together.
"The question?" I said, snapping awake. "We were talking about you having a good spring." "Oh. yeah." Pete said. "I'll be the first to admit that when the games start this spring I'm already tired. I'm the only first baseman and one of my philosophies is if you're gonna do something in practice do it as hard as you'd do it in the game, so I go all out in the fundamental work. I must have lost 10 pounds perspiring yesterday and by the time the game started I was beat. Then the wind blows down here sometimes and you can get stiff. Sometimes it's an effort to go out and play the games, simply because you already had a game before it started. There ain't been a day of spring training that I haven't used two uniforms."
And now you know why Pete Rose is having a good spring and why a spring without Pete Rose playing baseball will be no spring at all.