Camden Courier-Post - April 10, 1980
It was a different camp that got Phils ready
By Ray W. Kelly of the Courier-Post
CLEARWATER, Fla. – The Phillies bid farewell to spring training yesterday, knowing that preparation for 1980 had been noticeably different than in the previous year.
New manager Dallas Green ran a tighter ship. And the players responded well to the streamlining, as well as the stressing, of the importance of fundamentals.
But deeper, more meaningful things took place than just the realignment of drills, not the least of which was Green's insistence that the reserves of the team be gotten ready.
It was a priority, not an afterthought as appears to have been the case under Danny Ozark. This time around, it's not going to be eight stars plus everybody else.


The camp was different because Pete Rose was no longer a one-man sideshow, a baseball oddity that fans flocked to see, media shadowed constantly and teammates wondered about.
"It was a little tough last spring," said Rose. "Not only was I trying to accommodate the press, I was also trying to learn a new position.
"This spring there wasn't a lot of pressure for me to play every game. I had time to get my batting stroke down sooner. I think it will help."
Rose's teammates have also stopped looking over their shoulders at the new guy on the block. He is one of them now. And Rose sees that as a positive factor.
"I don't care if a guy comes in here with 3,000 hits to his credit or 300,000 hits... you really don't get the respect of your teammates until you play the games and show them what you're all about.
"I think I've gotten their respect now. As for leadership, well, those kind of things just happen. Maybe some of them don't realize it, but I think they've come to feel differently about me.
"My role has changed. Now, I don't mean this derogatorily, but I suspect some guys tried too hard to copy the way I did some things. It hurt them because they perform better doing things their own way.
"If there was one thing I would hope they saw me do last season, it was the way I try to get the best out of myself each and every day. Consistency is my secret."
Some new faces on the Phillies bench will be trying to make that secret a part of their styles of play this season.
The move toward youth has shaken some of the complacency out of the team and created the kind of competition that Green and General Manager Paul Owens thought was needed.
Keith Moreland, Lonnie Smith, Luis Aguayo, George Vukovich, Scott Munninghoff and John Vukovich will not only add their budding talents to the 1980 club, but will also team up with players like Greg Gross and Del Unser to give the Phils the kind of "second wave" attack that helped them win three division crowns.
There were, of course, some setbacks during the spring. Hope for the return of Warren Brusstar faded, although the disappointment was eased somewhat by the impressive pitching of new reliever Lerrin LaGrow.
The ultimate placement of sore-shouldered Nino Espinosa on the 21-day disabled list, however, was a disaster in an area where the Phillies were already hurting.
A good start by ace Steve Carlton, coupled with the emergence of either Munninghoff or Dickie Noles, could offset the loss of Nino, who was a hot pitcher in the early going last season.
Perhaps the most heartwarming sight of the spring was that of righthander Jim Wright working six effective innings after suffering arm problems for over two years.
No one is quite certain what happened to righthander Marty Bystrom. The organization's top pitching prospect blew a chance for the big time by hurting himself in the off-season and then reinjuring both bis leg and arm before getting a chance to show his stuff.
The most anxious moment of the camp came when Larry Christenson confirmed his bad luck image by taking a line drive on the inside of his knee.
And finally, there was the strike that cut the Grapefruit League schedule short. Emotions flared. Green's togetherness program almost went up in smoke. But, in the end, the players chose to stick together and work toward a pennant.
That was the best sign of all.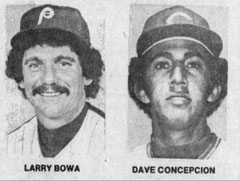 Bowa vs. Concepcion: It's close!
By Hal Bodley, Gannet News Service
PHILADELPHIA – Larry Bowa vs. Dave Concepcion?
Ask the Phillies and they say it's close, but their prejudices show.
"It's a crime Bowa hasn't gotten more recognition for what he has done," Gold Glove third baseman Mike Schmidt said. "For some reason, they base everything on offense."
I played with Davey (at Cincinnati) for a lot of years," first baseman Pete Rose said, "I always knew Bowa was a great shortstop, but he made some plays last year that were unbelievable. He goes into the hole as good as anyone."
Several years ago, however, the 34-year-old Bowa accepted his fate as the Rodney Dangerfield of the National League; he gets no respect. But when you look at his accomplishments the past decade, it is difficult to place any shortstop above him.
Consider:
•  His fielding percentage last summer was .991, setting a major league record for shortstops. The old mark was .990 set by Detroit's Eddie Brinkman in 1972.
•  For the decade, which covers' the entire careers of both Bowa and Concepcion, Larry's fielding percentage was .982, the highest lifetime figure for a shortstop. He has committed just 128 errors in 7,093 chances.
Bowa made only six errors in 1979.
In his 10-year career, he has been in five All-Star Games, starting three times. But here's the ugly spot – he has won only two Gold Gloves for defensive excellence at his position, in 1972 and 1978. Concepcion, the Gold Glove winner in 1979, made 27 errors.
"It's frustrating, all right," Bowa said. "I'm not a flash-in-the-pan. I'm pretty consistent. I do it every year. Not getting the Gold Glove... it seems to come down every year to the shortstop who has the best year. This year I am going to make 32 errors and bat .300 and I might win it."
Bowa's teammates think what makes him better is his consistency. Concepcion may be more spectacular, but not nearly as steady.
There was a time when Bowa thought Concepcion was far ahead of him in offensive statistics. Not so.
"I thought Davey had a lifetime average of about .285, but it's only .270 and mine is .263. We both have 10 years in. And I have more hits (1,552 to 1,268) than he has. The only place he really has an advantage is in home runs (70-11) and runs batted in (529-351).
"I worked hard. I became a respectable hitter. If somebody had told Ruly Carpenter (Phils owner) 10 years ago that I would have a .263 lifetime average, he would have said 'no way.'"
"Bowa knows the hitters better than Davey does," Rose said.
"Like, Davey loves to talk Spanish to the Latin players when they get to second base. He'd rather do that than be thinking about who the next hitter is, where the guy might hit the ball, how fast he gets to first, things like that. Bowa, he has every hitter down pat on all that stuff."
"I feel I can do everything on a baseball field except hit home runs," Bowa said. "I can't hit home runs because I don't have the physical size of it. But that's staying within my limitations, to admit that.
"If the team needs a base hit, I think I can provide it. If they need a base stolen, I can do that. If they need to move a guy over, if they need a big play in the field, I can do it."
Larry Bowa vs. Dave Concepcion? You decide.
Management will answer players' bids
NEW YORK (AP) – The two sides in major league baseball's labor dispute were scheduled to meet today with federal mediator Kenneth Moffett in the third of seven scheduled sessions over the next three weeks.
The meeting, like Tuesday's 4½-hour meeting, is expected to be devoted to management's responses to altered player proposals which were placed on the negotiating table March 18.
These proposals included a new ceiling on minimum salaries, dropping the players' demand from one-third of the average salary to a lower figure, and a five-year waiting period for a player becoming a free agent – down from the current six-year wait but up from the original proposal of four years.
Marvin Miller, executive director of the Players Association, said after Tuesday's meeting that he was unhappy more has not yet been accomplished.
"I just don't see any useful purpose in that kind of slow pace," said Miller. "I could visualize a far more efficient way of doing things, but that's their approach. What it accomplishes to do something over a period of two or three full meetings that could be done in perhaps two or three hours, I don't know."
Ray Grebey, management's chief negotiator, refused to discuss the talks, saying he does not want to negotiate in the media.
The players, at a meeting in Dallas April 1, voted to cancel the final week of spring training but to open the regular season on schedule. They also set May 23 as the date for striking regular season games if no agreement is reached by midnight May 22.