Montreal Gazette - April 12, 1980
Expos, Rogers in losing debut as Phillies roll on Luzinski's HR
Phillies 6, Expos 3
By Ian MacDonald – of the Gazette
PHILADELPHIA – It was a lack of strikes that did Steve Rogers in here last night.
Rogers should have thrown a couple when he walked the third and fourth Phillies in the first inning. Or else he should have called one before Greg Luzinski followed with a three-run home run.
The part-time player rep and ace pitcher – or vice-versa – was good enough aside from that first inning when he threw 29 pitches but for a fifth straight time Rogers has failed to win an opening game.
Steve Carlton wasn't as sharp as when he ruined the Expos' impossible dream with that 2-0 win on the final day of the season. He didn't have to be because besides the Luzinski clout the Phillies picked up three more on shabby Expos' defense as they won 6-3 before 48,460.
Little sloppy
"We didn't play real well to say the least," Manager Dick Williams said in a subdued Expos' room. "We were a little sloppy. It's hard to tell if the last 10 days hurt. It's too early to tell.
"Those walks hurt Rogers. Then he tried to get it away from the big guy and he got it up and in."
"I made a mistake to the wrong guy," Rogers signed. "I had a tough time establishing my rhythm."
Expos batters actually played longball with the angular Carlton who now has more wins than any other pitcher against them at 19. Gary Carter capped the Expos' version of opening day fireworks with a two-run homer in the ninth – a blow which served to make the score respectable.
Now a habit
It is becoming a ritual with Carter to hit opening-game home runs. This was his fourth in as many years and fifth in the last seven openers.
Larry Parrish contributed two doubles, one in front of Carter's strike. Ellis Valentine tripled home Rodney Scott, who had singled and Warren Cromartie tripled.
So, for the first time since Oct. 2, 1978, the Expos are below .500 in the standings.
More significant, perhaps is the fact that this was the Phillies taking the first game. Last year, when the Phillies started as the team to beat, the Expos did just that. In fact, by taking the first eight games between the teams last year, the Expos buried the Phillies into a hole from which they never could extricate themselves.
Rogers, 0-3 with two no decisions in openers, threw seven straight balls during that first-inning wild stretch when he issued his only two walks. The 2-2 pitch to the slimmed down and bespectacled Bull named Luzinski went on a high arc into the stands well above the fence in left field.
The other Phillies' runs should not have been. Larry Bowa tried to go to third on Manny Trillo's fourth inning single off Rodney Scott's glove.
Valentine fired towards third and when Christ Speier cut it off, the Expos had Trillo dead. Bowa kept running but Scott threw high to the plate and the Phillies' aggressive shortstop slid home safely.
"If the throw is down, he is out," Williams said.
There was more to come. Carlton hit a routine ball to short in the seventh and Billy Almon made a lackadaisical throw to first. The lazy ball bounced through Cromartie. From there the Phillies scored two unearned runs.
In today's box score that play shows error shortstop. It was a routine play, though, one which experienced first basemen make in their sleep.
Williams removed Rogers after six and said, "he had thrown 97 or 98 pitches and that was enough."
Asked about Carlton, Williams said, "He was good enough to win. He didn't walk a man until there were two out in the ninth.
"We walked three and they all scored."
Behind the batting cage prior to the game, Pete Rose reached out a hand to Ron LeFlore and said, "Welcome to the major league."
LeFlore's National League debut was so-so. He led off the game with a sharp single to left but was promptly caught stealing. He singled again later but was charged with a two-base error when he dropped Bob Boone's liner down the line.
Speier made two excellent plays to his right and Cromartie made a fine play to rob McBride early in the game.
When Bowa was charged with an error on Scott's grounder in the fourth, it marked his first "boot" at home since September '78, and that was against the Expos as well.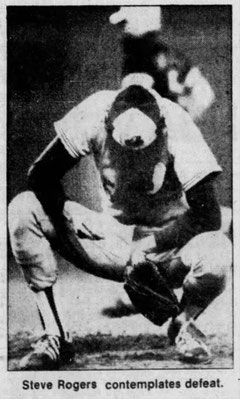 Steve Rogers can't win
By Michael Farber of the Gazette
"I'm not having fu-un." Steve Rogers sang. He was sitting in the Expo clubhouse at Daytona Beach. Fipping a baseball in his right hand in time to the singsong "I'm not having fu-un."
Rogers was having stim-u-la-tion and ag-gra-va tion and all the other four-syllable words in which he thinks, but no fun. As player representative – the heavy as the Boys of Summer murdered spring – he's had a chance to air out his principles in addition to his fastball and break off a few lines of communication along with his curve, but no fun. The fun was to begin last night in Philadelphia. Maybe.
"We've all been struggling through the semi-dark days," Rogers was saying at City Island Park. "It's time to get the season going. Usually the practices are more acute than what we've had since the exhibition games were cancelled and the last two days, my heart hasn't been in it. But I tend to minimize spring training. It's an indicator, but..." He shrugged.
Rogers struggled through the spring with a 3-0 record and an 0.86 earned run average – promises which, like spring itself, oft die in autumn. Flowers wither, and we get to watch a Baltimore taxi driver and the Fam-i-lee on television in October.
Tim Foli dubbed him Cy Young as a rookie in 1973 when he won five consecutive starts, but now he is Cy Old. Steve Rogers is 30, the senior member of the Expos in length of service. He holds most of the Expo major pitching records, pitched four one-hitters, has been a three-time All-Star, was National League rookie pitcher of the year, has a career earned run average of 3.13, has not allowed more hits than innings pitched since 1974, has struck out 200 hitters, has completed 34.6 per cent of his starts.
He has done everything but keep the promise.
"He may have the 20-game syndrome," says Gary Carter of a pitcher who has never won more than 17 games in a season, entering last night with an 86-94 record. "It's like the syndrome of the .300 hitter. A guy's a superstar if he hits .300, drives in runs, hits homers. The same is true of a pitcher who wins 20 and strikes out 200. Steve already has done a lot of things consistently which make him a star, but he's lost a lot of close games.
'Awesomelistic'
"When we jump to a big lead, he's awesomelistic. But when we get two or three runs down, he's not the same person. He puts a lot of pressure on himself, especially for what he considers a big game. The year Randy Jones won the Cy Young and Steve was having a good season (1976), they pitched against each other. The papers called it. The Game of the Year.' Jones beat him. He let it work on him rather than go out there and just be Steve Rogers.
"He's pretty critical of himself because he knows in his mind he has the stuff to do it, to saw bats off, to get a strikeout with a 3-2 curve. Maybe he thinks too much."
•     •     •
"Rogers out-thinks himself. How the hell do they think they know that?" Steve Rogers was demanding. He was bent forward, head buried in arms which rested upon the railing of a chain-link fence. His left leg was thrust forward, his right leg back. He would maintain this position – looking like a guru doing isometrics – for 45 minutes. "There are all kinds of analyses of what I do and when. People don't have any idea of what I do and when. That's the part that angers me.
"There's a certain perception of what I should be doing, and anything less is viewed as a deficiency in me. When those numbers aren't there, I become the convenient denominator for what is wrong. People have formed an opinion of me because of some damn numbers. It would be nice to win 20 games. I'd like to get the win-loss stats; I have all the others. It would be nice to finish off my career with them.
"I can't wait for a chance to get out. Then my mistakes will directly affect me and my family, and all the editorializing about me by other people won't do it.
"It's the editoralizing which bothers me most in the game. Sure, sometimes I do out-think myself. My brain gets in the way. Sometimes when I don't have my stuff, that happens. I take the deep breath and strive for the perfect pitch, but sometimes it doesn't work. Look. I'm human.
'I like to be liked'
"There s pressure: there's pressure from the basic human fact of wanting to be liked. It's important to me what my peers think. I strive for acceptance and recognition: it's a human trait. Like all human beings. I like to be liked."
Steve Rogers isn't... at least not by his teammates.
"Lower-middle in terms of popularity on the team." says one prominent Expo, who asked not to be identified. "You'll find few and far-between the guys who would put Steve on top of their list."
Perhaps it's over-thinking, but Rogers may be unpopular because he is a) talented, b) intelligent, c) successful, and d) handsome – all traits abhored by those who lack them.
Then include his gentle arrogance and egocentricity, symbolized by his five-buck vocabulary and facial contortions on the pitching mound, and well you'll understand why nobody pardons his expressions.
"When I was 17-16 (1977) and had a damn solid year, I was doing the same kinds of things – the faces, the deep breath – when I was pitching," Rogers says. I always have. Then I had a bad stretch last year, struggling physically and mentally, and they say I end up struggling because of the facial expressions. Imagine."
The bad stretch came at the worst time – August and September – when the Expos made their pennant run. Rogers, who underwent surgery for calcium deposits and floating cartilage during the off-season, was struck on the forearm by a line drive and missed three starts. He was 1-2 in August and 2-4 in September, but the Expos still took the National League East Division race to the final day before Steve Carlton of the Phillies outpitched him.
So he finished 13-12. with a 3.00 ERA (tied for fifth best in the .National League), had more innings pitched than hits allowed, almost a 2-1 strikeout-walk ratio, five shutouts, 13 complete games, and everyone exclaimed how the righty had fallen.
"I'm not going to sit here and play the martyr about us not winning the division," Rogers says. ''I came back in September and pitched some pretty solid games, even though I won just two. But I was lucky in August. I was 1-2, but my ERA was something like 5.50. I was getting lit up, but we'd come back and tie the score and get me off the hook. If I had pitched consistent ball, we could have won some games easily. But then consider the first half I had (9-6). See?"
Maybe this will be the year Cy Old wins 20. He'll be praised as a cerebral pitcher rather than assailed as an over-thinker; he'll be loved by his teammates, whom he pitches to a pennant; he'll make the same faces and be colorful instead of a show-off. (Parenthetically, relief pitcher Al Hrabosky, the Mad Hungarian, once named Rogers his "Hot Dog of the Year", a case of the pot and the kettle. Hrabosky recently was given a million-dollar contract by Atlanta, which shows what inflation is doing to the price of hot dog.)
Promises, promises. The Expos probably will finish second and Rogers will win just 15 and strike out 180 and have a 3.00 ERA, and we'll boo Sigh Young because he's not as good as we want him to be.
"Sometimes." Gary Carter says, "I wish I knew what goes on in his mind."
"What doesn't?" says Rogers.
•     •     •
The Expos were out in left field 11 days ago, sitting in the grass at City Island Park and discussing their response to the demi-strike called by the Players Association. Rogers, shop steward of this local, was speaking, unable to cut off his prose despite their faces – fates which showed an eagerness to get the hell out.
"Actually I find it difficult sometimes to discuss the Basic Agreement and other things with the players," Rogers says. "When I'm in one context with Marvin (Miller, executive director of the Players Association! and the other reps, we use a certain vocabulary and everyone understands. But when I come back to the guys and discuss what went on, the words sound hollow. Then I try to say it in a simple way, but I think I make it sound more complex."
He recommended that morning the team stay together and work out in Daytona Beach. Thirteen players split. Shop steward Rogers was left in the middle between the left wing players (albeit the blue collars are often attached to Pierre Cardin shirts) and the right wing owners – a position everyone seemed willing to accept. The Expo attitude is let Steve do it. Let Steve hand out forms and attend meetings and worry about basic rights while everyone else concerns himself about hitting behind the runner. Without malice, the Expos are playing Rogers for a fool.
Some fool. He has an IQ of 135 ("Short of the magic 140," he says. Again, the numbers just don't quite make it) and his university degree is in petroleum engineering – not rhythmic breathing or advanced recess or another jock major.
"Sure, maybe it (player rep) is a position nobody else wanted, but I have the personal satisfaction of having that responsibility," Rogers says. "Especially now. It's all too rare a person decides where he's going in life, what he's doing. A ridiculously large percentage of the working force dislikes what it's doing. And even among those who like what they do. a very minute number has the chance to determine the rules, to work out the how of what they do. That's what we're doing with the new four-year agreement."
Rogers fell into the role, becoming assistant player rep his second year and succeeding Steve Renko when he was traded in 1976. Renko – now the rep for the Boston Red Sox – and Rogers were friends, hanging together on the road for a week until Renko would wander off by himself.
"He had to leave," Rogers says, "because I talked to much. I listen more now, but I know I end up talking too much."
His mouth first caused a problem on the Expos when Charlie Fox, then general manager, took a swing in its general direction two years ago. Fox had stormed Chris Speier in the clubhouse, but wound up punching Rogers after he had intervened.
But the most celebrated difficulty Rogers has had with his mouth came last season when he kept it closed to manager Dick Williams. The two have a nodding relationship: Williams says nodding to Rogers; Rogers says nodding to Williams. The manager is from the school which believes grown men don't have to be babied, or even talked to and Rogers, during the stretch drive, criticized Williams for lack of communication. After Williams was chosen by a wire service as National League Manager of the Year, Rogers rapped the choice.
Tension flared again after the first intrasquad - game this spring when Rogers felt the manager let him throw too many pitches. When asked then why he didn't tell Williams to take him out, the pitcher replied. "He knew. I stared at him several times." Rogers says he stands by everything he has said.
"What was said (about being named Manager of the Yean didn't bother me," Williams says. "I consider the source. I've been around too long to worry about a 13-12 pitcher and a hitter who drives in 46 runs (Warren Cromartie, who also criticized the selection). I hope they all drive in 100 runs and win 20 games, but as far as going out to dinner with them, screw "em."
•     •     •
"Days when I have my A stuff, when everything is there, when I'm at 93 (miles per hour), when I've got the cross-seam (fastball), when I've got the slider, those days it's so much fun to pitch," Rogers says. "I don't feel like anybody can hit me hard. I have so many options of what I can throw. It happens maybe a half dozen times a year.
"But if I have the same kind of year in terms of consistency like 1977. if I stay healthy, if I pitch 275-300 innings... with the kind of ball I pitched that summer and with our lineup. I can win 25 games."
Twenty-five wins. He said it; "they" didn't.
So now Steve Rogers has one more thing for which he can take the rap. Forget all the provisos accompanying the number. You will anyway in August when you scream. "Rogers, ya bum, what about 25" – or its French equivalent. Who needs that pressure?
"Let me tell you about the real kick I got from my initiation to old-time baseball," Rogers says. "I was in Winnipeg (1971) and my arm was killing me after 60, 70 innings. I couldn't figure out why my bicep ached until I realized I had pitched 110 innings in college that year. I told the trainer, but he said, 'College baseball is just like spring training for us."
"The point is that when I was 10 years old, I was busting my ass as hard as I do now to get hitters out. Playing the game itself, that's pressure."
Poor guy. Rogers is damned, a perfectionist in a world of one-hitters. After his third in one-hitter – when he allowed a first inning home run – Carter raced to the mound to congratulate his winning pitcher. Rogers shook him off.
"I minimize my good games." Rogers says, "which I think is appropriate justification to minimize the bad ones."
"Steve missed the point that day," Carter says. "He should have been excited, more than anything because we won the game."
•     •     •
Steve Rogers had gyrated through his warmup pitches, complained about his mechanics, and then allowed one run in six innings of an intrasquad game. Now he is sitting in the darkened City Island clubhouse, looking like a man with one strike against him.
"The first two innings were good." he is saying. "I -had command of several pitches and was getting good pop on the ball. The last four innings, nothing. I was just out there, getting my work in."
He is not having fu-un.