Camden Courier-Post - April 13, 1980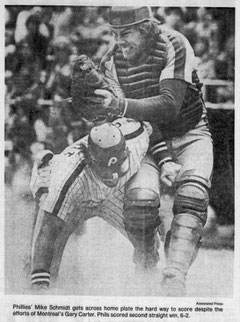 Ruthven's victory pleasing to Green
Phillies 6, Expos 2
By Rusty Pray of the Courier-Post
PHILADELPHIA – Given the Phillies' newly-aggressive approach to the game of baseball, it was not surprising that they matter-of-factly ran over the Montreal Expos yesterday, 6-2, in Veterans Stadium before 36,962 contented fans.
What, with the Phils combining nearly-equal measures of power, speed and superb defense, the victory was remarkably similar in style to Friday's 6-3 opening-night triumph.
The Phillies ran the bases with an intelligent aggression, daring the fumbling Expo outfield to throw somebody out. The offense produced a robust 13 hits against Montreal's Spaceman, Bill Lee, among others. And, the defense was the difference between Dick Ruthven being a winning pitcher, or just a starting pitcher.
The fact that Ruthven won the game did, however, come as a pleasant surprise to Manager Dallas Green. Not that Green doubted Ruthven's capabilities. But there was no way to tell how long Ruthven would last in his first appearance since undergoing off-season elbow surgery. There was no way of knowing in advance how effective the righthander would be after a spring training in which he allowed at least one run in 11 of the 15 innings he pitched.
In fact, the last time Ruthven won a ballgame for the Phillies, Iranian students presumably were in school where they're supposed to be instead of milling about Tehran streets, Jerry Brown was a still-viable presidential candidate, and Jimmy Carter wasn't asking Olympic athletes to fight political battles.
Indeed, Ruthven's last win came 9½ months, six bone chips and one manager ago. Since that June 26 victory over Chicago, Ruthven had twice gone on the disabled list, pitching for the final time on Aug. 8, three weeks before Green took over for Danny Ozark. "I wasn't looking for nine (innings) from him," said Green. "But I got 84 pitches and six good innings out of him and, after the seventh, I just felt I'd rather not push him."
Ruthven understandably struggled through his seven innings, relinquishing six hits and five walks. But he threw two double-play balls, the most significant of which was a slider to Andre Dawson with the bases loaded in the fifth.
"I felt good," said Ruthven. "There's no reason in the world why I should walk that many people. I felt I made some good pitches when I had to, but I also made some bad pitches that were hit hard.
"The defense was, well, you just don't walk that many people and give up that many hits and win."
Defense, experts say, is worth three to four outs a game. With an average defense behind him, a pitcher has to get 27 outs in nine innings. Shoddy glovework can increase that number to 30 or 31. The kind of defense Ruthven had -yesterday would probably reduce it to 22 or 23.
Third baseman Mike Schmidt and center fielder Garry Maddox, who homered, singled twice and drove in two runs, contributed a couple excellent plays, but the centerpiece of the defense was the double play on Dawson, who faced Ruthven with three on, one out and his club trailing, 4-1, in the fifth.
Ruthven got the Montreal centerfielder to bounce a slow two-hopper to shortstop Larry Bowa's left. Bowa and second baseman Manny Trillo did the rest, transforming what should have been no more than a force out into an inning-ending twin killing.
Perhaps the only negative aspect of the Phillies' performance came when Ron Reed came in to pitch the eighth. Reed faced five batters, walked three of them and gave up a run before Green replaced him with Tug McGraw.
"Ronnie has enough experience to know we're not looking for bases on balls in that situation," said Green. "He (Reed) did not throw the ball today. That's why I went to Tug."
McGraw got the final out of the eighth and the first two in the ninth before – oh, no – loading the bases. McGraw, if you'll recall, tied a National League record last season by throwing four grand slam pitches. This time, though, he got Ellis Valentine to fly to Maddox, ending the game.
PHIL UPS – Montreal second baseman Rodney Scott tied a National League record by walking five times in the game... The major league record of six walks in one game was set by Jimmy Foxx when he was with the Boston Red Sox in 1938... Trillo went a quiet 3-for-4... Phils' baserunning featured Greg Luzinski going from first to third on what should have been a single by Bob Boone.
Maddox proving his salary case to appreciative fans
By Ray W. Kelly of the Courier-Post
PHILADELPHIA – If each new baseball season is an unblemished canvas, then the initial brush strokes Garry Maddox has splashed upon his self-portrait have all the earmarks of a 1980 masterpiece.
And, that's important to the Phillies' center fielder, because he is fearful that the fans will see him strictly as a human dollar sign is search of an endless string of lush numbers on a contract.
In these inflationary times of shrinking American paychecks, a player doesn't have to be an economics professor to know that the average working stiff in the stands doesn't appreciate baseball's money madness, even when the stars' performances make them cheer.
For an athlete to try going with the flow of cash coming from the free-spending owners and fail to produce on the field... alas, it could be tantamount to wearing an Ahyatollah T-shirt to a popularity contest.
No one wants to be a bullseye, least of Maddox, who stepped up to the paymaster just in time to have the Phillies "draw the line" in front of his fleet, little feet. Nothing personal. Just the luck of the draw.
It has left the Vincent Van Gogh of outfield defense in a uniquely-undesirable position. Which is why, instead of cutting off an ear in protest, Garry chose to listen hard for the sounds of public disapproval.
"Yes, I was wondering what the reaction of people would be when I got back to town," he said yesterday afternoon after leading the Phils to a 6-2 victory over the Montreal Expos by smacking a single, double and a home run in between several impressive plays in the outfield.
"I was led to believe it would be pretty bad. But, it wasn't. Oh, there were some boos. But, overall I am very pleased with the reception I've gotten."
Maddox wants to keep it that way by painting daily images of excellence on the field. "People probably want to see if I'm worth it," he said. "As long as I keep playing well, they'll pay more attention to what's taking place on the field (as opposed to the negotiating table)."
A wise approach, to be sure. And, one that owner Ruly Carpenter hoped to carry one step farther the other day when he called Garry and asked him to cool all the monetary dialogue with the media. The better to keep your head in the game, my dear.
The ironic part of all of this is that Maddox has spent the last five years proving his worth. If people don't know his value by now, they'd better invest in a seeing eye dog.
And, if anything has made Garry's stock soar in the last few years, it has been the tremendous strides he's made off the field, where he's learned to cope almost as well as he runs.
This is a man who traded hard times as a youth for a tour of duty in Viet Nam. Not much of a deal for a guy who looked to professional baseball not as a springboard to glory, but as a means of supporting not only his immediate family, but also otner needy members of the Maddox clan.
No, the only time Garry has been money hungry, the well-being of others was his motivation. That includes the kids of the Child Guidance Center of Philadelphia Hospital.
He used to be a solitary man who guarded his emotions and walked away from life's aggravation. Now, he is an open man of wide congeniality who came into the 1980 season having to deal with the contract problems, the challenge of being shifted to a new spot in the batting order and the ghost of strife that once flowed just beneath the surface of his relationship with Manager Dallas Green.
Oh, you forgot about the conflict with Green? Don't feel bad. It is forgotten.
I sat down with Garry three times during spring training," recalled the manager. "We just talked about things. Mostly, it was just me opening up myself as a person and letting him see who and what I am."
The mere act of striving for understanding brings about individual improvement and fulfillment. Maddox had done it time and again over the years. He has worked just as hard in learning to relate to people as he has in honing his skills on the field.
Hell, he could tell the Phillies to shove it, sulk his way through a season and then collect a barrel-load of more money than he'll earn here. But, he hasn't. And, a man like that is worth keeping.