Camden Courier-Post - April 2, 1980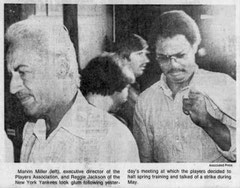 Players start first of 2 strikes
DALLAS (AP) – Taking dead aim at management's wallet, the Major League Players Association has called not one, but two strikes against baseball.
And the surprising part is that neither of them is coming on Opening Day, which had seemed to be the logical target. Instead of endangering the start of the regular season, the players chose a two-pronged attack that they hope will do the greatest possible economic damage to the owners.
The owners, however, struck back at the players' pocketbooks, saying they would leave training camps open but refusing to pay meal money, allowances and hotel costs.
The players said yesterday they would cancel the final 92 games of the spring training exhibition schedule and then they promised that unless a new Basic Agreement is negotiated by midnight on May 22, they not play games starting the following day.
THE CANCELED exhibitions include lucrative intrastate series in California between the Angels and the Los Angeles Dodgers, and in Texas between the Rangers and Houston Astros. And, for their second strike date, the players chose the weekend before Memorial Day, traditionally one of baseball's largest revenue periods.
"We're trying to hurt them in the pocketbook as deeply as we can," said Mike Marshall, who doubles as player rep for the Minnesota Twins and the American League. "We refuse to allow them to generate any more money before Opening Day."
The players were prepared to stay in training camps and continue working out, even playing intrasquad games to stay in shape if management wants that. But they will not play exhibition games where admissions would be charged.
IN RETURN, a spokesman for the owners said camps will remain open to those players who wish to work out for the remainder of the spring training period. But, since the individual player contract requires that players will appear in scheduled exhibition games and since the players have announced they will not appear in such games, meal money, allowances and hotel costs will not be paid."
Several of the player reps left the impression the players might not stay at the camps if they didn't get their expenses.
"I'll be on strike Wednesday and I'll be off strike on Opening Day," Marshall said.
MANY PLAYERS had expressed a sentiment for striking immediately rather than waiting until the season is under way. In 1972, players walked out three days before the start of the season and remained on strike for 13 days, causing 86 games to be canceled. But the strategy this time was altered.
"I came here with the feeling that doing something early would be in our best interest," said Jon Matlack, player rep of the Texas Rangers. "I was not totally convinced but I was leaning in that direction. After listening to the thoughts in the meeting, though, I think this is the better route to take."
One advantage to delaying any regular-season strike action is that the players will receive three paychecks between Opening Day and May 22. That could go a long way to withstanding the economic pressures that a walkout might bring.
SOME OBSERVERS questioned whether the players would be as unified to take a strike action once the season is under way as they might be before Opening Day. Suppose, for example, a player is on a hitting streak when the strike date arrives.
"I don't care if I'm hitting .040 or .840," said Larry Bowa, player rep of the Philadelphia Phillies. "If nothing is worked out by May 22, we're gone."
Ray Grebey, management's chief representative, who has negotiated for 20 weeks with Marvin Miller, executive director of the union, said last night:
"It is encouraging to note that the championship season will start as scheduled. It is the continued objective of major league baseball to achieve a negotiated settlement without interruption of the championship season."
BUT MILLER said: "It has been the owners' strategy throughout the talks to provoke a strike and portray themselves as the wounded parties.
"Owner demands, not player proposals, have bogged down the meetings so far. We are taking this action in one last good faith effort to try and reach an agreement. The players have decided they are willing to open the season and will continue to negotiate in good faith to reach an agreement."
Ken Moffett, the federal mediator who joined the talks Sunday, summoned both sides to a negotiating session in New York tomorrow.
THE VOTE by the union's 28-member executive board was unanimous, although it was clear that some representatives had come to the meeting favoring an immediate strike that would include Opening Day.
"I think it shows how unified we really are, when we can go on strike now, come back Opening Day, and then go out again," said Marshall.
Then the Twins' pitcher was asked if he believed the players could hang together once the season is six weeks old.
"We are so together," he said, "that if after the second strike in the third inning of a game, the player reps got up and said, 'Let's go,' everybody would leave."
Phils' players, bosses not so hot at this game
By Ray W. Kelly of the Courier-Post
CLEARWATER, Fla. – Spring training for next month's big strike in baseball got under way last night. And, from the looks of things, both sides in the Phillies' camp are going to need a lot more practice.
This organization may execute the hit-run play and the double steal to perfection, but when it came down to the finer points of running the labor bases yesterday, the Phils found themselves with 25 players hung up between home and team loyalty.
Why the club found itself in Cocoa Beach last night and whether the players should honor Manager Dallas Green's call for a 9 o'clock meeting this morning were two questions that made the waning hours of April Fool's Day anything but laughable for the Phils.
In retrospect, the athletes feel that once they'd gone about their business of losing 4-1 to the Texas Rangers in Pompano Beach and the word came down that the Players Association had decided to halt the playing of any more exhibition games, all concerned should have simply made a beeline for home – be that life's temporary abode in Clearwater or the place up north where all the bills are being sent.
There was one problem. Catch-22, if you will. The Phillies were not aware of the dramatic turn of events taking place at the main negotiating table in Texas when they boarded the bus for Cocoa Beach.
As far as the Players Association was concerned, this spring's Grapefruit League was the pits. No more games. Or, as catcher Bob Boone would later explain, "We don't want to play exhibitions in order to build up excess revenue (for the owners) that might be used against us."
Word had it that the athletes would remain on the scene and continue conditioning themselves... if the owners didn't pack everything (including the playing fields) away and continued picking up the tab.
The Lords of Baseball answered with silence. They had not officially been informed of the Dallas decision and would thereby not comment. On anything. The gag was to be worn by owners, general managers, managers and hot dog vendors.
Obviously, it's not as easy for the Phillies to suddenly draw a line through the middle of their ranks as it is for other clubs. Onward to bed and board in Cocoa Beach they rode.
Green, who was heard to comment, "Everything we've done down here goes down the drain," proposed that they all meet at 9 a.m.
And, although it's a pretty safe bet that he was merely going to ask them to keep trim and maintain a team feeling, the propriety of such a meeting began to worry the players. It made others angry.
How could the players even appear to be hard-line if they were sticking around for a meeting? Maybe they shouldn't even be staying overnight.
When team representative Boone's flight from Dallas arrived at Tampa Airport at 10:25 p.m., and he and Larry Bowa discovered what was taking place, the phone wires to Cocoa Beach sizzled.
Greg Luzinski was being besieged by calls from his confused teammates who knew he was acting as go-between for the players and their representative. The troops were restless and concerned about breaching the unified front of the association.
Upset and alarmed, Boone and Bowa jumped into a car and began the long drive to an expected early-morning gathering of the players.
Had they been forced to make the trip to Cocoa Beach? Did they have the right or the duty to pack up and head back to Clearwater immediately? Was the pressure, no matter how subtle, being exerted insofar as the manager's meeting was concerned?
Boone had questions. So did his teammates. Time and space had snared the Phillies in a trap. And, they didn't like it one bit.
It was bad enough that they had to decide whether to remain in Florida for another week, as most of them planned, maintaining their physical edge with informal workouts.
This was something else again. Green, Paul Owens and Carpenter were now on one side of the fence. The players were on the other. At least until opening day. Then, on May 23, they'd get to do it all over again.
Neither looked like they were going to be very good at this adversary business.
Area fans give players little support
By Don Benevento of the Courier-Post
Maybe it's inflation. Or Iran. Or Afghanistan. Or maybe people are just more worried about where their next tank of gas is coming from.
For, whatever the reasons, major league baseball players will have a hard time finding a base of support in the South Jersey area.
That is, if a random sampling of 30 people from throughout Camden County has any bearing. Interviews were conducted last night, when South Jersey residents were asked their views on the impending major league baseball strike.
Most of those questioned were at the Cherry Hill Mall, where 20 people were polled. Five others were questioned at various other sites, while five were contacted by telephone.
Of those polled, 23 spoke against the players, while seven had no opinion. Nobody sided with the players.
Comments ranged from, "Let them work for a living," to "Keep the stadiums closed all season. It won't bother me a bit."
"I haven't even thought about it," said Randy Hein, a native of Seattle, Wash., who is in the service and stationed at McGuire Air Force Base. "I don't go to the games and I don't follow any of the teams. I have other things on my mind."
Of those polled, eight were women. Twenty-five of the 30 considered themselves baseball fans, but 22 of them said they attended less than 10 games a year. None owned any kind of season-ticket package and none said they were interested in purchasing season tickets, regardless of the outcome of the strike situation.
Just two people were aware of the latest development in the strike talks – that the executive board of the Major League Players Association voted to cancel the remaining exhibition games but agreed to open the 1980 season on time, delaying possible strike action until May 22. Most of the others said they had no interest in finding out what the Players Association was doing.
"Talk to me when the garbage men go on strike," said one woman who did not want to be identified. "They're more important to me than baseball players."
Twenty people said they had not kept up with the strike news and had no clear understanding of what the players wanted.
"If it's about money," said Tom Teschko of Audubon, "they get paid enough. I don't really know why they are going to strike."
"I don't know the reasons," said Jim Bottino, an Overbrook High School football player from Lindenwold. "I haven't heard that much about it."
Those who have followed the issue were more outspoken.
"They ought to stay on strike," said Neil Sparano of Woodlynne. "And, if they do play, I think people ought to wake the players up by not going to see them play. I'm a die-hard Phillies fan. I watch every game I can. If it's not on television, I listen to every game – even from the West Coast. But what they're trying to do hurts. It really makes me mad."
Stan Foster, another Woodlynne man. referred to the players as "a bunch of idiots. Let them work until 5:30 every day like I do for $10,000 a year."
"As far as I'm concerned," said John Patrizi of Pennsauken, "they can keep the stadiums closed all season. Ticket prices are high enough. I won't pay to see these overpaid athletes play a game."
Al Koenig of Westmont agreed.
"I don't know what they want," he said, "but you can bet it's going to cost the fans more money."
"It's just a shame," said Rich Malesich of Cherry Hill. "The whole thing seems to be out of control. It's not just baseball. The whole professional sports system is a mess."