Camden Courier-Post - April 20, 1980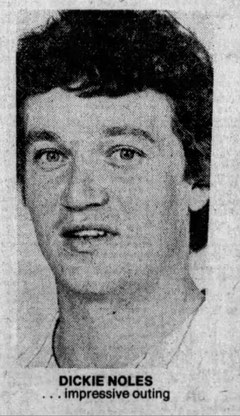 Noles brilliant as Phillies win
By Rusty Pray of the Courier-Post
MONTREAL – It might be difficult to envision a baseball game featuring 24 hits, 17 runs five errors and seven walks belonging, to a pitcher. But the Phillies' 13-4 victory over the Montreal Expos yesterday belonged almost exclusively to a pitcher.
Dickie Ray Noles, Manager Dallas Green's bullpen experiment, owned the Expos during four innings of brilliaht two-hit relief that paved the way for a win not nearly as uncomplicated as the final score would indicate.
Noles made his third relief appearance of the young season in the sixth inning for starter Larry Christenson, who got the decision despite struggling through five innings that included four walks, two balks and a home run by Warren Cromartie. At the time, the Phils led by just a run, 5-4, and were hoping only that Noles could hold off Montreal for an inning or so.
But Noles was nothing short of sensational and the Phillies' offense produced nine runs in the final four innings to turn what had been a tight ballgame into a laugher.
Relieving is a role Noles has approached somewhat reluctantly. Having been a starter his entire career, including last season when a majority of the mound staff was infirm, Noles seems to have made a rapid adjustment.
"I'm just glad I'm here (instead of the minor leagues)," he said, "I can't lie. In my heart I like starting better. But we have four good starters, so whatever he (Green) wants me to do, I'll do."
Right now, Green seems a genius. It was his idea to move Noles to the bullpen during spring training. The move met with less than an enthusiastic response from observers who wondered if Noles had the kind of control major league relief : demands.
"He's got the kind of makeup and the kind of stuff we like to see coming out of the bullpen," said Green. "That (the bullpen) will be his niche eventually."
Whatever niche Noles ultimately establishes for himself, yesterday his relief work was the difference between winning and losing. He retired the first 10 Expos he faced before allowing Larry Parrish a single. When Parrish arrived at first base, he turned to the Phillies' Pete Rose and nodded toward the mound. "That," Parrish told Rose, "is the hardest I've ever seen him throw."
"He's got to be awesome on right-handed hitters," Rose would say . later. "He's got a good disposition for a pitcher – ice water in his veins. Nothing fazes him. I'm glad I was out there watching it instead of up there hacking at it."
Noles, who matched his career high of six strikeouts, made only one other mistake when he allowed Cromartie a leadoff double in the ninth. But he quickly fanned pinchhitter Tommy Hutton and got the next two batters to pop up. Keep in mind this the same Montreal club that ripped Noles for three home runs in one game last season.
The Phillies got what proved to be the deciding run in the sixth inning when Greg Luzinski opened with a single off Expo starter Steve Rogers and alertly took second base when center fielder Andre Dawson bobbled the ball. Rogers wild pitched Luzinski to third before Bob Boone, one of six Phillies with at least two hits, stroked an RBI single.
"There's no question I'm running good, feeling more aggressive out there," said the Bull.
Boone helped the Phils take a 7-4 lead in the seventh when he again singled in Luzinski, who had dou bled, and eventually scored on a squeeze bunt by second baseman Luis Aguayo.
Aguayo replaced regular Manny Trillo in the third inning when Trillo sprained his right ankle rounding third base. Trillo was taken to Queen Elizabeth Hospital for precautionary X-rays and may miss this afternoon's game here in Olympic Stadium.
"It looked like he jammed his ankle going back to the bag," said Green. "It started to swell right away."
Aguayo wound up scoring the Phils' first run when, two hits later, right fielder Bake McBride delivered the first of his pair of two-run singles. McBride finished the game with three hits, including a triple, four RBIs and a stolen base.
McBride's triple started off a six-run ninth that made Noles' job that much easier. By the time the inning was over, the Phils had misused relievers Dale Murray and Fred Norman for five hits, including a two-run home run by Mike Schmidt, a run-scoring single by Garry Maddox and a two-run single by – who else? – Noles.
Montreal, on the other hand, had half of its runs score as a direct result of Christenson mistakes. With two out in the first, Christenson walked Dawson, balked him to second, then yielded an RBI single to Ellis Valentine.
Cromartie led off the second with a homer and, after Chris Speier struck out, Christenson walked Rogers. The righthander got Ron LeFlore to hit into a force play, but balked him to second and threw a pickoff attempt into center field, LeFlore scoring all the way from second.
PHIL UPS – The Expos' final run. came in the fifth, tying the score at 4-4... Christenson must assume at least some responsibility for the manner in which the run was scored because he neglected to back up third base on the play… With one out, Dawson tripled to right-center field... Maddox ran the ball down and overthrew two cutoff men, the ball skipping past Schmidt at third... Maddox was given an error.