Camden Courier-Post - April 22, 1980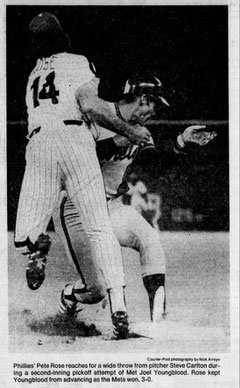 Burris cools Phils' bats
By Rusty Pray of the Courier-Post
PHILADELPHIA – Just when it seemed the offense was on the verge of reaching the boiling point, just when it seemed the bats were heating up in earnest, along came Ray Burris to quick-freeze the Phillies for 7½ shutout innings.
Whatever problems the Phils might have had prior to last night's game in Veterans Stadium against the New York Mets, hitting certainly was not one of them. They had been averaging more than six runs a game and had just finished tattooing Montreal pitching for 24 runs in a three-game series.
But hits were something of a rarity against Burris and reliever Neil Allen in a 3-0 setback that dropped the Phils' National League East Division record to 4-5 and served as Steve Carlton's first loss in three starts.
"HE WAS throwing his breaking ball in, his fast ball away," said left-fielder Greg Luzinski, one of the few Phillies to solve that combination for a hit. "A lot of guys were hitting the ball off the end of their bat."
"He's going to win some games when he throws like that," said Pete Rose, who walked, singled twice and tripled. "It's the best I've seen him throw in a long while. Carlton gives up two runs, we should win. But the other guy pitched a good ball-game."
Burris has a history of pitching well against the Phillies – he's now 9-4 lifetime against them – and, oddly enough, the Mets are one of only two teams in baseball with a winning record against Carlton (the other is Cincinnati). That combination was enough to make Carlton a loser on a night when he pitched well enough to win.
"LEFTY WILL win 90 percent of those games," said Manager Dallas Green. "He didn't have that great slider, but Lefty keeps you in a game and two runs shouldn't beat this team."
But they were more than enough to beat the Phillies last night, because Burris pitched brilliantly. The righthander allowed only four hits, all coming with two outs, and managed to keep his five walks well spaced. Indeed, only twice did the Phillies get more than one base runner on in any one inning.
"I had good control of my fast ball and slider," said Burris, who now has two of the Mets' four wins. "I always pitch well against the Phillies – I guess it's the competition."
BURRIS, WHOM the Mets picked up on waivers last August, kept the Phillies out of competition until he walked Mike Schmidt with one out in the eighth. It was then that Manager Joe Torre, perhaps aware of the fact that Burris had not pitched a complete game since 1978, went to Allen.
"I couldn't grip the ball in the eighth inning," said Burris. "My hand went numb, like there was no strength in it."
To the disappointment of 23,856 fans, there was plenty of feeling in the right hand of Allen, who was shelled for seven runs in one inning by the Cubs on Saturday. He was somewhat more effective against the Phils, getting the final two outs in the eighth and the first two in the ninth before relinquishing a pinch single to Del Unser. Ironically, it was the first hit by a Phillies pinch-hitter this season.
"HE (BURRIS) was throwing too good of a game for anybody to come in and give up any runs," said Allen. 'We all agreed we were embarrassed in Chicago (losing three straight). It was a tough situation coming here after being humiliated in Chicago."
The Mets began regaining some self-respect in the fourth when John Stearns opened with a single up the middle, moved to second on Lee Mazzilli's soft grounder to Schmidt and scored on a line single to left by Joel Youngblood. They made it 2-0 in the fifth on Frank Taveras' RBI single and got their final run in the eighth off reliever Ron Reed on a fielder's choice.
Carlton held the Mets hitless until the fourth, largely because centerfielder Garry Maddox made a spectacular running catch of a Stearns gapper in the first. Maddox would later make a similar play against Taveras. Bowa contributed a back-pedaling snare of a Mazzilli popup in the first and and right fielder Bake McBride made a leaping grab at the wall to take a hit away from Steve Henderson in the second.
PHIL UPS – Tonight's game, beginning at 7:35, will be aired on WWDB radio (96.5 FM) instead of KYW, the usual Phillies outlet, because of the Pennsylvania primary election... Sore-shouldered reliever Warren Brusstar threw yesterday for the first time since spring training... "He threw as free as could be expected and there was no pain," said pitching coach Herm Starrette of Brusstar. "Well throw him a few days in a row, rest him, then put him on a mound."... Allen has saved all four Mets wins... Rose raised his average 55 points, to .244, with his three hits... Rose, Manny Trillo, Larry Bowa, Schmidt, Luzinski, Garry Maddox, Bake McBride and Bob Boone are on the National League's All-Star game ballot for the July 8 game in Los Angeles... Dick Rnthven is scheduled to start against Tom Hausman tonight.
Fans should be patient with Phillies' pitching
By Ray W. Kelly of the Courier-Post
PHILADELPHIA – But, the baseball season is only 10 games old!
That's my answer to the gloom-and-doomers who would have me circling the Phillies' pitching staff like a buzzard who hasn't eaten in a month.
That's the heart and soul of my logic when I am forced to explain why I am reluctant to lift my voice in a funeral dirge for a group of athletes who haven't even had time to get their uniforms properly soiled.
"It's just that you're an optimistic Pollyanna," groaned the female writer upon realizing that I was not about to throw the switch on a team that has over five months to prove whether it will succeed or fail.
Sorry. There may come a time when Ron Reed, Tug McGraw and friends get a free ride to Rip City. But, not now. Not before anyone has broken a decent sweat. Not before the voice stops whispering in my ear.
"Don't judge players or teams in the spring or fall," says the voice inside my head. And I listen, because the man who told me that watched 50 years of daily baseball and knew more about the game than most of the men who played or managed it.
It is early. That is not an excuse, but a statement of fact that guys like Reed and McGraw long to use, but won't because ever since last winter there has been a certain bit of irrationality concerning people pitching for the Phillies.
Everyone agreed that the Phils had to make a trade for more arms if the team was going to succeed. When that didn't happen and it became obvious that the farm system wasn't going to provide a half-dozen miracles of the mound, a spring training pressure cooker began to simmer.
The team had to get of f to a good start. The pitchers had to pick op the slack. Everyone had to do their part and get the job done.
That's all well and good. But, how do you define the "start" of a season? In the home opener in Pittsburgh, the Pirates' top reliever, Kent Tekulve, got sloppy and gave up the tying runs to Chicago, which in turn saw its Cy Young Award-winning reliever serve up a game-losing home run. Panic, however, was not the order of the day.
Yet in Philly, McGraw failed to reveal himself as Superman on two trips to the mound and people automatically assumed that he is somehow incapable of finding the groove for his screwball and putting together the kind of bullpen streak that has made him an effective performer for years.
Righthander Reed, on the other hand, has traditionally been a "second half" pitcher, the exception being last season, when he was fortunate enough to hit his stride coming out of the gate.
It hasn't happened this time around. And, part of the reason for that is the fact that there were a lot of pitchers in training camp. At one point, the overload combined with the weather to give Reed 13 days without competitive pitching. Then, the strike hit and no one pitched in true game situations.
After four attempts at getting his rhythm and pitching mechanics in order, Ron finally came off the mound last night feeling like the mound wasn't greased.
"Every time out, it's been better," he said. "It's coming. I can feel it. And, the same is true of other guys on the staff, who, incidentally, have more heart and guts than anyone realizes."
They've needed it. For, although they are reluctant to talk about it, the pressure to succeed has been so intense that all the pitchers are mentally approaching every inning as if it were the seventh game of the World Series.
Not only are they over-trying, they're pitching scared, as if sensing that the next mistake may put them on the shelf, in the doghouse or back in the minors.
Ironically, not one pitcher complained about the competitive situation Manager Dallas Green has tried to create in the lockerroom. If there is a chance that such a challenge will bring out the best in them, they're all for it.
Yet they also sense this growing feeling among people around them that, unless everyone becomes invincible immediately, the season is lost. With 152 games remaining, that's not only unfair, it's downright silly.