Philadelphia Daily News - April 25, 1980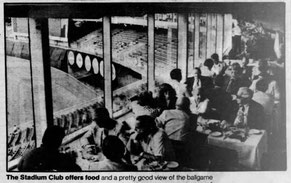 Eats
'The Stadium Club would never survive without the ballpark's captive audience.'
By Bob Warner
ITS PROBABLY un-American to suggest anything but beer and hot dogs at a baseball game. But for infidels, there's a spot at Veteran's Stadium offering an assortment of steaks, seafood, even prime ribs of beef, whenever the Phillies play at home.
The place is the Stadium Club, a long, weiner-shaped restaurant perched near the right-field foul line, with the 500-level seats. Joined by a Phanatic fanatic, I scouted the Club this week. We decided the place would never survive without the ballpark's captive audience. The food and the prices are not quite as bad as you'd expect from the folks who collect $2 for a three-bite frank and a plastic cup of Schmidt's. But they're not so hot, either.
The reservations (a necessity) took a bit of planning. The restaurant has just two seating – the first begins two hours before the game, for those who want to watch batting practice, and the second at gametime, for those who want to eat during the contest.
You've got to have a ticket to get into the ballpark, so if you're planning to eat during the game, you should make reservations for the late sitting and get into the stadium with the cheapest general admission tickets you can find. There's an extra $2.50 cover charge for meals at game-time.
WE HAD SOME good tickets for the ballgame. within shouting range of the Phillies dugout, so we decided to eat during the warmups and adjourn to our regular seats for the game.
It was a smart decision, because we discovered you generally get a better view from the stands. The restaurant is shielded from the rest of the ballpark by a series of clear plastic windows that subdue the catcalls from the crowd, permit air-conditioning and prevent long foul balls from landing in your soup. You still get a good look at the infield and the outfield, everything but the right field corner. But at most of the tables, the ceiling cuts off the sight of anything hit higher than a Texas League single.
The restaurant is run by Nilon Brothers, the same outfit that runs the concession stands, so we weren't surprised to open our menus and see a minimum charge of $9.50 a person, no matter what you eat for dinner. Individual dishes were also on the high side, but not outrageous fried chicken for $6.50, fish for $8, steaks in the $9.50 to $13.50 range, prime ribs for $9.50 and $11.50. Small mixed drinks run $1.75-$2,25 and a small carafe of wine costs $3.75.
We asked our waiter for help and he advised us to stick to the beef. I went along and ordered a Delmonio steak ($9.50). I wanted it medium-rare, but the chef insisted he could only handle "red," "pink," of well-done. I settled on pink, which was the way it arrived about 10-12 ounces of meat, fairly tender, accompanied by a baked potato.
MY FRIEND should have listened to the waiter. She ordered a seafood combination of fried shrimp and scallops ($8.95), served with french fries and cole slaw. The scallops were good ones, deep-fried lightly enough to stay tender. But the shrimp were a crime – tasteless, heavily breaded and tough enough to pass for cardboard. We thought they'd developed a bad case of freezer burn from improper storage – we wouldn't be surprised if they were leftovers from last season.
Both dinners included small dishes of salad, mostly tired lettuce, and the seafood came with a cup of soup – clam chowder. Although the maitre d' insists that the soups are usually homemade, this one. tasted like canned, and a bottom-shelf brand at that.
We finished up with coffee and ice cream – a big scoop of vanilla covered with coconut and hot fudge, for $1.35. It was the high point of the meal – and as it turned out, the evening. The Phillies dropped one to the Mets, 3-0.
Not an Enjoyable Trip for Phillies
By Ken Tuckie, Special to the Daily News
READING – The Reading Connection, alias the Phillies, came to town last night for one of those exhibitions games baseball players dread.
However, for George Vukovich, it was a treat, not a treatment – even though the Eastern League club beat the National Leaguers, 8-4, before 7,132.
Last year, the young outfielder sat in the Reading dressing room waiting for the rain to subside so he could play against the big leaguers.
It never did!
"I think this game is very good for minor league baseball," the left-handed hitter explained. "It gives you a chance to keep in touch with where you played before and with the people you met before.
"LAST YEAR, I was ready to play the big team. This year, I'm on the other side of the clubhouse. I don't mind playing.
"I never thought I'd be here... at least in a blue uniform. After last year, I thought I'd be in Oklahoma City and, in spring training, I just never got cut."
While it was an enjoyable night for George Vukovich, Scott Munninghoff, who also made the big jump. from Reading to Philadelphia, didn't have an enjoyable night since he suffered the loss.
Dick Ruthven started for Manager Dallas Green and threw two scoreless innings.
"I thought Ruthhven threw better than he had been," Green explained. "We worked on him on one thing and he maintained concentration on that one thing... which was just keeping back.
"He was rushing and his arm was lagging. And, as a consequence, he wasn't throwing as hard as we felt he should be able to.
"DICK WAS WORKING on balance and holding himself back. He did that... and he did it pretty good. I was really satisfied with that."
The Phillies jumped to a 3-0 lead in the first inning which ended with a bizarre triple play. With Mike Schmidt on second and Greg Luzinski on first, Keith Moreland flied out to centerfielder Bob Dernier. Schmidt moved over to third, with Luzinski trying to take second.
Dernier's throw was cut off by shortstop Ryne Sandberg who threw to Steve Curry to get Luzinski at second. Then pitcher Cliff Speck threw to Curry at second to retire Schmidt on an appeal play.
Reading tied the game in the third with three runs, including a two-run homer by Dernier, who also accounted for two of the seven stolen bases by the Li'l Phils.
Three more runs in the fourth clinched the game for Reading with the decisive run being driven in by Tony McDonald on a groundout.
The Reading Connection?
Twelve members of the National League team played in Reading en route to the top in their profession.