Camden Courier-Post - April 27, 1980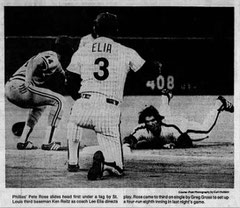 Carlton pitches 6th one-hitter for N.L. mark
By Rusty Pray of the Courier-Post
PHILADELPHIA –It's amazing how many ills can be cured by a dose of good pitching. Lefthander Steve Carlton last night applied his pitching potion to whatever ailed the Phillies, firing a brilliant one-hit shutout at the St. Louis Cardinals.
And the Phils, who had scored one run in their first 15 innings against Cardinal pitching in this series, responded with seven in the seventh and eighth to make Carlton a breezy 7-0 winner.
The one-hitter was the sixth in Carlton's career, a National League record. Carlton, who last season produced a pair of one-hit games, went into this year tied with Mordecai Brown, Grover Cleveland Alexander, Jim Maloney, Tom Seaver and Don Sutton. The major league record is held by Bob Feller, who threw 11 or 12 – depending upon which record book you believe – during his career.
"Lefty (Carlton), the last two times out did not have his super breaking ball," Manager Dallas Green said after Carlton's superb performance. "He had a pretty good curve ball the time before, and the last time (a 3-0 loss to the Mets) I thought both the curve and slider were just so-so.
"This time he had an outstanding curve ball and his slider was excellent. And, of course, his usual concentration of not giving into the hitter was just outstanding."
Carlton missed a perfect game by two base runners. And, the only thing that separated him from the no-hitter that has eluded him throughout his career was a solid single to left field by Cardinal catcher Ted Simmons to lead of f the second inning. Carlton walked Simmons on a 3-1 pitch with two out in the seventh after retiring 17 batters in succession.
"Simmons hit a fast ball over the plate," said Green. "It was a fast ball I'm sure Lefty would like to have back."
Carlton struck out five – including left fielder Bobby Bonds three times – and retired 11 batters on balls that never left the infield.
As is the custom in such games, the defense lent a valuable hand. While there was no startling, other-wordly glove-work, the Phillies nevertheless backed Carlton with some heavy leather. One such play occurred on the game's first pitch, a ball that Garry Templeton lined toward left field. But shortstop Larry Bowa interceded, taking it with a leaping backhand stab.
Center fielder Garry Maddox made a running backhand catch of a ball the omnipresent Simmons drove into the left-center field gap in the fourth, and second baseman Luis Aguayo went neatly to his left to turn a sharply-hit ball by Keith Hernandez into a routine out in the seventh.
All that remained was for Greg Gross, starting in place of Bake McBride in right field, to run down a slicing drive off Templeton's bat near the wall in the ninth.
In truth, the defense didn't have to work all that hard for Carlton.
"He was throwing everything for strikes," said catcher Bob Boone, whose two-run home run in the bottom of the eighth put the finishing touches on the game. "He had excellent stuff tonight. He's had great stuff since Day One of spring training.
"His curve ball was really good. The slider wasn't as good, but he had a really fine curve ball. We went with it most of the night."
Added Green: "He (Carlton) went after the game. I think he really wanted to win it."
For a while, it seemed St Louis starter John Fulgham would be the night's low-hit pitcher. The righthander retired the first 10 batters he faced before walking Gross with one out in the fourth. Maddox followed Gross with the Phils' first hit. But Boone left the bases loaded – the Phils have not gotten a bases-loaded hit in the last three games – by hitting into a fielder's choice.
The score remained 0-0 until Luzinski lined a one-out double to left in the seventh. Boone walked after fouling off a couple of tough 3-2 pitches, but Bowa popped up to Templeton for the inning's second out.
Green sent lefthander Del Unser in to pinch hit for Aguayo, and Unser sent Flugham's first pitch to the base of the wall in right center for a two-run triple. Unser, who now has three straight pinchhits, scored, himself, to make it 3-0 when second baseman Tommy Herr's relay throw skipped past third baseman Ken Reitz and bounced into the deluxe box seats.
Pete Rose, who had only two hits in his previous 14 trips to the plate, opened the eighth with a single to right and dashed headlong into third on Gross' single to left. Gross moved up a base on the throw to third, giving Maddox an opportunity to rip a two-run single to left that finished Flugham.
Reliever Donnie Moore came in to retire Mike Schmidt and Luzinksi, but Boone stroked a 3-1 pitch over the left field wall to conclude the scoring.
PHIL UPS – Carlton made Bonds his 2,700th strikeout victim in the second... Only nine other pitchers in baseball history have fanned more than 2,700... Home stand ends today with Dick Ruthven facing Bob Forsch.
Green, Bake reach 'understanding'
By Rusty Pray of the Courier-Post
PHILADELPHIA – The six-game home stand has not been a particularly pleasant experience for the Phillies, despite the dazzling one-hit performance by lefthander Steve Carlton in last night's 7-0 victory over the St. Louis Cardinals.
The Phils dropped two out of three games to the New York Mets, losing the opener, 3-0, and the finale, 3-2, when they left 13 runners stranded.
Similarly, the Phillies left 12 men on base during a frustrating 3-1 loss to the Cards Friday night. It was during that game that right fielder Bake McBride, whose tender left knee had kept him from starting, raised the ire of Manager Dallas Green by failing to go from first to third on a single to right field.
Last night, however, Green said he had reached an understanding with McBride, who sat out the game. Greg Gross started in right and, according to Green, is to start this afternoon's game.
"I jumped Bake today pretty hard in the papers – well I should have," said Green. "He should have told me he couldn't run. His knee swelled up on him. Bake has great pride and he doesn't want to come out of a game once he's there but, at the same time, we've got to think about the team. He has to help us think about the team."
McBride irritated his knee during ' ' a game at Montreal and had it drained of fluid on Wednesday. He played Wednesday night, then spent the Phils' off-day Thursday undergoing treatment.
Green used him as a pinch-hitter Friday night, McBride opening the -ninth inning with a single. Del Unser followed with a base hit and McBride limped to a halt at second.
"Sitting on the bench, it (McBride's knee) may have stiffened up, which makes running the hardest part of it," Green said. "We have an understanding. He's been told what I like and what I don't like, both publicly and privately."