Philadelphia Daily News - April 4, 1980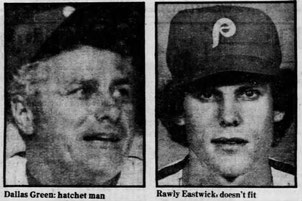 Green Chops Phils' Dead Wood
By Bill Conlin
CLEARWATER – Dallas Green says he mentally cut his squad after the third week of spring training.
"It was clear in my mind after three weeks of the program who would fit in and who wouldn't," the Phillies manager said yesterday after his full squad worked out in Jack Russell Stadium following a team vote to spend the remainder of the exhibition mini-strike working out in Florida.
Veteran relievers Rawly Eastwick, signed through 1982, and Doug Bird, signed through 1981, are among those who don't fit. On a day when at least one Philadelphia radio station reported that the pitchers had already been traded, Paul Owens was energetically trying to find a team or teams which will absorb some of their salaries. He'll trade them for players now, players later, cash now, cash later, green stamps, whatever. But Green has drawn the line. He won't have any lame ducks on his ballclub, a la Jim Lonborg and Jim Kaat, men without roles who took up valuable roster space for two years under Danny Ozark.
THE MANAGER doesn't think the introspective Eastwick has enough of his head in the game, doesn't think Bird, whose performance last season led to the firing of American League special assignment scout Fred Goodman, the man who recommended him to Owens, has enough stuff.
For all intents and purposes, Green will cut the squad to 25 today, the earliest pre-season final cut in memory by a club noted for its 11th-hour roster fumbling. He'll actually only cut it to 26, because Bud Harrelson is nursing a groin pull and is hoping to be placed on the disabled list long enough to collect on his full 1980 contract.
"In my mind the decision on Bud has been made," Green said. "He's a fine guy, but there's no role for him here. In my mind. Bud can't play major league baseball anymore."
Mike Anderson, once the organization's brightest prospect, blew his chance to hang on as a utility outfielder when Green handed him the catching gear and asked him to pick up enough of the position to do the job in an emergency.
"THE SAME MESSAGE was given to John Vukovich," Dallas said. "He grabbed the gear and went out and started blocking balls in the dirt. Andy kind of worked at it a few days and then kind of slacked off. Well, I'm tired of a guy who walks around with a cigarette dangling out of his mouth, happy to be the 25th player on a team. John Vukovich can play four infield positions and he showed me in the exhibitions he can catch. He has some intangibles I won't get into. But he grew up in the minors with some of our stars."
Luis Aguayo, a stubby Puerto Rican with the softest hands this side of Ruben Amaro, made the club on ability. He couldn't find a hop bad enough to handcuff him on the rocky Florida infields.
George Vukovich, a 50-1 non-roster longshot who passed through the winter draft and was invited to camp on Green's insistence, will go north as the sixth outfielder. "He's a Spalding Guide outfielder, who catches everything, has good range and hits the cutoff man," Dallas said of the former Southern Illinois star. "He bats left, but he makes good contact against lefthanders. He showed me down here he deserves the chance to play a role for a big league club. He's handled everything we could throw his way."
WHILE THE CLUB'S established starters, whoever they are after Steve Carlton, were getting torched, Scott Munninghoff was quietly getting hitters out with a tough motion and darting sinker. He'll play a spot starter-long relief role at least until Nino Espinosa is able to pitch. Warren Brusstar is no closer to diagnosis of his chronic shoulder ailment than he is to pitching.
People winked when Green said during the winter that he's a guy who will build a bench around kids from his farm system rather than habitual extra men. Well, Dallas will go north with five rookies – Lonnie Smith, Keith Moreland, Aguayo, G. Vukovich and Munninghoff. And if the manager doesn't get a lot of base hits or wins from that group at least he won't get six months of bored silence.
"I got tired of the same old tired, smug'look I saw on our bench last September, " Green said. "Cripes, we'd be in a tough ballgame and I'd look down there and it was like 10 penguins sitting there. These kids will be hollering for our guys and they'll go out there and battle somebody. When they go in, they won't look like they're going to the electric chair. Hell, we could have lost George Vukovich in the draft last winter. I guess some of the other teams didn't do their homework. They passed up a well-schooled baseball player."
Green preferred not to elaborate on the pending moves involving Eastwick and Bird. "We're trying to get some guys placed so we can work with the players we're going north with. We'll probably get down to 26 tomorrow, with one move (Harrelson) pending. There are no late surprises in my mind. I've been pretty well set on this squad since the third week of the program. Guys kind of weeded themselves out."
PHILUPS: On a day when other teams, including'the Mets and Expos, were in a state of anarchy, Dallas Green applauded his team's unity. "I know the fans are gonna be down on the players, but. as far as I'm concerned, the other bleep is up to the negotiators," he said. "They voted as a team to stay down here so they can do something for Philadelphia when a lot of clubs don't know what-the hell they're doing. They went out and worked harder today then they've worked in two weeks. We'll work on fundamentals and drills again tomorrow, then we'll start going to some situation games, with our pitchers working in rotation."